"Junkie, Jedi, Jesus" is how Ewan McGregor was introduced to Wednesday's crowd by Jay Fielden, editor in chief of Esquire. But a new title he goes by is 'director'. Despite being famous for a filmography that ranges from Star Wars to Moulin Rouge to Trainspotting, the Scottish actor has tried to get behind the camera twice, with no success. Then, his moment came. Having been cast as the male lead in the film adaptation of Philip Roth's American Pastoral, McGregor was devastated to hear that the director had dropped out only months before shooting was due to start.
"When I didn't think it was going to happen, I realized maybe this was the story I'd been waiting for, for 20 years," he explained. He suggested he take over the position of director and the producers agreed.
The 45-year-old Scottish actor, philanthropist, motorcyclist and father of four was speaking as part of the Hearst Masterclass Q&A series. With his directorial debut now premiering, the talk was a great opportunity to open up about American Pastoral – and for McGregor to show off his good humor. When the projector struggled to play the trailer and displayed only a black screen, he quipped: "We had a bit more light on it when we shot it…"
The uncertain start mirrored McGregor's own nerves before shooting started. Although he was given nine months to prep and 12 weeks on site in Pittsburgh before the actors arrived, he was uneasy about beginning the project. "I've seen the fear in first-time directors' eyes, I've seen people who lose it in a movie because the responsibility is large," he told the crowd. He also spoke of not wanting to fail in front of his cast, which included Jennifer Connolly and Dakota Fanning.
Fortunately, these worries eased once filming started and he was able to focus on his vision. "It was important to me that the period of the film didn't overwhelm our ability to connect with the characters," he said of the 1960s setting. There was also the importance of getting the special effects correct, as the characters age substantially through the film. For McGregor, there was also a personal element at play; his 'old age' make-up was based on photographs of his father, taken specially for the project.
"There's something beautiful about the pictures, because he's doing them for me and you can tell he's taking it seriously," McGregor recalled. The photos were used to suggest what the actor might look like in his late 70s and the results, created by special effects make-up artist Michael Marino (Black Swan, Requiem for a Dream), were uncanny. Speaking of the end of the movie, McGregor got quite emotional. "It's extra moving for me because I look like my father."
The Scot takes after his dad in more than just looks; as a child he was a side-drummer in the pipe band, a role that both his father and uncle played before him. "I won the drumming cup that my father presented to the school," he bragged. "I got the McGregor Drumming Cup! People thought it was rigged, but it wasn't!" He's since moved onto the bagpipes, perhaps the most Scottish hobby possible, after talking to a driver, who was also a bagpiper, on set for Salmon Fishing in the Yemen. McGregor spent most of the five months he was filming Jack the Giant Slayer (which he described as 'not my best work' and 'basically just waiting to go on set') learning how to play the pipes in his trailer. His skills are now rusty, as his wife and daughters hate the sound of pipes, as does their dog. "Something about the harmonics kicks off his wolf instincts," laughed McGregor.
Perhaps sticking to his strengths, another upcoming project that McGregor was excited to talk about is T2, the long-awaited sequel to Trainspotting, which is set to drop 20 years after the original. The film is something of a reunion for McGregor and director Danny Boyle, who worked together on three films before they fell out over the casting of Leonardo DiCaprio in The Beach instead of McGregor. "It was handled not very kindly to me and I was very upset because I thought that I was their guy," he admitted. Both men continued to work in a substantial list of films, but never together. Eventually they mended fences when McGregor presented Boyle with a BAFTA award in 2009 and the director responded by thanking McGregor, "whose graciousness I don't deserve."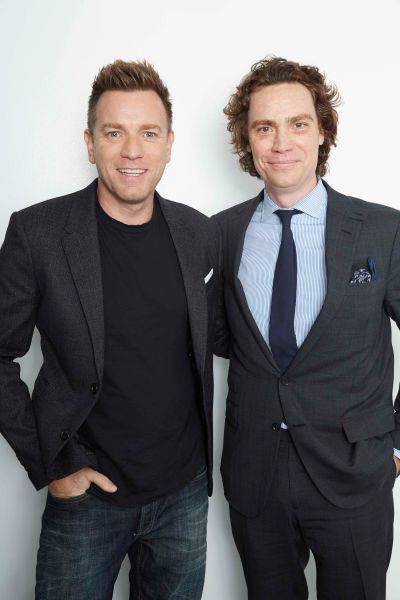 This has set the pair up to join together for T2, which they finished filming this summer and is set to release next year. Based on the Trainspotting sequel, Porno, McGregor describes the script as 'a blinder' but confessed to worrying about how it would feel to play Renton again after 20 years away from the character. Luckily, all it took was the wardrobe: "When I got there and I put on the Adidas, I was all good."
There's simply no rest for McGregor. When he isn't directing or acting (or charming an audience at a masterclass), he gets involved with the real issues, which includes getting political on Twitter. His angry message to Boris Johnson following Britain's 'Brexit' vote in the summer was retweeted nearly 65,000 times and McGregor was quick to echo the sentiment during the Q&A. But he also spoke warmly of his role as a Goodwill Ambassador for UNICEF, which most recently involved a visit to their displacement camps in Northern Iraq. His most famous travels were his motorcycle journeys across the world with Charley Boorman, immortalized in the documentaries Long Way Round and Long Way Down, which showed them visiting UNICEF sites in the Ukraine and Kazakhstan.
And if there's time, he's even considering a potential reprisal of his role as Obi-Wan Kenobi. In news sure to delight Star Wars fans across the world, McGregor said that he would return to the part if asked to do so. Still, that isn't to say he enjoyed the experience itself so much. "No, they weren't much fun to make!" he laughed. He attributed this to the amount of green-screen work involved. "Often I had storylines that took me off on my own and I'd be acting with tennis balls on sticks and that was really weird." Nevertheless, the character and franchise holds a special place in his heart. "I'm still so glad I did them, it's an important part of my filmography and I'm proud to be part of that legend that is Star Wars. I'll always be that."
The overriding feeling that McGregor gives off is someone juggling a lot of passions but who wouldn't want it any other way. Ideas that he bounced around included doing another motorbike documentary, this time through South America, and becoming an American citizen so that he could vote in the next election. For now though, he seems quite pleased to be in this dual role of actor and director and doesn't plan to swap one for the other. When asked which category he'd prefer to win an Oscar in, he was resolute.
"To be recognized for your work as an actor wouldn't be any less of an achievement to me than being recognized as a director… I think I would be very happy with both," he grinned. "So I'd like both please! At the same time!"