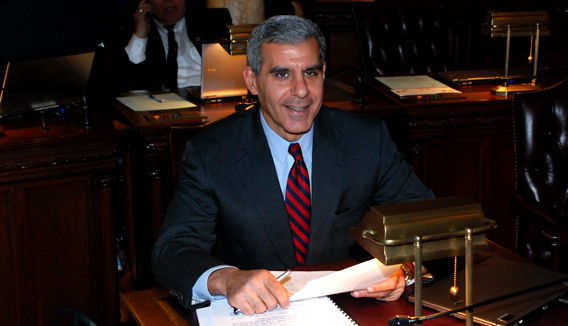 There will be tears overflowing the banks of the Navesink River tomorrow when long-serving State Senator Joe Kyrillos (R-Monmouth) announces he will not be running for re-election. As PolitickerNJ first speculated in August, Senator Kyrillos is hanging up the legislator spikes he's worn for 28 years.
"It has been the greatest privilege of my life to serve the people of my district and the state of New Jersey in the Legislature," Kyrillos told the Observer. "Ever since I was a kid growing up in Monmouth County, I've always believed that public service is an important and noble profession. I am truly fortunate to have had the ability to serve for so many years in the state Senate, and I'm proud of what I've accomplished on behalf of the people of New Jersey."
Kyrillos was elected to the General Assembly when he was 27 years old, making him the second youngest person elected since the 1947 Constitutional Convention. He served two terms in the Assembly and moved to the Senate in 1992, where he was re-elected eight times. He has focused on job creation, economic growth, and shore protection. While never adopting the strident tone of today's national Republicans, the congenial Kyrillos has notched a solid fiscal conservative record, having voted more than 140 times to reduce taxes and fees.
As the current ranking member of the Economic Growth, Judiciary, and Legislative Oversight committees, Kyrillos has sponsored numerous economic incentives and tax reforms. He was the original sponsor of the state's landmark Business Employment Incentive Program (BEIP), and was the prime co-sponsor of the "Grow New Jersey" bill, which is the state's current business incentive program.
For a state senator, Kyrillos has maintained an unusually high national profile. His run for the US Senate in 2012, when Kyrillos was defeated by incumbent Bob Menendez in a presidential-year election wipeout in which Kyrillos' base was smacked by Hurricane Sandy, was buoyed by national supporters. The NRSC, which routinely ignores New Jersey, took a strong interest in the campaign and Kyrillos waged the kind of national campaign that took him from Darryl Issa's Congressional office in DC to an audience with Sheldon Adelson in the casino magnate's private office in Las Vegas. Back In the 1980s, Kyrillos served in the Reagan Administration as a Special Assistant to the Secretary of Interior Donald Hodel and then worked for Vice President George H. W. Bush on the Reagan-Bush campaign.
The Bush connection was strong enough that Kyrillos stunned the political class by endorsing Jeb Bush in this year's contest for the Republican presidential nomination, passing on the chance to stand beside longtime ally Chris Christie, who was competing for the same nomination. The decision was extra shocking in light of the long, close friendship between the state's top Republican and the man who had served as state chairman from 2001 to 2004. Kyrillos was introduced to his wife Susan by Chris Christie and Kyrillos served as the Chairman of Governor Christie's successful campaign and as a member of the transition team.
The rift has never been fully explained and the governor, known to have a long memory for this sort of slight, told 101.5 FM that he felt blindsided  — "It's business. He made a business decision"— by the news that he would not be enjoying Kyrillos' support.
The national Republican profile and the intraparty gossip have been catnip to political junkies, but the three decades of achievement are what Kyrillos himself cares to reflect on. He points out that as a lifelong Monmouth resident, the coastline has been a priority.
Kyrillos helped establish the state's Shore Protection Fund and helped close the CAFRA loophole to protect the shoreline from overdevelopment, as well as sponsoring the original Environmental Infrastructure Trust. If that sounds like a long time in Trenton, Kyrillos shares this perspective: "When I leave the Senate in January 2018, I will have spent more than half my lifetime serving in public life, It's time for some new challenges and opportunities and it's also time to give others an opportunity to serve."
Throughout his tenure in Trenton, Kyrillos has enjoyed an increasingly rare commodity—bipartisan popularity. Voters in the 13th routinely send him back to the capitol with 60% of the vote, and even Democratic legislators consider Kyrillos fair and collegial. Kyrillos also has that uncanny knack for automatically appearing as though he has a fresh haircut and tailored suit. His longtime consultant, Larry Weitzner of Jamestown Associates, once remarked that every time Kyrillos walked into a room, he projected an aura that just said, "The Senator has arrived."
Kyrillos will take that closet full of navy suits back to the private sector, where he has continued to work alongside his leg duties, mostly doing commercial real estate at Newmark Grubb Knight Frank, but also being involved with Newport Capital Group, an investment advisory firm in Red Bank.
Kyrillos, 56, is exiting the stage at a time of transition for the party. Gov. Christie is term-limited in 2017 and looks likely to finish with Bridgegate having played a major role in his legacy and the early money betting strongly on the Democrats to flip Drumthwacket in the form of consensus candidate Phil Murphy. Kyrillos concedes that the couple acres he sits on in Middletown looks pretty good compared to the sclerosis in Trenton. "Of course, I'm frustrated by the obvious constraints of serving in the minority and the political process."
With Kyrillos retiring, speculation will automatically turn to Kyrillos' long-serving running mates in the 13th Legislative District, Assembly members Amy Handlin and Declan O'Scanlon. O'Scanlon would be the favorite in a Republican head to head, as Handlin is viewed with suspicion by the conservative voters who turn out in greater force in contested primaries. With a year to go, however, there could easily emerge a new face or a self-funder who'd see a relatively safe Republican seat as a launching pad.
Meanwhile, don't write Kyrillos' obituary just yet. "Susan and I will be active in our community and around the state, and I'll continue to play a role in public affairs in New Jersey and nationally. While I won't be on the ballot for any office in 2017, I don't close the door on running for elected office or on another public role someday."