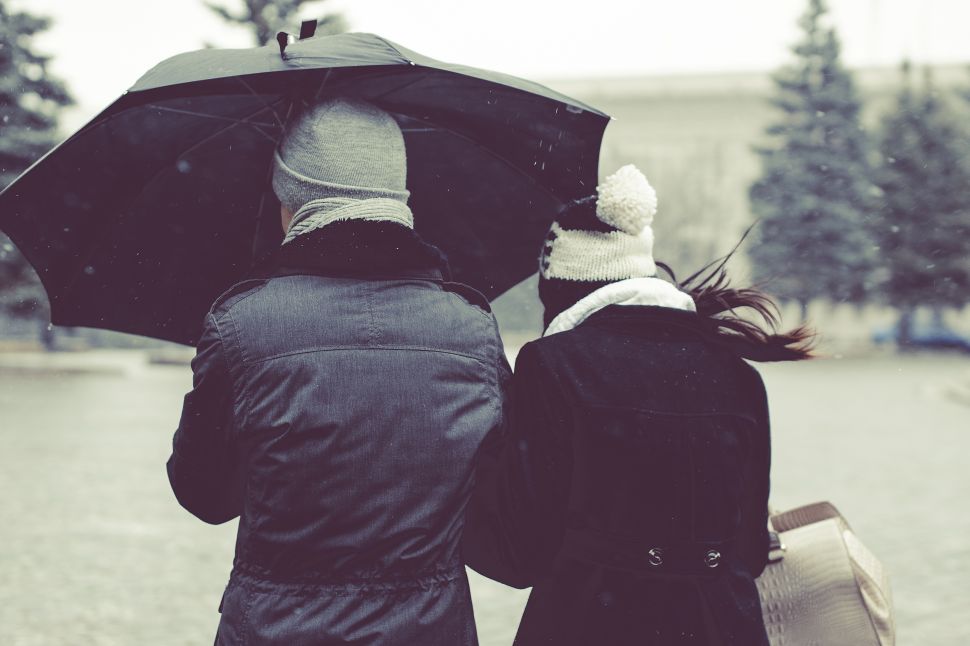 The reduction of sunlight and natural heat that comes with the end of summer means our skin produces less oil. With the lack of humidity in colder air, our skin isn't holding water, either. Lack of oil is dryness, while lack of moisture is dehydration. Both are likely to occur simultaneously in winter (even if your skin is also oily) and can cause acne, redness, flakiness, itchiness—basically, a complete crime scene. If you don't adjust your skincare routine, seasonal change can show on your face in the most hideous way.
To prevent this, run a humidifier or vaporizer for your bedroom and any other rooms where you spend a lot of time. The moisture in the air will help keep nasal passages from drying out and keep colds at bay. Bonus: It will also protect against parched, irritated, burning skin often caused by dry air. A basic, $20 option from your local pharmacy will do, though you can spend more on fancier models. To combat a dry office, invest $15 in a USB-powered mini humidifier for your desktop.
You can also work the moisture solution into your skincare routine with a method borrowed from doctors and spas: steaming. "I suggest patients steam their face for 15 minutes twice a week," dermatologist Dr. Dennis Gross tells the Observer. Steaming helps open clogged pores, infuse hydration, and slough off dull skin. A DIY version with a pot of freshly boiled water and a towel thrown over your head will do. But Dr. Gross's new Pro Facial Steamer ($139) is a safer, more sophisticated way to get full, even steam without burning your face. He recommends steaming after cleansing but before exfoliating, especially if your skin is acne-prone or dehydrated. "Remember that the sides of pores are like walls or tubes, and it is very easy for oil and dry skin to become trapped there, clogging the pore." Steaming can help prevent those brutal winter breakouts that are always exacerbated by cold temperatures.
This is also the time to phase out any scrubs you might be using, if you haven't already. Instead, opt for a chemical exfoliant to clear away dead skin cells. Nip + Fab Glycolic Fix Exfoliating Facial Pads ($12.99) are effective but mild enough to be used day and night, while an impressive acid for your evening routine is Peter Thomas Roth Un-wrinkle Peel Pads ($45).
Lastly, this is a time for oils—even if you have oily skin. Replace gel cleansers with richer formulas, like Peter Thomas Roth 24K Gold Pure Luxury Cleansing Butter ($55) or First Aid Beauty Face Cleanser ($20). If your skin tends to be dry, follow your post-cleanse exfoliator with a serum like REN Vita Mineral Omega 3 Optimul Skin Oil ($45) or The Body Shop's Vitamin E Overnight Serum-in-Oil (RRP $27, now on sale for $16.20). And one or two drops of the right facial oil, worn as a final protective coat on skin, will help stave off thirsty, flaky skin. Acne-prone faces will love Sunday Riley U.F.O. Ultra-Clarifying Face Oil ($85), which includes salicylic acid and tea tree oil to fight blemishes and soothe. Algenist Advanced Anti-Aging Repairing Oil ($82) absorbs instantly into skin of all types. Yes to Miracle Oil Primrose Oil ($12.99) has a ridiculous name—there are no "miracles" in skincare—but can help calm skin, reduce redness, and be used on dry bodies and straw-like hair, too.
Jackie Danicki created one of the first and most popular beauty blogs in 2004, and has consulted some of the world's most iconic brands on digital content strategy and innovation. Jackie blogs at http://burnedoutbeauty.com, and you can find her onTwitter, Instagram, and Snapchat as @burnedoutbeauty.