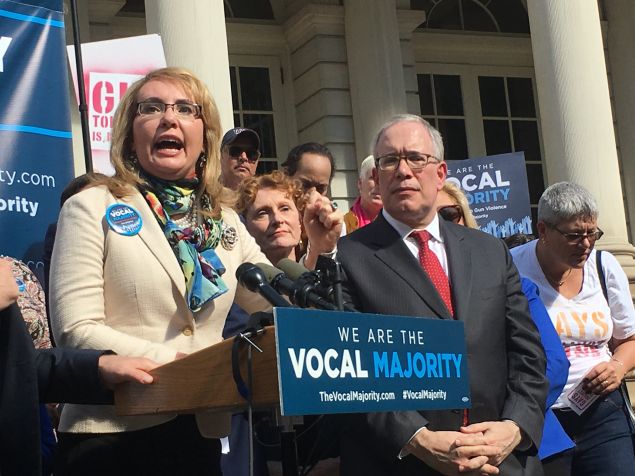 Former Arizona Congresswoman Gabrielle Giffords—the victim of a famous 2011 mass shooting—swung by City Hall to call on New Yorkers and their elected officials to "fight, fight, fight!" for tougher gun control measures.
As part of a 14-state, 42-day national bus tour dubbed "Vocal Majority" that will stretch until Election Day, Giffords and her husband stopped at City Hall—the 21st stop—to urge New Yorkers to vote in favor of candidates who support gun violence prevention legislation. The tour started Sept. 27 in Orlando, the site of the Pulse nightclub mass shooting in June.
""Democrats, Republicans, everyone, we must never stop fighting," Giffords proclaimed.  "Fight, fight, fight! Be bold, be courageous. The nation is counting on you."
Her husband, Capt. Mark Kelly, retired NASA astronaut with whom Giffords co-founded the Americans for Responsible Solutions Political Action Committee, said the United States has a gun violence crisis that claims the lives of 33,000 Americans each year which he blamed on a "vocal minority" of Americans "driven and controlled by the gun lobby" and inaction by Congress.
"It's a crisis that has touched all of our communities, every single state, every single congressional district and every city, including this one," Kelly said. "And as the gun violence crisis rages on, Congress has done something pretty remarkable: they've done nothing. Nothing at all."
Americans for Responsible Solutions advocates for barring people with domestic abuse convictions from buying firearms, for hardening penalties for illegal gun trafficking, federally funding gun violence research and for expanding and improving the national background check system, in order to cover weapons bought on the internet or at gun shows. It also endorses candidates who sign off on a pledge to support such measures.
Today, Kelly lashed politicians who had opposed "no-fly, no-buy" legislation, banning people on the terrorism watchlist from purchasing firearms. Critics assert the watchlist is often inaccurate and arbitrary.
Senate Democratic Leader Andrea Stewart-Cousins credited the Senate Democratic Conference with ensuring the passage of the New York SAFE Act after the Sandy Hook Elementary shooting in 2013. That law—which Senate Republican leadership supported, but many GOP state senators opposed—enacted universal background checks, restrictions on assault weapons, restrictions on the capacity of ammunition magazines, among other provisions.
She urged voters to elect lawmakers to both houses of the State Legislature who are committed to enacting even more rigorous legislation, noting that some Republicans have sought to stop the establishment of the ammunition registry the SAFE Act requires.
"The reality is is that we have Senate Republicans who from the time the New York SAFE Act was enacted have been trying to weaken it, have been trying to pull back, have been trying to find ways not to do this and not do that," Stewart-Cousins said. "We can do better here in New York."
Indeed, Assemblyman Brian Kavanagh, chairman of American State Legislators for Gun Violence Prevention, argued the message is growing in intensity and that the "breadth of support" is growing due to the work of Giffords and Kelly. He praised Democratic nominee Hillary Clinton for pushing stricter and more stringent regulations on guns, and lavished praise on Connecticut Sen. Chris Murphy for his filibuster in the Senate in the aftermath of Orlando, and on members of the House who subsequently staged a sit-in on the body's floor demanding a vote on an assault weapons ban.
"We've seen that Hillary Clinton has made common sense gun law reform a platform issue," Kavanagh said. "We've seen the commitment of Democratic members of Congress highlighted by Senator Chris Murphy's filibuster and the sit-ins led by Representative John Lewis and many of our New York members of our New York congressional delegation."
Council Speaker Melissa Mark-Viverito, for her part, read off a list of victims who succumbed to gun violence in her district, also bringing up the recent fatal shooting of 15-year-old Trinity Gay, daughter of Olympic track sprinter Tyson Gay. She asserted loose rules in other states, particularly in the South, enable weapons to enter New York and kill innocent people.
"Unfortunately, we have on the cover today, another young woman, Trinity Gay, who was the victim of random gun violence," Mark-Viverito said. "We don't have to look to Kentucky. All you have to do is look right here in our own neighborhoods and our own city to see the impact of the devastation when we don't have strong gun laws."