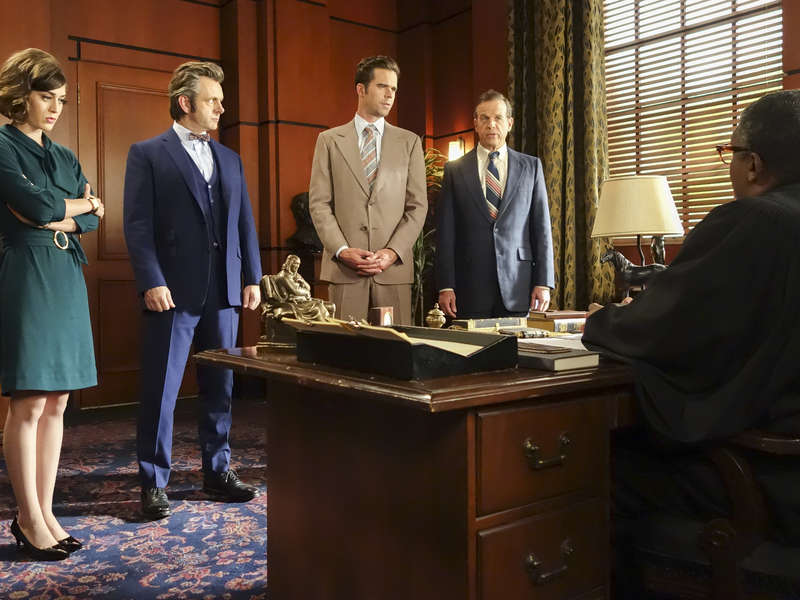 Welcome to our TV Fashion column, where TV Ate My Wardrobe's Emma Fraser discusses the trends in television apparel. This week: The unspoken bond between Virginia Johnson and William Masters through wardrobe. 
Mirroring style is one way to show a couple is in sync—Britney and Justin in denim, Brad and Gwyneth's matching haircuts—and on this season of Masters of Sex Bill and Virginia's progression towards a harmonious working and personal relationship can be tracked through their clothes. In the past they matched through the lab coats and blue bathrobes of their research; later followed by the fancy hotel garments as the sessions moved to a more private location and naked vulnerability also came in the form of secrets shared.
The Season 2 episode "Fight" which took place in the Chancery Park Plaza that proved so vital in Bill's decision to plead guilty is a Masters of Sex high point; a point the show has struggled to recapture since. While we are not hitting those heights quite yet, the start of this season has been incredibly encouraging and it doesn't feel like a chore to sit down and watch an episode. Quite the opposite in fact and as clothes get looser, so do the characters.
Libby Masters is a good starting to point in understanding how his season is shaping up this well so far; after 12 years (the period of time covered since Masters of Sex started) Libby is finally finding her voice and asserting herself. It is actually a longer period than 12 years in which Libby has nodded along with Bill's plans and the sad story she tells about the summer he went away and came back heartbroken from another relationship pretty much sums up their entire marriage. Bill chose her because she was the safe bet; he loved her, but not in an all-encompassing way. Returning to this broken marriage seems like a good idea to Bill because Libby is dependable and yet this is the exact reason Libby can't return.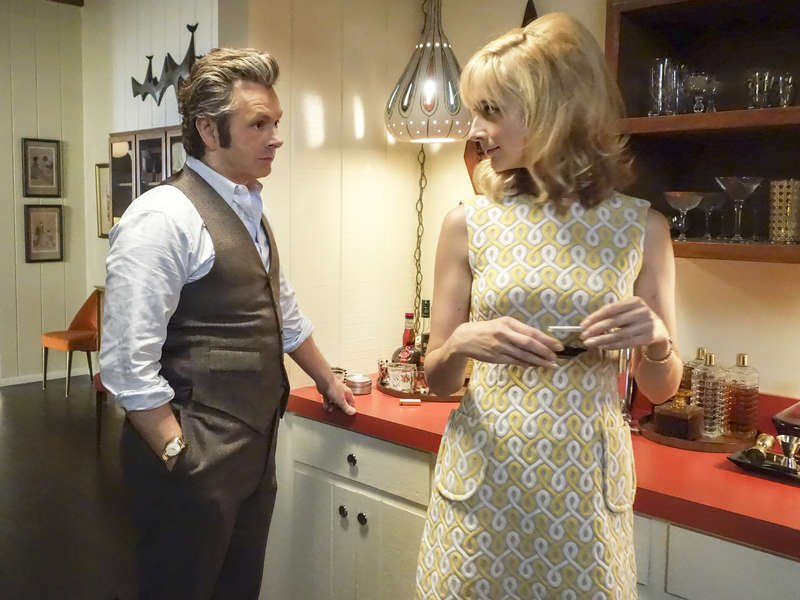 Reluctantly removing her bra a few weeks ago has lit a fire in Libby Masters and while she hasn't gone the full protest route she is notably changed in her approach to her soon-to-be ex-husband. For a sex researcher Bill Masters was having some really rigid and bad sex at home and now Libby is confident in asking for the things she has yet to experience including a whole lot of oral sex in a variety of positions and places. On the sofa as Bill finally focuses solely on his estranged wife Libby is wearing a colorful underwear set that is in line with the less restrictive and natural style of this period; moving away from super structured undergarments that also epitomizes the stiffness of her previous sexual encounters with Bill.
Libby might have bailed on the swinger party she didn't know she was attending and left behind the plaid cape that I have since been coveting, but this night with Bill was like no other that she had previously shared with him. Coats instead of keys was the set up for this party and there's a reason Virginia has a tendency to try and keep hold of her coat; usually it is so she can depart in a quick fashion and unfortunately on this occasion she was denied this exit strategy.
Coats are where Bill and Virginia first matched; when Virginia wore a white lab coat to appear like an equal even though she didn't have the qualification to back this up. Now even their outerwear looks similar. At the start of this season Bill was without his usual attire as Libby had given it all away and his last minute bold plaid suit acquisition was in stark contrast to his more conservative approach. He was without his signature bow tie and Virginia's outfit was complete with a bow of her own; Virginia often wears tops and dresses at work that have structured collars, broach details or with a pussy bow in a way to match her partner.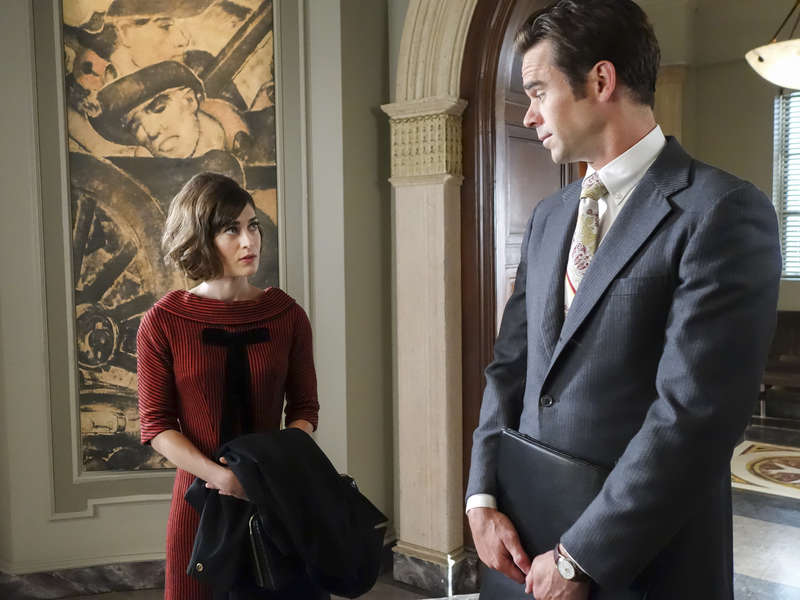 The pussy bow blouse has come into focus this week thanks to the debate on Sunday, but it is a garment that can be seen in both period and contemporary shows and it is a favorite blouse item of mine. Other recent famous TV wearers covering a variety of decades include Mad Men's Peggy Olson, Elizabeth Jennings on The Americans (although she tends to wear her bow undone) and in contemporary settings there is Annie from Community and as discussed in this BrainDead post I almost crown Laurel the pussy bow blouse champion. Virginia is here to ensure this title is hers and this is a feminine tailored look to emulate a tie.
Bows on blouses is just one way Virginia's costume corresponds with Bill's and in "Outliers" when they head to court for the first time Virginia's dress is the same color as Bill's tie showing a clear sign of support. The one notable difference is Bill's bow tie is polka dot, whereas Virginia's dress is striped; balance and harmony is still a little way off, but baby steps.
There is always a push/pull between Bill and Virginia and the presentation of this constant power struggle is not always portrayed successfully (see last season's very bad encounter with a gorilla). However, it appears that dealing with the aftermath of their canyon sized rift and coming back together first as colleagues and then as something more is just what Masters of Sex needs to get back on track. That and no more multiple time jumps throughout a season, which makes everything seem disjointed and as out of sync as Bill and Virginia were at the end of last year.
For Brad and Gwyneth it was the sleek and short blonde twinning haircut as an overt display of their romance and the current volume of not just Virginia's hair, but Bill's also points to their unspoken unity in a slightly more subtle way. Of course it also reflects the period and just how relaxed Bill has come. The latter being a vital step in moving forward both as researchers and as a potential romantic couple. Obstacles still exist even if this is the first time the pair have both been truly single and it is going to take a lot more than just matching coats and voluminous hair to break down the walls Virginia and Bill have erected around their hearts.
Emma Fraser is the creator of TV Ate My Wardrobe and spends most of her time writing about TV, fashion and costuming; Abbi and Ilana's Broad City style, the wigs on The Americans and Mindy Lahiri's pajamas are just as vital as talking about '90s, '00s teen shows. Emma has a MA in film and television, and she probably holds Angela Chase responsible for this path. You can find her on Twitter @frazbelina.