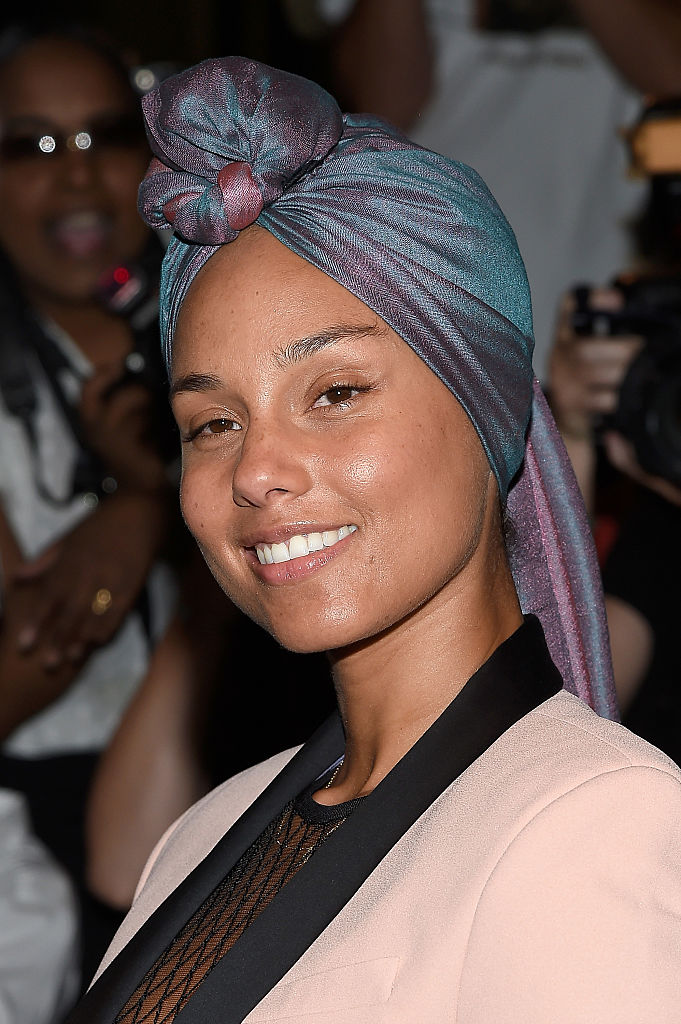 Back in the day of the tabloid reign, a celebrity without makeup was news fit for the cover. "Spotted!" headlines would shriek, showing a celebrity on an island vacation, or heading to a nearby bodega, woefully unprepared for the flurry of paparazzi that captured them in all their natural glory. Now, celebrities have more control over their images than ever, with the option to disseminate an image over Snapchat or Instagram immediately, including an all-natural selfie. Recently, celebrities have been proudly snapped on red carpets without piles of powder. But getting that makeup free look isn't exactly easy. It requires a few natural products and serious skincare regime, but then you can shave minutes (or in some cases, hours) off of your getting ready schedule.
Alicia Keys kickstarted the no makeup trend, showing up with a fresh face on red carpets and the set of The Voice. But a recent W interview with her makeup artist, Dotti Streeters, revealed her no makeup look requires copious amounts of upkeep, making everyone who's lusted over her clear skin feel much better. Dotti (she prefers to go by her first name, like Madonna) explained that along with getting regular facials and acupuncture, Keys eats healthy and exercises. Dotti frequently puts a jade roller in ice and then rolls it over the singer's skin or grates cucumbers and places the pulp on her face. This is in addition to using MV 9 Oil Cleansing Tonic ($90), Eminence Clear Probiotic Skin Mask ($54) and an SK-II Facial Treatment Mask ($135). Before you believe Keys truly isn't wearing a stitch of makeup, know that she's had her brows filled with individual lashes, her freckles enhanced and is wearing a bit of face makeup. She tops it off with the ultra-organic Lano 101 Original Ointment on her lips, created with lanolin, the substance found in sheep's wool.
Gabrielle Union, contour queen Kim Kardashian and Jennifer Garner have all been snapped fresh face. Of course, Kardashian's fresh face involves a fresh set of eyelash extensions, along with C+C Vitamin Cream. But it's far from her usual heavily contoured beauty look.
If you're considering going makeup free, or you're just looking for a way to spend less time getting ready in the mornings, there are a few products that will make the experience much easier. One option is to go organic, so you're not hurting the environment or your sensitive skin. Organic brands Vapour and RMS Beauty have products that provide light, barely there coverage in flattering colors. Both are sold at Brooklyn's natural beauty paradise Shen Beauty. And you can top it all off with a bit of brow gel, either from guybrow guru Ramy (his When Hairy Met Sealy does the trick) or Glossier's famous Boy Brow.
Another option is choosing makeup that's light and will sweat with you. Rochelle Rae created Rae Cosmetics, a line specifically made for workouts. Their surface primer is a weightless, oil-free serum that will give you some color and sun-protection without looking, or feeling, like heavy makeup. And if you're still not feeling confident enough to go makeup free, simply look to Beyoncé, famous for posting makeup-free selfies on social media. The superstar uses Natura Bisse Diamond face cream.
Once you realize that celebrities look gorgeous without makeup because of the effort that goes into their preparation, you'll stop worrying that your skin doesn't look quite as clear or glowing. And remember, no one will begrudge you a hint of highlighter or a bit of brow gel…and you can still, technically, say you're not wearing makeup when you post a selfie.