MANVILLE – There's a water tower here and in the day when you wanted to settle something in this faded factory town you went to the water tower to settle.
This is where Assemblyman Jack Ciattarelli (R-Hillsborough) turned up earlier this afternoon to kick off what he promised will be a gritty, truth-telling, unflinching, blue collar, scrappy underdog campaign for governor.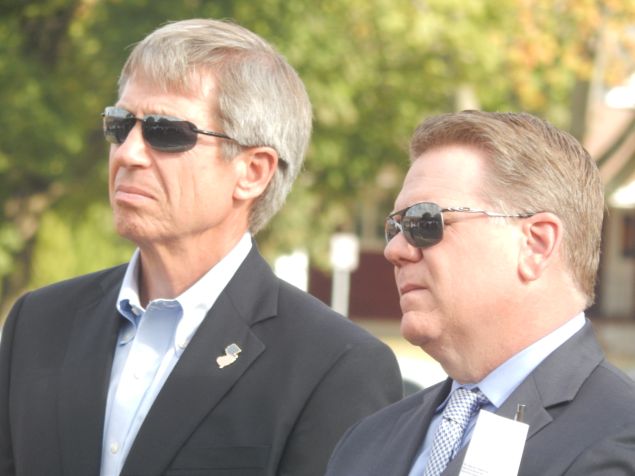 "I'm about people, I'm not about power," he said, when asked to contrast himself with sitting Republican Governor Chris Christie. "I don't care if I don't get credit as long as it gets done. We've got to solve problems. I'm about building bridges."
Surrounded by well-wishers, his wife and two of his children, Ciattarelli launched at the local high school as he hopes to draw attention to his signature issue: the inequity of the existing schools funding formula, which over-funds districts like Jersey City and Hoboken and throws in free pre-K, while railroading places like Manville.
[youtube=https://www.youtube.com/watch?v=OUpKkHCnjCI&w=560&h=315]
A certified public accountant who owns his own publishing business, ten years an elected official between stints as a freeholder and in the legislature, Ciattarelli, who grew up in nearby Raritan, expressed frustration with Trenton, offering not so-veiled jabs at Governor Christie. He's giving up the assembly seat he occupied in 2012 to take a shot against dethroning Lieutenant Governor Kim Guadagno in a GOP Primary next year.
"The only way to make real change is from a different seat. I am determined to make the state a better place to live, work and retire. Today, I declare myself a candidate for governor, " said the assemblyman, addressing a crowd of supporters that included Somerset County GOP Chairman Al Gaburo, past Chair Dale Florio of Princeton Public Affairs, state Senator Kip Bateman (R-Somerset), Assemblyman John DiMaio (R-Hackettstown), former Assemblywoman Donna Simon, Freeholders Pat Walsh, Brian Levine, and Pat Scaglione, Hunterdon County Freeholder John King (see video below) and a scattershot of very vocal Somerset goodwill.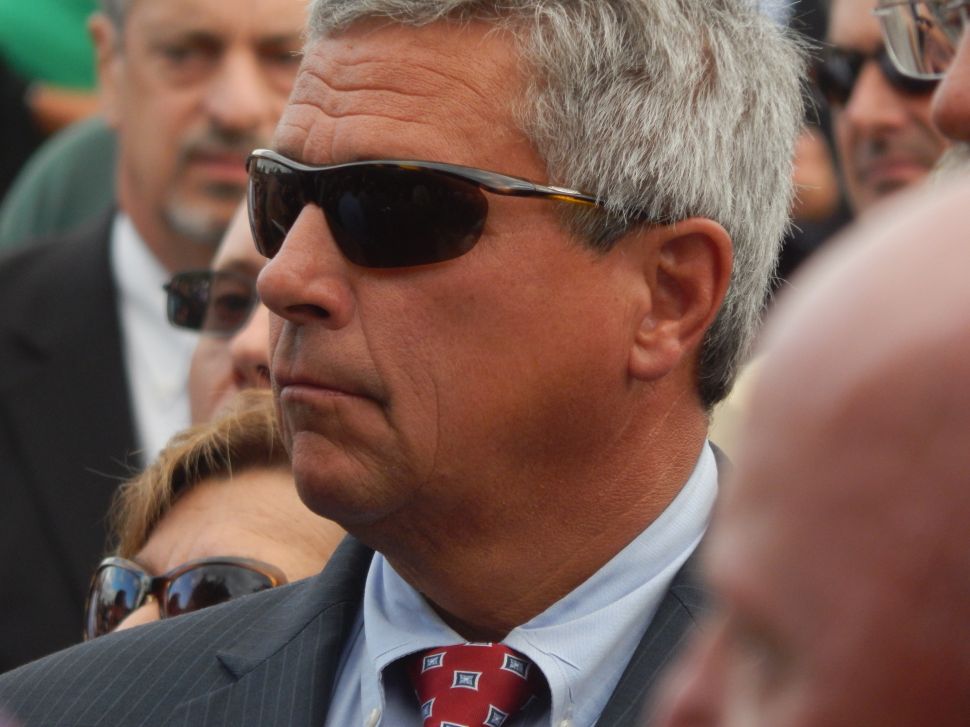 Ciattarelli honed in on what he described as 200 over-funded politically connected school districts, sucking half a billion from the rest of the state and contributing to the state's property tax crisis. Manville High School is one of those underfunded districts, receiving less than $9 million (or 43% of its budget) of what it should get in state aid and forced to shut down a town library for more classroom space.
[youtube=https://www.youtube.com/watch?v=xZlhVwDq830&w=560&h=315]
The gubernatorial candidate said he wants to give free pre-K to residents statewide, with co-pays to families in
need. He wants to cut Cadillac pension plans and limit public retirement plans to $50,000 annually. He wants to scrap the inheritance tax and close income tax loop holes. He wants to significantly cut the state's 65,000-member work force and use the savings to invest in state of the art technologies. As governor he would improve communications with the senate and the assembly and the federal congressional delegation, he said.
He told reporters that he plans to oppose Christie's Transportation Trust Fund fix, which includdes a 23-cent gas tax hike.
"Only in New Jersey is a gas tax in the same conversation as the estate tax," he said. "I'll be voting no."
PolitickerNJ asked the candidate his views on Republican presidential nominee Donald Trump supposedly using loop holes to avoid payment of federal income taxes. "That doesn't smell good or smell right," said the candidate.
[youtube=https://www.youtube.com/watch?v=zjFSN8yszWY&w=560&h=315]
Asked about the likely candidacy of Guadagno, Ciattarelli said, "I shouldn't get into this race unless I thought I was a better candidate and I do."
As for the fast developing Democratic candidacy of former Goldman Sachs executive Phil Murphy, Ciattarelli
wouldn't bite. "I am laser focused on [the Republican Primary]. After that I will get laser focused on my Democratic opponent."
His goal is to accept matching funds for his statewide campaign.
"I will  not self-fund," he said, making the case for appealing to New Jersey to help him win.
The mood was vibrant throughout Ciattarelli's impassioned speech, delivered in the entranceway to the high school on a temperate fall day.
[youtube=https://www.youtube.com/watch?v=PHCn6_0bwR0&w=560&h=315]