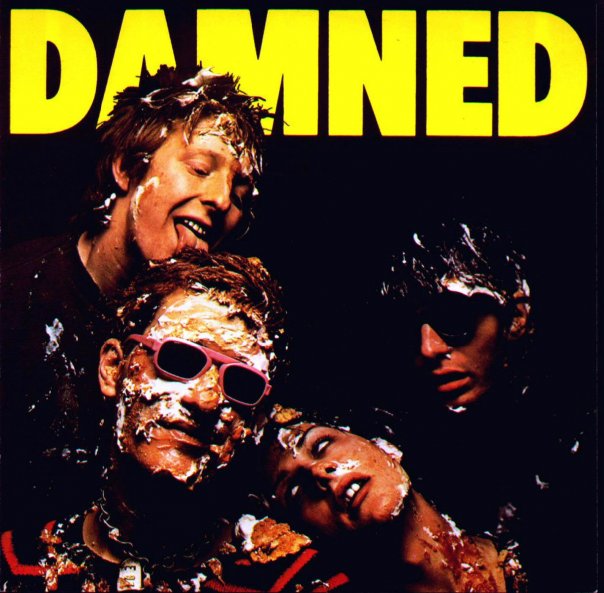 On October 22, 1976, there were people still alive who remembered the death of Queen Victoria. That's how very, very long ago 1976 was.
Yet much of the music of that era remains fresh, vital and exciting; in fact, Punk Rock remains one of the essential vocabularies of guitar-based music. Very little of that era remains more dynamic and engaging than "New Rose" by the Damned, which was released on October 22, 1976. That event also marks, indisputably, the first vinyl release by a modern British Punk Rock band.[i]
Today's pop/rock landscape is a rather giant and amorphous inkblot; that's not necessarily a bad thing, it's just the way it is. Everyone likes a little bit (or a lot) of everything, largely due to the fact that a little bit and a lot of everything is available, and it's available immediately. Being a music fan no longer requires chasing delicious, exotic rumors and sounds one-quarter described and half-imagined; we can access the work of virtually any artist whose name we hear within seconds.
The 1970s was a more pointillist time, where us fans/squirrels dug little holes, and tried to find every nut, juicy and dry, that existed within that particular sock of earth. So identity mattered; the idea of Punk Rock mattered.
Punk Rock was electric in our hearts. It contained the DNA of earlier obsessions—the Who, the Kinks, the Stooges, the Dolls, Nuggets-style garage rock—and provided an immediate identity for those of us who sought something to set us apart from the flares and feathered hair that made the mid-1970s such an atrocity.
Punk Rock mattered, not just for those of us who remember life before Punk Rock, but also for everything that came after in the cultural landscape. So noting the release of the first true British Punk Rock record is deeply important.
[youtube https://www.youtube.com/watch?v=rTfyUqVqX-0&w=560&h=315]
We could easily contend that there had been British punk records before 10/22/76 (or, as they would say in the U.K., 22/10/76); I have written about this very subject in this publication. But "New Rose" is, without any doubt, the first release from any of the young, shocking, short-haired and aggressive British bands that clearly and cleanly identified as Punk Rock.
Of course, some Americans had gotten their first: indisputably the Ramones, who released their debut album on April 23, 1976. But we would be remiss not to note that the cream of British Punk Rock—namely the Sex Pistols, the Stranglers and the Damned (and in Australia, the remarkable Saints)—were gestating, rehearsing and gigging before they had any awareness of the Ramones. This was one of those moments in artistic history when causes and conditions in different locations were so similar that the same results manifested; the Ramones, Saints and Sex Pistols all sprung up more or less simultaneously on three different continents, with no knowledge of each other.
Any cultural historian must connect the onset of the public face of British Punk Rock to two events: the 100 Club Punk Special (which took place on September 21 and September 22 of 1976, and featured the Sex Pistols, the Clash, the Damned, the Buzzcocks, Subway Sect and a primitive version of Siouxsie and the Banshees), and the release of the Damned's "New Rose"/"Help" 45 exactly a month later.
To provide some perspective about why "New Rose" announced a deeply important and truly scene-changing movement, it is worth mentioning what was in the British singles charts on the day of its release:
On October 22, 1976, the No. 1 single in the U.K. was a mellifluous piece of faux-Ronstadtian country pop by a Dutch band called Pussycat. "If You Leave Me Now" by Chicago was at No. 4, Abba's "Dancing Queen" was No. 6, and "Disco Duck" was in the 10th spot. The closest thing to a rock 'n roll song in the top 40 was Manfred Mann's "Blinded by the Light" at No. 27, unless you count the bizarre oom-pah-pah oddity, "I Am A Cider Drinker" by the Wurzels, at No. 27 (imagine Benny Hill doing a Pogues song at Oktoberfest).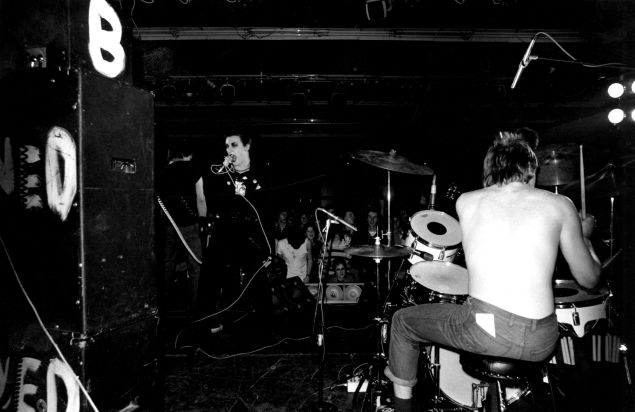 Into this environment of skim-milk-pale hummable atrocities, "New Rose" dropped like a piece of radioactive dung on the doorstep of a musical landscape that so very, very badly needed to be reminded of the explosive and liberating energy of primitive rock 'n roll.
"New Rose" begins with vocalist Dave Vanian intoning a line borrowed from the Shangri-La's 1964 greaseball classic, "Leader of the Pack": "Is she really going out with him?"
This echo of rock's more innocent and lust-powered past is deeply intentional; it both insists that what follows will attempt to erase the last decade of ELP-like indulgences and Leo Sayer-like wedding-band mewling, and it previews the condensed, deliberately AM radio-like sound of the call-to-arms that follows.[ii]
Next, we hear four bars of rapid, pummeling, hell-hot drum toms; strongly reminiscent of Slade's version of "Let the Good Times Roll" (1972), it not only connects the Damned with one of the best known thug/slug bands in rock, but it announces that nothing goddamn soft is going to follow.
Guitarist (and songwriter) Brian James then enters, thrashing a circular, four-chord riff that leaves no space for the listener to breathe or think—only one thing is certain: we are listening to the birth of a new era. James' approach as a guitarist is distinctly different from the Ronson/Thunders/Townshend thwaang/gwooooar that dominated so much of early punk, and it's one of the more exceptional sounds in the punk cannon. A rapid buzz that was not distortion-driven, it was built out of morphing Wilko Johnson and James Williamson, dialing up the tempo and screwing the intensity as tight as humanly possible.
It is hot, extreme, penetrating and oppositional, but neither noisy nor dumb. Almost uniquely, producer Nick Lowe found a way to "squeeze" James' sound without sacrificing any of the power; it is as if the listener has put their ear immediately against a guitar amp which is playing at very low volume, with both the treble and the mid kicked way up.
After four bars of this (for an invitation to a revolution, "New Rose" is surprisingly traditional and square in structure, and even has a conventional bridge), there's a rather alarming (i.e., it puts the listener on high alert) triple stop, followed by the introduction of Captain Sensible's bass (also taut, clear, and sonically crushed) and the rapid, stuttered three-chord riff that dominates both the verse and chorus. After another four bars dominated by drummer Scabies' Doc Marten's stomping tom-heavy drumming, the vocals enter.
In noted contrast to Johnny Rotten's muezzin howl or Joe Strummer's hoarse aggro-bark, Dave Vanian sings—or rather, declaims, although it's tuned declaiming—in an even, pitch-consistent baritone that recalls the smooth but arresting sing-speak of both Marc Bolan and Tim Curry.
Now, if we are really going to deconstruct this thing (and I think that Nick Lowe and the band knew exactly what they were doing and why), we'll note that both the relatively smooth vocal and the curiously traditional lyrics create a mainstream "entry point" that the political screeds of the Pistols or Clash may not have offered (the lyrics on "New Rose" are so "normal" that they could have been at home on any middle-of-the-road pop song: "I never thought this could happen to me/I feel strange, why should it be?/I don't deserve somebody this great/I'd better go or it'll be too late").
With all these elements in place (though most of the listener's mental real estate is dominated by Scabies' drum-thunder and James' unrelenting whirring drill of a guitar sound), the song keeps up a truly breathless and hypnotically metronomic assault until its conclusion. For the final four bars, Scabies quarter-notes the toms into the floor in an assault that resembles—again, I suspect intentionally—Keith Moon playing with the Dave Clark 5; it's one of the great moments in overkill rock 'n roll drumming.
Whew.
[youtube https://www.youtube.com/watch?v=-O9HCWTfohA&w=560&h=315]
On the B-side, the Damned double down by doing a double-timed version of the Beatles' "Help," reducing the relative complexity of the classic to a desperate yet precise condensation of the song's melody and meaning, dominated by Scabies' near-constant overdrive rolls. Today, when the punked-up cover song is so common that it's a virtually a genre unto itself, it may be hard to put this machine-gunned version of "Help" into perspective: In 1976, it was virtual heresy, and again, this is very, very deliberate.
Amidst the sound of the nails driving the punk theses into the door, it's easy to miss what a tight and well-recorded performance this is. Unlike the Pistols recordings, which get a little sloshy with the guitar overdubs and waggle notoriously in terms of tempo, and unlike the primitive, almost demo-like early Clash recordings, "New Rose" and "Help" are performed with precision and recorded virtually perfectly. Every single instrument, every element of the drum kit and every timbre and frequency of the vocal is crisp, clear and easily readable in the mix, regardless of what volume the song is played at.
The "New Rose" 45 is full of intention. The crispness of the production reveals that Lowe and the Damned were aware of the responsibility they carried by being the first to raise the flag on Mt. Punk; the Shangri-Las reference at the first needle-drop of the A-side and the Beatles cover on the B-side states that the Damned, on behalf of their punk brethren, are heralding a return to an earlier, simpler epoch of rock; and the band picture on the sleeve (and in all the ads) make it clear that the era of long hair and flares is over, and the new movement will aggressively promote simplicity, energy and tight pants, the values of Memphis and Hamburg.
The Damned went on to an extraordinary career, which includes four of the essential albums of the 1970s and '80s: their debut, Damned Damned Damned (released on February 18, 1977), 1979's Machine Gun Etiquette, 1980's The Black Album, and their likely masterpiece, the subtle, deep, widely diverse Strawberries (1982). They even had their biggest hits after all that, and continue to be an effective and dramatic touring act, to this day.[iii]
The Damned are a band of infinite depth and a wide variety of pleasures. Their catalog includes high-quality blurs of melodic punk, Beach Boys-ish flowery psych-pop, chiming, bittersweet post-punk, Moody Blues-ish bombastmopherics, spiraling goth and soaring faux soul, all brilliantly executed; they may be the only band who would make sense to fans of both the Soft Boys and Motörhead, often within the same song.
The Damned should have been the other great classic rock band of our era, right up there with U2. They were that good. With their predilection for both massive power and chaos and highly developed and subtle songwriting, the Damned were the natural and logical successors to the Who.
Which is all to say there are two reasons to celebrate the Damned today: They are one of the great rock bands of all time, and on October 22, 1976, they fired the first public and purchasable shot of the British punk era.
[i] "Modern" as opposed to punk-rock precursors like Dr. Feelgood, Jook, the Dolls, Stooges and Velvets, the extraordinary Ohio bands of the early and mid-1970s, the '60s garage "punk" bands, etcetera.
[ii] Once again, I will note that if I was able to go back in time, the very first thing I would do is destroy the master tapes of ELP's triple album live abomination, Welcome Back My Friends to the Show That Never Ends. Only after that crucial task is complete will I prevent Hitler's birth, or try to persuade Ralph and Alice Kramden that they deserve to live in an apartment with an electric socket on the wall in each and every episode.
[iii] I will also note this very, very rare achievement: the Damned had British hits with ideations of the band led by three different songwriters.
The Damned perform at Grammercy Theatre on October 29 and October 30.