We're driving down the West Side Highway when Peter Shapiro's phone suddenly goes berserk. He wanted to leave a few hours before Phil Lesh took the stage at Coney Island, because it was his first gig booked at Coney's new amphitheater and would be his first time surveying the space in person since it opened. But after checking his phone, Shapiro soon realizes a mistake threatens to derail another one of his gigs that night—the Jenny Lewis concert at his gorgeous rock palace in Port Chester, N.Y., The Capitol Theatre—and if he can't solve the problem on the fly, that show will be canceled.
With Lewis touring for the 10th anniversary of her intricate and subtle Rabbit Fur Coat, she requested the crowd be seated, but no one from her team realized the stipulation wasn't in the paperwork until a few hours before The Capitol's floor level was set up for general admission that night. Seats could be added to floor, but with a six-hour call and union labor required to get them from storage, there wasn't nearly enough time to make that happen. Lewis' people were considering canceling, and personnel were confiding in Shapiro that they were worried about keeping their jobs, but he just kept cool and asked his friends at The Capitol to help.
After calling a wedding event company in Westchester, Shapiro's team of 30 volunteers at the Capitol, from bartenders to ushers to stagehands, carried 600 chairs inside. And Jenny Lewis went on to play a killer show that night.
"I just collaborate with people," he said with a Zen smile. "The most important person is the guy manning security or cleaning the toilet, because if someone gets in through the back or the toilet doesn't clean, you're fucked."
'The most important person is the guy manning security or cleaning the toilet, because if someone gets in through the back or the toilet doesn't clean, you're fucked.'—Peter Shapiro
Most venue owners couldn't ask their staff for such last-minute favors, but it's a testament to Shapiro's good vibes that employees were ready to help at a second's notice. Whether it be at the Capitol, his three Brooklyn Bowls in London, Vegas and Williamsburg, Brooklyn, the Lockn' Festival, the "Fare Thee Well" Grateful Dead at 50 stadium shows, or his music magazine Relix, Shapiro gleefully has hands in everything, to produce a righteous experience for everyone involved.
That holistic sense of hospitality isn't only good business; it's essential to protecting the passion that guides him. Shapiro took over the storied Tribeca jam-band incubator Wetlands Preserve from the late Larry Bloch in 1996, a year after Jerry Garcia died, and the lessons he's learned since have made him the biggest independent concert promoter in the city.
When Wetlands closed in 2001, Shapiro took what didn't work as learning experiences to improve upon and eventually opened the first Brooklyn Bowl with Charley Ryan in 2009, followed by renovating the Capitol in 2011. 2016 marks 90 years since The Capitol first opened, and though we originally connected over that anniversary, it soon became apparent that Shapiro's 20 years of promoting live music was a milestone in of itself.
"The amazing thing about Pete is that nothing is going to stop him once he sets his mind on a project," Phish frontman Trey Anastasio told me. "I've now seen it happen so many times—the guy is driven, and he has vision. I mean, he didn't just renovate it, he made it gorgeous and beautiful and went completely over-the-top, against all odds and logic."
Anastasio, whom Shapiro affectionately refers to as "Big Red," has been a crucial figure in Shapiro's career because he's been there through all of it—Wetlands was one of Phish's first homes and they were playing The Capitol well before Shapiro came in and fixed it up. So it was a no-brainer that Anastasio should fill in for Jerry at the Fare Thee Well shows.
"There have been so many nights when I've come off stage and given Pete a little high-five as I'm walking past, and he always has a huge grin on his face," Anastasio said. "It's contagious. The guy has big ideas, and he makes them happen—Brooklyn Bowl, Fare Thee Well, Lockn', The Capitol Theatre. I'm a huge fan. I can't wait to see what he's going to do next, because I can guarantee you that he's not done yet."
Anastasio is far from Shapiro's only fan. It's no surprise that 20 years later, everyone in the community Shapiro's nurtured was happy to tell their story about how this man has worked tirelessly to not just keep it together, but ensure it thrives.
"People have written a lot of stories about Pete, but what no one's really gotten is that Peter is a scion of the jam-band scene," HeadCount executive director Andy Bernstein told me earlier that afternoon in the office he shares with Shapiro and Relix. "I call it the jam-band mafia, and we've been around for over 20 years. There are no new faces here. One of the things about Fare Thee Well that was really emotional was, Pete turned to all his old friends to put on the show."
Bernstein co-founded HeadCount in 2004 to help kids register to vote at concerts. Since becoming its executive director in 2008 he's seen HeadCount grow to 15,000 volunteers around the country. "We've built something up from within this core community that can function well beyond it," he said.
''Pete looks at music and the industry in pretty much the same way Grateful Dead did. A dinosaur kind of thing that you've gotta kick into motion, that you've gotta sneak in under the scales to get anything really interesting or creative to happen.'—Phil Lesh
Every facet of Shapiro's business seems to involve building something in the community that functions well beyond it.
But within the community itself, Shapiro couldn't accomplish nearly as much without working with people close to him; when he talks about collaborating he's not exaggerating—he's produced two Imax concert films, All Access and U23D with his brother Jon and started an environmental consulting firm post-Wetlands, GreenOrder, with his other brother Andrew that helps companies operate sustainably. Shapiro even works with his wife Rebecca, who oversees the PR at Shorefire for Brooklyn Bowl and the Capitol.
"It's hard to make the magic happen alone," he said.
The week prior, Shapiro invited me to The Capitol to connect for the first time and catch a performance from the legendary Little Feat. The Capitol's general manager Tom Bailey met me in the lobby for a tour of the space, including its adjoining bar and show space for emerging bands, Garcia's. The Grateful Dead played The Capitol 18 times in 11 months from 1970-71, but Bailey further regaled me with some of the artists who played the room in its heyday—Pink Floyd, Santana, Bowie, The Stones, Derek and the Dominos, Iggy Pop and Janis Joplin—by showing me several of their faces on Shapiro's custom wallpaper.
"Janis played her third-to-last show here," Bailey said. "She wrote that song 'Mercedes Benz' at the bar around the corner."
Phish also has a long history at the Capitol, going back to around 1990. "I love that room," said Anastasio. "It was always a big celebration when we played there, with lots of friends backstage. It was pretty disheveled and in disarray back then—kind of a wreck. I remember hearing that Pete was planning on trying to renovate the place, and thinking to myself that it would be a massive undertaking, almost impossible."
"When you start a project like that, there are 1,000 naysayers telling you why you shouldn't do it—how much money you're going to lose, how no one will ever come all the way out there, how it's never gonna work. It takes mountains of enthusiasm and vision to push a project like that all the way to completion, and he slam-dunked it."
'It takes mountains of enthusiasm and vision to push a project like that all the way to completion, and he slam-dunked it.'—Trey Anastasio
Crossing the threshold to backstage, you see a black and white photocopied picture of a smiling Jerry Garcia holding an empty wine glass taped in the wings on stage left, with a quote underneath. "See, there's only two theaters, man, they are the only two places that are set up pretty groovy all around for music and for smooth stage changes, good lighting and all that—the Fillmore [East] and The Capitol Theatre," Garcia said in October 1970. "The rest of the places we play are sort of anonymous halls and auditoriums and gymnasiums."
Garcia evoking the famed San Francisco promoter Bill Graham's legendary temple of psychedelic rock, The Fillmore East, shouldn't be taken lightly. Not just because that venue closed in '71 and the Capitol is alive and well, but because when you consider all the positive things Graham was known for professionally—fiercely advocating to preserve a sublime experience for both his talent and his audience in particular—Shapiro's similar concern for the people involved in his productions is tantamount to a rock and roll legacy.
And Shapiro knows it—that's why he made sure Tom Bailey was running the room. Bailey had run several spaces in his career, but Shapiro knew him for his time at Bill Graham Presents in SF, where he worked at the Fillmore and the Warfield.
Phil Lesh said as much about the promoter earlier this year, when Shaprio's Executive Assistant and right-hand-man, Bradley Tucker, interviewed him ahead of a BRIC Gala honoring Shapiro's influence on New York's live music culture.
"Pete gets it, he gets the experience," said Lesh. "He's a lot like Bill Graham in that way. He's intimately involved in every aspect of the experience the guest has when they come through the door. A can-do guy, full of ideas. I really like that. That's the kind of thing I look for in musicians."
Lesh also praised Shapiro for restoring The Capitol to its former glory. "Pete transformed the old girl into a really good place to play," he said. "Not that I remember it that clearly from the past."
Tom Bailey brought me backstage after the tour, where Shapiro was waiting with a smile and an outstretched hand.
"There's magic in an old rock palace," he told me. "You do enough of these shows and it changes the air, the air is different. I believe that. In a new clean room that doesn't have that history, it's harder to build that. People are aware of the history. You start getting into it, you feel it and you go there. So I believe in that vibe."
For whatever patchouli-scented vagaries the word "vibe" may conjure in the mind, Shapiro uses the word to mean everything from putting on a special show to doing good business. It's in the interest of keeping this vibe that Brooklyn Bowl always has an affordable $5 beer on tap; that his annual Lockn' Festival features continuous music, accomplished this year with a rotating stage so that, as a song on the Dead's Blues For Allah suggests, "the music never stops." And it's in the interest of this vibe that Shapiro handed out 80,000 roses at Fare Thee Well, along with a tie-dyed shirt for every usher to wear.
'If you build it right, cream rises over time.'—Peter Shapiro
In 2009, Shapiro even bought Relix magazine, originally launched in '74 as the Grateful Dead newsletter and a primitive means of trading bootlegs.
"In an age of mobile video and shit moving across platforms so fast in and out of the public's attention, the value of Relix and the Capitol Theatre is more important now than it used to be," he said. "You can get information out, but it gets lost. It's hard to have it get caught and noticed and people register and get it. It's very hard in the static."
Shapiro knows a thing or two about staying above the noise. He's particularly active on his new website and app, FANS, a social, interactive portal for sharing concert set lists, photos and experiences. "FANS is an attempt to take this scene and community and create a vibe when you're not at the show to talk about the shows," he said, pulling up a Further set list in seconds from a show in 2012 that we both attended. "There's LinkedIn for jobs and whatnot, but there's nothing like this. It's music, but it can go into sports, too. There isn't a place like it. This is about what you love."
Talk to Shapiro for long enough and you'll get the sense that putting on shows was always about him doing what he loved, from the time he spent at the original jam band incubator, Wetlands Preserve, which he eventually assumed ownership of from the late Larry Bloch in '96, to this day.
"I learned it all at Wetlands, which Larry started in '89," he said. "The irony is, he picked that corner at Hudson and Laight in Tribeca because he thought no one would ever wanna live there. I didn't have family, so I was there when the Disco Biscuits would come offstage at two, three in the morning, doing tequila shots."
When Shapiro speaks of "learning it all" from Bloch, he's also talking making the space communal. Wetlands was treated as an activist club, and Bloch taught Shapiro that making sure your space was a meeting place for ideas to be exchanged was just as important as the music.
"We'd use the basement to have meetings for the Rainforest Action Network," said Shapiro. "We would use the back when the young people were there to have a meeting with the youth. Get 'em activated."
Shapiro was training himself to practice Bloch's style of doing things with inclusivity.
"It was much more of a mentorship than a venue acquisition," recalled Jake Szufnarowski, a former Wetlands booker who currently books bands at Brooklyn Bowl London and started New York's Rocks Off Concert Cruises. "In fact, Larry agreed to let Peter buy Wetlands over time. Didn't require a big up front payment because he wanted someone who was gonna pay attention to all the little details. He spent a lot of time educating Peter on the ways and the reasons behind the ways to make the experience better."
Those little details were not often seen, but they were always felt. Bloch realized that by the time beer drinkers got to the eighth ounce, the ninth ounce would be warm in their glass. So he'd sell people eight-ounce beers, sell more of them, and charge half or a third of the price.
'Everyone who connects with him just wants to be part of what's going on, because there's something more going on. It's not just the show, and that's why it's really special.'—David Kornell
"Larry would call the club and ask, 'What's playing? What is the DJ playing?' " said Shapiro. "That was always his first question, before how much money we had. I think that's the smarter way because in the long run, the economics come, too. If you build it right, cream rises over time."
That cream turned into a whole feast of musical sub-genres come 1996, when the community existed but the term "jam band" wasn't yet a thing.
"Jerry's death in '95 led to the birth of the whole jam-band scene," said Shapiro. "Because you couldn't just go to Grateful Dead shows anymore, there were none. So it splintered off. The Dead encompassed so much music—Southern rock and psychedelic rock and folk music and jazz versions and bluegrass. So [now you have] Medeski, Martin and Wood, String Cheese and the bluegrass scene, the electronic side with [Disco Biscuits] and Sound Tribe [Sector 9], and Moe with the Americana. I was around when that whole thing started happening."
If those bands made up Jam Band 3.0 then the previous iteration happened at Wetlands while Jerry was still alive. Concert Joe, an O.G. Deadhead who broke a world record at Wetlands when he saw 1,0031 shows in a single year, remembered those golden years in the early '90s. "Phish had to buy 650 tickets themselves because nobody ever heard of them," he remembered. "So they had 13 school busses bring 650 people down from University of Burlington."
[youtube https://www.youtube.com/watch?v=pp8Cv1yMF6Q]
Even Concert Joe is inexorably linked to the important places in Shapiro's life. Joe remembered seeing New Riders of the Purple Sage at The Capitol Way in the '70s, when the venue didn't even have benches but 2-by-10-foot planks of wood. He regaled me about the origins of Wetlands with a lucidity that one only evolves through the purest of psychedelic experiences. He remembered the precise moment when all his assumptions about Shapiro evaporated: after Joe got to Shapiro's one-off Jammy Awards late and they wouldn't let him in.
"When I first met Pete, I didn't like him," said Joe. "Today I would take a bullet for him, because he stood up for me. Pete came over and fought with this 6'6", 350-pound Russian security guard for 15 minutes, almost got into fisticuffs with the guy because he wouldn't let me in. Pete said, 'It's my show, I can bring in anyone I want' and the guard said, 'not this guy.' Ten minutes later Pete came out with a laminate, put it around my neck and walked me in."
Eric Krasno, lead guitarist of the jazz groove band Soulive, plays regular multiple-show residency runs at Brooklyn Bowl that Shapiro calls Bowlive, while The Roots drummer and avid record collector Questlove spins at his Thursday night dance party, "Bowl Train." Questlove told The Village Voice that Brooklyn Bowl was his incubator, his woodshed, while Krasno couldn't stop smiling backstage at Phil Lesh's Coney Island gig, when he and Soulive were about to take the stage and serve as Lesh's backing band.
"Pete was a Deadhead, and we connected on that even though I was wearing a suit and playing more jazz music," said Krasno. "It was beyond the scene you're in and playing the funk or the jazz or whatever. I was into everything. Pete opened the door to bridge the gap between what we were doing, and ushered us into the whole world that became the jam band scene."
Krasno's been on Shapiro's radar since the Wetlands days, when sending Shapiro tapes eventually led to gigs that Krasno considers a precursor to Bowlive. When Brooklyn Bowl opened in 2009, eight years after Wetlands closed, Krasno immediately felt at home.
"We all kind of discovered over time that he was the guy making things happen," Krasno said.
"Brooklyn Bowl is the child of Wetlands," said Shapiro. "That venue wasn't known for great sight lines, so you had to work harder for the audience to have a great time. Now the Bowl has great sightlines, and the Cap. I learned a lot about how to create an environment for the show that people will remember long after the show."
"He's just got so many ideas floating around in the ether all the time," said Jake Szufnarowski. "I think the people who are closest to him receive them as instructions from their psychic, psychedelic prophet."
Szufnarowski's not wrong—in the final days that this story was coming together, Shapiro ecstatically cold-called to tell me that he'd just conceived a new, upcoming event at The Capitol going down on the weekend before Election Day. "Jam The Vote" will feature New Orlean's Preservation Hall Jazz Band backing a series of special guests. The plan is to stream the show online for free to anyone who pledges, on their honor, to vote the following Tuesday.
Shapiro's happy that this same participatory, communal spirit from Wetlands has carried over to the Bowl, which also hosts everything from kids concerts, sporting event screenings, birthdays, weddings, Bar Mitzvahs, you name it. "People sat shiva for Prince at the bowl," he said. "Prince died on a Thursday, so Questlove was already there [for Bowl Train]. When Phife [from A Tribe Called Quest] died that was also a Thursday, and people mourned."
'The sign of having made it is not having to care how much drinks cost anymore.'—Jake Szufnarowski
Such moments make Brooklyn Bowl a church, a synagogue and a non-denominational gathering place all at once. Its bowling alleys may or may not be active depending on the show, but the high-end restaurant franchise Blue Ribbon has an outpost there, cooking up their transcendent fried chicken, while Brooklyn Brewery next door assures the drinks can remain reasonably priced. It all adds up to a destination venue that not only creates more revenue streams, but more reasons for people to hang and discover new music.
"The sign of having made it is not having to care how much drinks cost anymore," Szufnarowski joked about Brooklyn Bowl's $5 beers. "The future of our industry are the kids in their 20s buying tickets, and it makes a big fuckin' difference."
Shapiro's vibe-inducing details like the tye-dyed usher's shirts at Fare The Well and the faux-sideshow graphics that adorn the Bowl only scratch the surface of the man's "fan first" approach to his productions.
"It's as if Pete looks at music and the industry in pretty much the same way Grateful Dead did," said Lesh. "A dinosaur kind of thing that you've gotta kick into motion, that you've gotta sneak in under the scales to get anything really interesting or creative to happen. Pete has always had that kind of improvisatory gene that he just keeps manifesting."
Lesh's words reminded me of when Shapiro and I we were hanging at his Coney Island show a few weeks earlier. Shapiro found me toward the end of Lesh's first set, as Lesh and Soulive were jamming out to "That's It For The Other One" off the Dead's '68 acid test of a sophomore album, Anthem of the Sun.
The ushers at Shapiro's venues all knew him by name, but seeing as this was a new spot, the woman taking tickets for my section saw him approach our row, had no idea who he was, and asked to see his ticket. Shapiro only had an all-access pass, and explained that he was putting on the show, but the usher said he would have to leave or she risked getting in serious trouble.
Rather than wave his clout around, Shapiro just smiled, gave me a hug and said he was off to the Capitol. Strangers in the row ahead of us explained to the woman who Shapiro was after he left, and the show rolled on.
During set breaks, a bearded man named David Kornell turned around from the row in front of me and asked how I knew Shaprio. I told him about this story and he let slip that he once worked as the executive chef of Brooklyn Bowl on behalf of Blue Ribbon. Even though he no longer worked in Shapiro's venue, Kornell still considers him family. He told me how, when Shapiro was gifted a bunch of meat at this year's Lockn', he asked Kornell to be the grillmaster and cook it up backstage for all of Shapiro's friends.
"Pete is just a fan," said Kornell. "Everyone who connects with him just wants to be part of what's going on, because there's something more going on. It's not just the show, and that's why it's really special."
'Magic is what people crave, especially in these crazy times.'—Peter Shapiro
When Shapiro invited me to Brooklyn Bowl for one last show Friday evening, no one in the room had any idea how much its incubator spirit would be on display that night. Joe Russo's Almost Dead, a top-notch Grateful Dead cover band that was born at Brooklyn Bowl, took the stage to rapturous applause for their second of three sold-out nights. Deadheads love JRAD because they don't just play the hits, but the songs that Garcia and co. loved themselves, including the live deep cuts and other Dead-related musical ephemera. A cluster of Deadheads waited outside hawking crystals and holding fingers in the air, symbolizing the tradition of hoping for a "miracle," or a free ticket.
JRAD opened with Bob Dylan's "Tough Mama" off his '74 collaboration with The Band, Planet Waves, and closed with Dylan's "Quinn the Eskimo", a prescient reminder that they don't only know the Dead songbook, but the band's history, too. Then John Mayer came onstage and jammed with them for the whole second set, and the room almost exploded.
Mayer's been doing the jam thing for about a year now, when he joined with the remaining members of the Dead (minus Phil Lesh) to form Dead & Company and play packed arenas across the country. This was a contentious choice for some of the old heads, who saw the smooth, fresh-faced virtuoso Mayer as worlds away from their beloved Jerry. But those who heard him rip were convinced.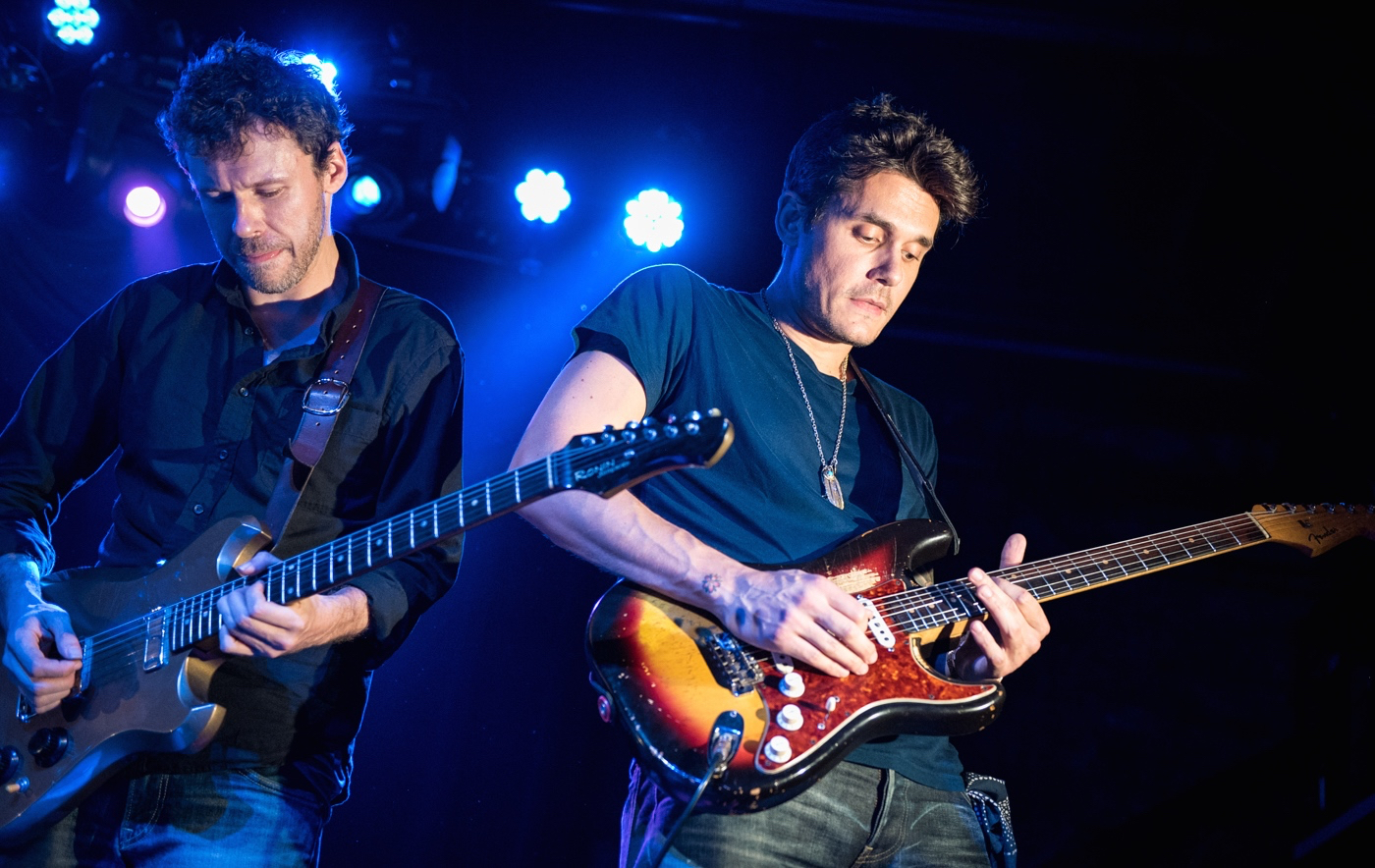 That night at Brookyln Bowl JRAD and Mayer tore through the noodliest sections of their own "That's It For The Other One" cover, the high-wire crisp jazz solos of "King Solomon's Marbles", and the country strut of "New Speedway Boogie", convincing even the most O.G. boomer heads that Mayer's got the chops to roll with the best of them. That's what Shapiro's friends and colleagues are getting at when they call him a "connecter."
Shapiro told me after the show that the surprise just happened an hour or two earlier, when Mayer showed up to check out the band, dug their first set and casually told Shapiro that he had his guitar in the car.
"Magic happens when it's unexpected," Shapiro said. "That's the lesson of the Grateful Dead, and what I learned at Wetlands. Sometimes chasing it will cause you to fall on your face, and lots of risks appear when you seek it out but, when it works, you can lift people. There have been times when that magic moment is happening when both the musicians and the audience can feel it together that I have been concerned, I swear, that the roof at Brooklyn Bowl was going to explode off."
"It's what I try and do, though. I was trained at Wetlands to seek it out. We needed to create magic at Wetlands to compete with music venues that had better sight lines, better sound and better locations. But magic is what people crave, especially in these crazy times. John Mayer playing an hour and a half with musicians he had never met before, with not a person in the venue knowing until the moment he walked onstage, was one of those moments. And those moments don't fade away—people remember them forever."