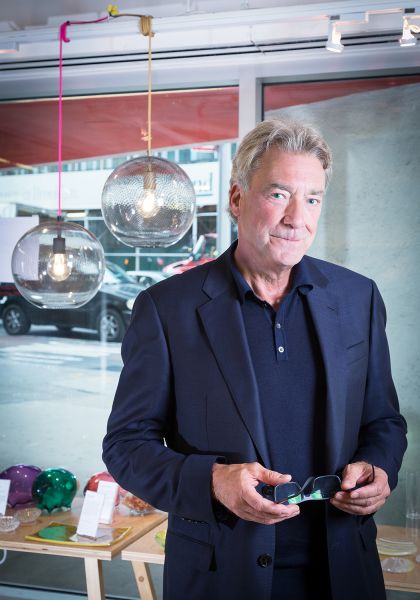 For 30 years, Jeffrey Beers' nonarchitectural talents have set him apart in a crowded city of starchitects and design egos. A fascination with glassblowing—a skill he acquired as an architecture student at Rhode Island School of Design—lends his projects a truly artisanal approach. His latest building design features an array of some 180 blown glass globes spanning an entire city block. This impressive creative feat will be mastered in collaboration with UrbanGlass, the Brooklyn glass studio of which Beers was a pioneering member.
You are a rare breed—an award-winning architect who is also a gifted glass artist. How did you come upon glassblowing? [Renowned glass artist] Dale Chihuly was head of the sculpture department of RISD.  In my sophomore year, my architecture studio was located in the sculpture building and I would wander down to this room, bursting with more creativity than I'd ever seen in my life. You had some of the most prolific glass artists from Dale to Jamie Carpenter to Ben Moore to Howard Ben Tré working there. I was just swept away.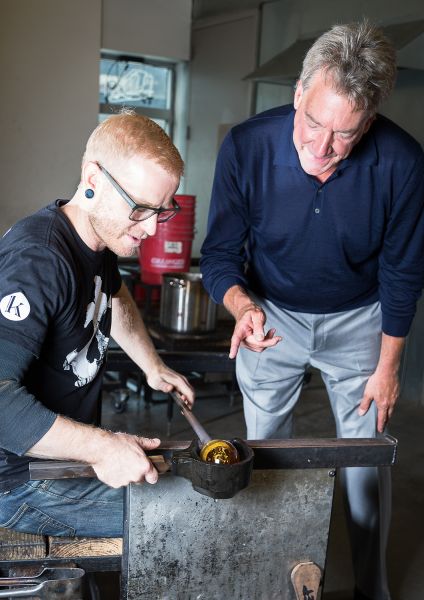 How does one craft influence the other? I became absolutely fascinated the ever-evolving, changing form during the glassblowing process. While glass is in a molten state, there is a design dynamic that involves time and fluidity. Architecture—at least when I first got into it in school—was highly disciplined and very rigorous. It was the antithesis to hot glassblowing. It was so invigorating to come in and out of these two worlds. The glass world definitely informed my architecture: My work became more sensuous,  less orthogonal. 
Is this what brought you to Brazil to work for Oscar Niemeyer, the original starchitect and daring sculptural designer? Oscar's work really exhibited all the things I was getting so jazzed by. His designs are very sinuous, feminine and emotional. They're spontaneous, and he loved working with artists and landscape designers. I was so captivated with Brazilian art and the country as  a whole. It's such a rich nation for the arts. 
You then moved back to New York to work for I.M. Pei, whose aesthetic was completely different to Niemeyer's. What inspired that change? I became intrigued with the science of glass and what is called curtain walling—detailing the facade of skyscrapers with glass. I.M. was one of the forerunners. I thought, "I really want to work with him and explore the technical components of glass." So I went to a payphone on the loud street corner with cars and busses buzzing by and called his office. To my delight I was put right through to one of the senior partners—all you dream about as a young 20-something looking for a job. I enjoyed an eight-year tenure there.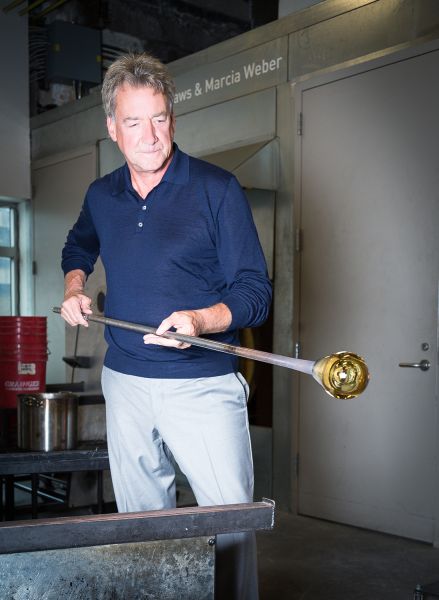 But you still missed glassblowing… Yes. I searched around and found these two guys with a new, small facility downtown. It had one furnace and I came along and said, "Can I play?" One thing led to another, and they formed the New York Experimental Glass Workshop which evolved into UrbanGlass, a 20,000-square-foot facility on Fulton Street in Brooklyn. 
Coincidentally, you now have a design project right across the street. How did you bring UrbanGlass into it? We are doing the ground floor food and beverage (area) of a residential tower for the Gotham Organization. We are working with Susan Spiranovich and Adam Holtzinger who are blowing 180 globes of glass.
Everyone dreams of making their home resemble a luxury hotel. What are some tips you would offer to achieve that polished luxe look at home? Lighting can really make a home a much more theatrical, dynamic space. Dimmers are essential, and my approach to lighting is to always light up surfaces—walls, materials, screens—indirect lighting is very key. The kitchen offers great possibilities in bringing in materiality and a sense of hospitality. As opposed to being relegated to a room in the back of the home, the kitchen is now the epicentre of most homes, with the kitchen island being a key element. The island becomes the family hearth—kids can come and do their homework and be with the parent who is preparing the food. The same goes with guests at a dinner party; you engage them into the process of making the meal. The kitchen is really the theatre, the stage of the home.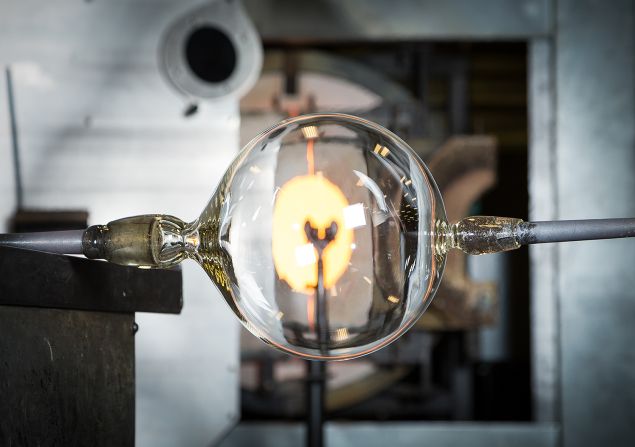 Describe your own home. It is two apartments I've combined and organized so that one enters directly through a foyer space into an open kitchen. There is a living and dining room in a lofty public space that leads to an outdoor area. Back through the foyer you can go to the bedroom wing. It's very much like a hospitality space. It's functioned very well; I brought up two boys who are now in their 20s in this home. It's a very joyous, festive home. 
Where do you go to for inspiration? I've lived in New York since I was 5 years old. New York is my home—I've traveled the world, and it always feels like home. It drives me creatively and intellectually. I never get tired of walking New York. Fifth Avenue on an October Saturday is just magical to me. Grand Central Station is a bizarre place where everybody is on a mission. It's got a fascinating din—the fuzz that allows my mind to escape—white noise. I love that you can be anonymous in New York, although you're in an intensely close environment. For a quiet, contemplative place I love the Temple of Dendur at the Met.