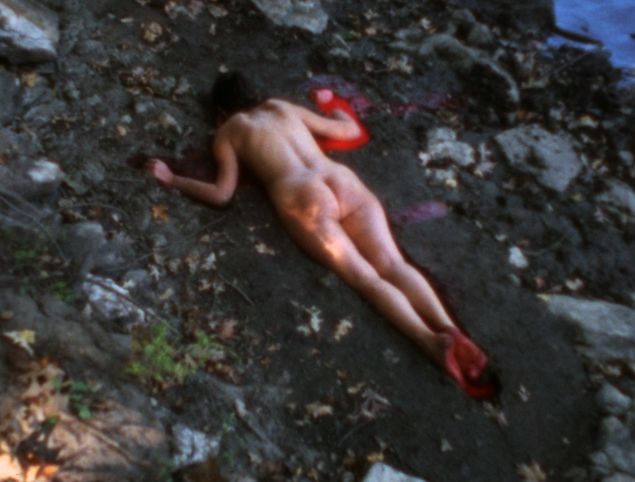 Ana Mendieta's photographs and videos went on view earlier this month at Contact Gallery in Toronto, opening exactly 31 years after the day (September 8) of her fatal fall from the 34th floor of the apartment she shared with her husband, the sculptor Carl Andre, in New York City.
Her death, for which Andre was tried and acquitted by a judge—he waived his right to a jury—remains a legal mystery that has been oft-recalled. But Mendieta's staying power 31 years later is anything but mysterious. Besides the Toronto exhibition, on view through October 29, a complete survey of her work in film opens at the Berkeley Art  Museum/Pacific Film Archive in November.
Most of the pictures in Toronto are from Mendieta's series, Siluetas or Silhouettes (1973-80). Silhouettes was a mix of films and photographs, but mostly photographs are on view in Toronto. (Her films, including some that were thought to be lost, showed in the Wavelengths series at the Toronto International Film Festival, Sept. 8 – 18.)
The dozen or so images in question are almost all demarcations of a body in the landscape—her body. Prepare for a special take on self-portraiture.
But there's also the broader picture. The still images pictures (and films) are variations on a theme, with landscape via photography as the medium. The body form is outlined in a stream, in the sand, in grass, and in blocks of stone—incorporating and exploiting the four traditional elements of earth, wind, fire and water. In the most solemn way, it can be seen as a statement of oneness with the earth, with mud and blood. But is it?
Displacement, rather than oneness, was a constant for Mendieta. She was sent (a child exile) out of Cuba by her family, from whom she was separated for many years. In her birthplace, her father spent a long time in prison after his fervor for Fidel Castro faded.
From her earliest work, Mendieta was after more than tender nostrums. The body that she's depicting in Silhouettes does not move, even when the pictures do.  And against a larger stillness, that of nature, she seems to be asking whether this body will leave anything behind.  The body outlines, in chalk or stone or grass, suggest the aftermath of an act (a death? a killing?) and pose a question about whether the memory of the person who is outlined will endure.
Inevitably, there's the comparison with male artists working in a similar vein. The sheer scale of work by men at the time seems intended to make those works hard to forget. Mendieta, small of stature, wasn't about bulldozing her way into nature, or beyond it, but situating herself in it—tactility rather than triumphalism. Robert Smithson's Spiral Jetty, a huge stone construction of stones constructed in 1970 in a Utah lake, is the obvious comparison. In Silhouettes, we're looking at resting places, not wonders of earth-moving. Some of the works are so discreet that we barely notice the human outline. It's an eerie dust-to-dust, earth-to-earth warning, given what would happen.
Are the Silhouettes self-portraits? Yes and no. These are outlines, rather than likenesses, and their siting in the earth raises questions about what the self, is, and whether an artist is more than just herself.
"I think I am the shaman of pre-Iberian Afro-Caribbean goddesses," Mendieta wrote to her friend, the critic Lucy Lippard, in a letter quote in the catalog of the Berkeley show. Shamanism suggests magic, and one of Mendieta's images depicts her lying face-down on a hillside. An adjoining image shows her body engulfed in red that looks like fire or lava.
You don't have to believe in magic (or in the grim prophesy suggested by a chalk outline of Mendieta's still body) to believe in paradoxes. Mendieta was full of them. Much of what we could call her self-portraiture was an anti-portraiture founded on her disappearance into nature. The very notion of the silhouette, as Mendieta deployed it, presumes an undermining of the silhouette as the fashion industry's template for attracting men with a generic feminine shape. Since Mendieta's project, artists like Kara Walker have exploited their versions of the silhouette to retell centuries of history. There are sure to be more.
Revisiting her work in the medium of landscape on the anniversary of her death is a reminder of Mendieta's restless imagination, and of her youth. She died before she was 40. The shows this fall stress the legacy over the loss.