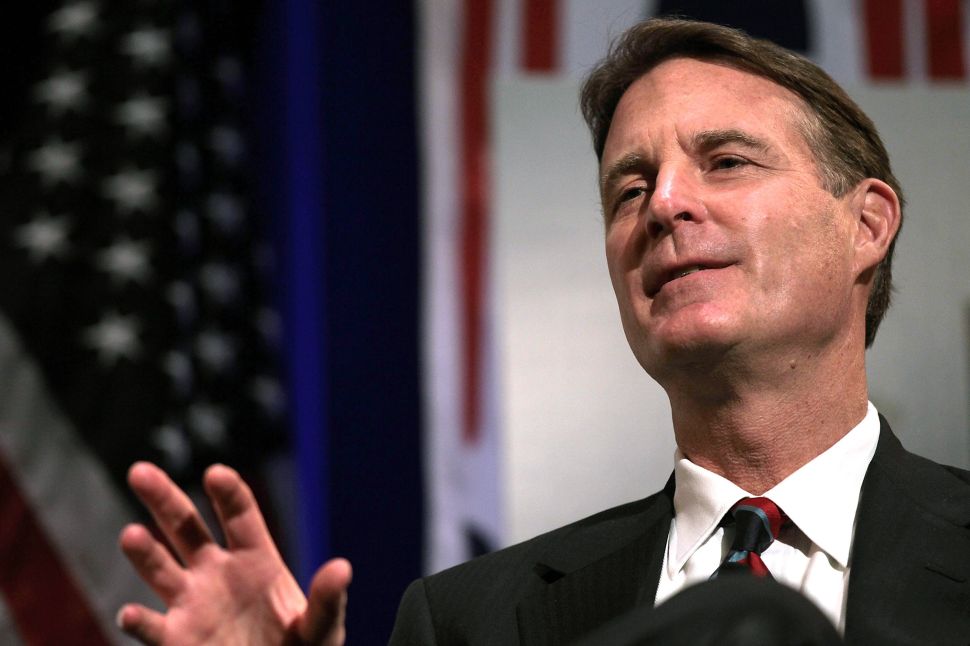 It was hailed as quite the coup this year when Democrats convinced Evan Bayh to run for the Indiana Senate seat he gave up in 2010. Their initial nominee, former Congressman Baron Hill, was floundering in polling and fundraising, and he was headed for certain defeat by the man who had decisively ended his tenure in the House of Representatives six years ago, Republican Congressman Todd Young. So Hill stepped out, and Indiana Democrats selected Bayh, immediately causing many prognosticators to shift the race to Team Blue.
The expectations were understandable. Bayh has been a political colossus in the Hoosier State for 30 years, winning five statewide races beginning with his 1986 election as secretary of state, followed by two terms as governor, and two terms in the Senate. Despite being a Democrat in a solidly Republican state, Bayh's personal popularity and his legendary family name, as well as his politically moderate tendencies, have kept him undefeated in Indiana all these years. He has never won an election by less than 6 percent, and in his last three elections—including his 1992 gubernatorial reelection campaign, and his Senate races in 1998 and 2004—he averaged more than 62 percent of the vote.
But now, in his comeback bid, Bayh may well share the political fate of his legendary father, Birch Bayh, whose tenure as a three-term Indiana senator ended in 1980 with a decisive loss to then-Congressman Dan Quayle.
A poll released October 6 by WTHR-TV in Indianapolis and Howey Politics Indiana showed the Democrat barely clinging to a one point lead over Young, a former Marine and Naval Academy graduate who has long been considered an up-and-comer for the GOP. The statistical dead heat has narrowed from four points a month earlier, and significantly larger internal polling margins Democrats touted after Bayh entered the race in the summer.
Should Evan Bayh lose in November, it would mirror in some ways the elder Bayh's involuntary retirement from politics, which was a shock to many at the time. He was a colossus of Indiana politics himself, having been elected to the state legislature at 26 years old in 1954, and rising shortly thereafter to speaker of the Indiana House. He won his first of three U.S. Senate terms in 1962. In those days, it was still possible for an unabashed liberal to get elected in Indiana, and Birch Bayh was a hero of the left. (The Party Crasher's liberal schoolteachers in the Democratic stronghold of Northwest Indiana often spoke in hushed, reverent tones when they spoke of Birch Bayh.)
In 1980, when Birch Bayh faced off against the little-known Quayle, he was just four years removed from a presidential race in which he had been considered a real contender but had ultimately fallen short in the primaries against another little-known foe, a former Georgia governor and peanut farmer named Jimmy Carter.
If the end comes in a few weeks for the younger Bayh—who once harbored hopes of his own for national office and was on the vice-presidential short list in 2008—it would certainly come in a different environment than the one his father faced. It can be argued that Indiana has become much more staunchly Republican than it was either during Birch Bayh's time, or even during Evan Bayh's career pre-2010. Since Indiana went narrowly to Barack Obama in the 2008 presidential election—the only time the state has favored a Democrat for the nation's highest office since 1964—the Democrats have collapsed in the Hoosier State. They went from a small majority in the state House of Representatives, to a 71-29 deficit (as well as a 40-10 deficit in the state senate, which the GOP has controlled for decades).
Democrats used to be more competitive statewide in Indiana because of their strength in three areas: the urban core of Indianapolis; the industrial centers of northern Indiana (and particularly the highly populated northwest corner of the state bordering on Chicago); and the southern counties in the Ohio River Valley. This three-legged stool kept Team Blue competitive, even though it was usually in the minority.
But one of those legs has collapsed since the start of the Obama Administration, completing a process that had been underway for some time. What used to be a Democratic redoubt in the southern portion of the state has turned dark red. Culturally and politically aligned with neighboring Kentucky (and Greater Appalachia generally), this region was always socially conservative, but still supportive of Democrats, and many of the Ohio Valley counties supported Bill Clinton in his 1992 and 1996 campaigns, as did Kentucky.
But in recent years, like its neighbor across the Ohio River, southern Indiana has moved hard and fast into the Republican camp, leaving only central Indianapolis, a shrunken industrial base, and a smattering of college towns to the Democrats. There just aren't enough votes left to keep Democrats consistently competitive statewide. (While it is true that Democrat Joe Donnelly snagged a Senate seat for Team Blue in 2012, he did so against a weak Republican opponent who made impolitic comments during a televised debate about abortions stemming from rape. Donnelly's election provided a rare exception to what has otherwise been a bleak situation for Hoosier Democrats since 2008.)
In his comeback bid, Bayh has also faced issues that he has never had to deal with before. After leaving the Senate in 2011, he hired on with a Washington, D.C. firm, McGuire Woods, and is now being forced to quibble over whether he was a "strategic advisor" or a lobbyist, with many voters considering the latter designation a liability. He has also been forced to defend against charges that he no longer resides in Indiana, a sensitive point for many Hoosiers who respond to derisive comments about "flyover country" by taking a fierce pride in their home state. He did not help himself on this point by getting his the address of his one-bedroom Indianapolis condo wrong in an interview in August. (Bayh reportedly owns two homes in Washington, D.C., and another in Florida.) These new challenges are summed up on a website, www.BayhLeftUs.com, which carries the following statement that comes up in a Google search: "He made millions as an influence-peddler in D.C. and cashed with the Big Banks."
And just last weekend, the Associated Press reported Bayh "spent substantial time during his last year in the Senate searching for a private sector job even as he voted on issues of interest to his future corporate bosses."
The relentless attacks seem to have taken a toll, with the Hoosier State's onetime favorite son now struggling, like his father in 1980, to fend off a challenge from an up-and-coming Republican congressman. Judging by the polling over the last few months, Bayh's prospects are moving in the wrong direction, and unless he finds a way to stop the bleeding, the once-unthinkable prospect of Evan Bayh losing a race in Indiana could become a reality.
A Bayh loss could be catastrophic to national Democrats' hopes of reclaiming the Senate. After Illinois and Wisconsin, which are generally conceded now as Democratic pickups, most analysts have listed Indiana as Team Blue's third-best pickup opportunity. With Democrats needing a net gain of five seats to gain a bare 51-49 edge, they can now count on picking up only two seats, and may well lose the seat of retiring Sen. Harry Reid in Nevada.
Should Bayh shock the political world by losing in November, Democrats would likely need to win four other seats Republicans currently hold (or three to get to a 50-50 tie, which is broken by the vice president). In no other states are Team Blue's prospects of Senate pickups better than 50-50 at this point, though there are several states — including Missouri, Pennsylvania, New Hampshire, and North Carolina — where they are currently polling in dead heats with their Republican foes. Given the trajectory in Indiana and the current situation in Nevada, Democrats may well need to sweep those other four states to get to 51 seats in the next Senate.
All of this said, by no means should anyone count Bayh out. His name has been political gold in Indiana for a very long time, and he certainly gives the Democrats their best (and arguably only) chance to pick off this seat. But the Republicans, for the first time in his long political career, are breathing down his neck. While his opponent will not have a national Republican wave to benefit from, as Quayle did during the Ronald Reagan landslide in 1980, Young does have the momentum right now. If the Republican can keep the momentum, one of the GOP's most promising young prospects has a very realistic shot at ending Indiana's greatest political dynasty—and very possibly national Democrats' hopes of reclaiming the Senate this year.
Cliston Brown is a communications executive and political analyst in the San Francisco Bay Area who previously served as director of communications to a longtime Democratic Representative in Washington, D.C. Follow him on Twitter (@ClistonBrown) and visit his website at ClistonBrown.com