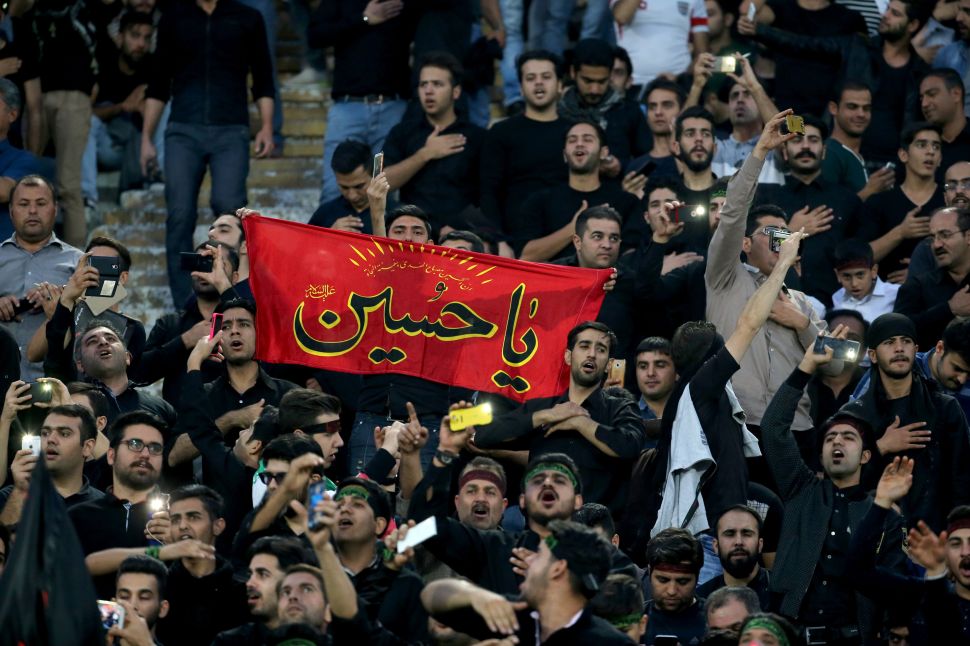 After Iran coolly announced half a dozen 10-year sentences for men accused of spying on behalf of the U.S. government—two of those American citizens, one a permanent U.S. resident—the State Department debuted, or rehashed, one of its slightly sternly worded statements in response.
Mind you, there was nothing Tuesday from President Obama or Secretary of State John Kerry as the lives of these Americans held for the past eight to 13 months fell apart. Instead, State Department spokesman Mark Toner said the U.S. was "deeply concerned" about reports of the sentences.
Babak Namazi, the brother of hostage Siamak Namazi and son of hostage Baquer Namazi, warned in a statement Tuesday that his 80-year-old father has essentially been sentenced to death. Baquer was already on medication for a heart condition and other ailments when he was seized in February in Tehran, where he was trying to get his son Siamak released. "At his age and in his condition it is highly doubtful that my father will survive any time in prison let alone a 10-year unjust prison sentence," Babak wrote.
The State Department response? "We remain especially concerned by reports of his declining health and well-being."
If Iran had any concern about Washington's "deep" concern, they wouldn't have seized Siamak Namazi a year ago, before the nuclear deal implementation day, then refused to include him in the January hostage swap. If Iran had any concern about Kerry's concern, their regime wouldn't have personally invited D.C. resident Nizar Zakka to speak at a Tehran women's development conference in September 2015 and took him hostage as he was headed to catch a flight home. Heck, if Iran had any concern about Obama's concern, or the United Nations', they wouldn't be testing ballistic missiles at will, supplying Houthi rebels that fire missiles at U.S. ships, or seizing U.S. sailors just long enough to force them to make a humiliating propaganda video.
That leads to the kicker of Toner's statement: "We also respectfully underscore the importance of Iran cooperating with the United States to determine the whereabouts of Mr. Robert Levinson, who went missing on Iran's Kish Island in March 2007."
"Respectfully"? We "respectfully" ask Iran, who just sentenced citizens Siamak and Baquer Namazi and permanent resident Nizar Zakka to 10 years in prison after sham quickie trials, to suddenly be forthcoming about the longest-held hostage in U.S. history? We "respectfully" ask the country whose years-long torture of U.S. citizens is gruesomely detailed in the lawsuits filed against Iran by former hostages Amir Hekmati and Jason Rezaian?
Toner explained at Tuesday's State Department briefing that "adverbs aside, what we're trying to underscore here is that Iran made a commitment that it would help us get to the bottom of either Mr. Levinson's whereabouts or what happened to him—and thus far they haven't lived up to that."
Bingo! Just ask the Levinson family, who for nine excruciating years have taken their pleas to any official who might listen and might help bring the former FBI agent home. "Our sole desire for whatever time he has left on Earth is that he be surrounded by those who love him," Bob's wife, Christine, implored Ayatollah Khamenei in an August letter.
Toner then acknowledged "parts of the Iranian Government are not necessarily acting in a respectful way towards the United States."
Considering Iran is ruled by a supreme leader, how exactly are they separating this wheat from the chaff? The Revolutionary Guard Corps is not taking hostages without the approval of the ayatollah. The hostages stay behind bars at the wishes of the ayatollah. The negotiators with whom the P5+1 forged that nuclear deal? Yes, puppets of the ayatollah. That's how supreme leadership works.
Iran's repeated hostage-taking and other violations while the Obama administration simultaneously aches for the Islamic Republic to reap the benefits from the nuclear deal plays like an abused spouse making excuses for her tormentor: he's not always this way, the good outweighs the bad. Then, when the abuse escalates, one sees that no degree of giving him the benefit of the doubt paid off.
Is it any surprise that Iran shrugs or laughs when the United States "respectfully" tosses out some sorta-stern platitudes at the latest abuse?
This isn't just a provocation. These are lives being torn apart for a political game that the U.S. meekly winds up playing after setting the precedent of allowing such games. Hekmati and Rezaian are still scarred from their experiences, as detailed in their lawsuits, and who knows how long it will take to recover from Iran's torture and abuse. And this isn't a waiting game as 80-year-old Baquer Namazi may not be able to survive this torture.
Bridget Johnson is a fellow with the Haym Salomon Center. A veteran journalist, she is a contributor at NPR and serves as D.C. bureau chief for PJ Media.