As anyone who has religiously watched Sex and the City knows, real estate plays its own role in the beloved HBO show.
Who could forget the Park Avenue apartment Charlotte fights for in her divorce, Samantha moving to the then-somewhat gritty Meatpacking District, and, of course, Carrie's woes in trying to find the money for a down payment for her own Upper East Side apartment—and then asking for a loan while dressed in head-to-toe Chanel, because this was all very realistic.
Miranda, though, is the first to purchase her very own apartment in the show, selecting an Upper West Side abode…before she abandons everyone for Brooklyn. And now, Miranda's real-life counterpart, Cynthia Nixon, is making some interesting real estate transactions herself.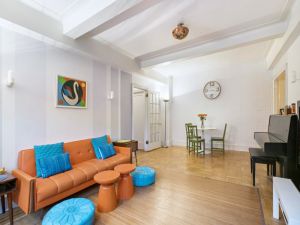 The Sex and the City star and her wife Christine Marinoni just paid $1.49 million for a two-bedroom, one-bathroom co-op at Ageloff Towers in the East Village, but they aren't the only two people on the documents for the transfer—Michael Graller and William Bowers are also shown as the other people who purchased the property from Reza and Golnaz Farsad.
It seems this is referring to costume designer Michael Growler (he apparently changed the spelling of his last name professionally), who served as a dresser on both Sex and the City films, and Bill Bowers, a mime artist and actor. Growler and Bowers married in 2012 in a ceremony attended by Nixon.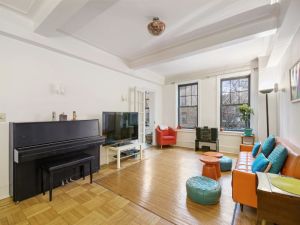 But back to the apartment—perhaps Nixon is just the best friend anyone could ever want, and has gifted Graller and Bowers with this prewar home? After all, Nixon and Marinoni reside in a much larger, four-bedroom, four-bathroom loft at 10 Bleecker Street, and we don't really see why the actress would want to downsize right now. Or maybe it's an investment—who knows. Either way, the group now owns a co-op at 141 East 3rd Street, with prewar details like high ceilings, original beams and moldings, and herringbone wood floors.
There are south and west exposures, as well as a Pullman kitchen with white cabinetry that the listing, shared by Sotheby's International Realty brokers Faye Homayouni and Lena Datwani, assures us can be expanded to a full kitchen.
While we doubt Nixon is planning on leaving her much larger Bleecker Street spread for this apartment, perhaps she just likes to keep her options open…we wonder if Miranda Hobbs would approve.