For 30 years, Will Calhoun has proudly served as the educated backbone of Living Colour, one of the most ground-shattering rock bands to emerge from New York City in the 1980s.
For those who've enjoyed the music its members—rounded out by guitar hero Vernon Reid, legendary bassist Doug Wimbish and their most charismatic frontman and Platoon co-star Corey Glover—have created outside the scope of the band, you are well aware of Calhoun's history as one of the foremost drummers in the world of modern jazz. It's those very chops that have helped him establish his own distinctive stamp on the swing of hard rock in a way we haven't seen since the heyday of Bill Ward.
But while many drum heads have tried to cite the former Black Sabbath drummer or, perhaps more commonly, Led Zeppelin's John Bonham as Calhoun's percussion spirit animals, his latest LP as a bandleader settles the argument once and for all where this Bronx native conjures his thunder behind the kit.
In fact, his name is right in the title of Calhoun's latest jazz title as bandleader: Celebrating Elvin Jones, the drummer's second album for the Motema Music imprint.
Buoyed by a killer ensemble featuring Christian McBride on bass, pianist Carlos McKinney, Antoine Roney on saxophone and the legendary keyboardist Jan Hammer, Calhoun goes deep into the Elvin archives beyond his work with John Coltrane, bringing light to such lost treasures as Wayne Shorter's "Mahjong" off the sax legend's Elvin-assisted 1965 Blue Note album JuJu, "Harmonique" from the drummer's 1982 solo LP Brother John and "Shinjitsu" off the 1984 concert album Elvin Jones Jazz Machine Live at the Pitt Inn, to name but a few.
Additionally, Living Colour has just released a new EP—and on the 25th anniversary of their last classic EP Biscuits to boot—called Mixtape that is centered around a hard-charged cover of the Notorious B.I.G.'s "Who Shot Ya?", transforming one of the most fearsome battle cuts in rap history into an anthem standing up to gun violence in the United States. A new full-length, Shade, is forthcoming as well; both are the fruits of the group's promising new relationship with producer Andre Betts, who is looking to bring Living Colour into the 2010s like Ed Stasium took them into the 1990s with his work on Vivid and their understated masterpiece Time's Up.
The Observer recently spoke with Calhoun about all of this and more over the course of two insightful and enlightening telephone conversations, a personal thrill for this particular writer as a long, longtime Living Colour fan. Remember, before there was Nirvana, it was bands like Calhoun and company who, along with Faith No More, Jane's Addiction, The Pixies and The Replacements among several others, provided the major cracks in the foundation of the American mainstream by which Seattle burst through in 1991.
Both Celebrating Elvin Jones and Mixtape are available on iTunes and Amazon, while Will Calhoun will be playing a three-night stand at the Blue Note from January 24 through the January 26 of the new year.
[youtube https://www.youtube.com/watch?v=KotLnT2OBxc&w=560&h=315]
First off, I want to offer my condolences on the loss of Bernie Worrell, your former bandmate in Black Jack Johnson. When did you first experience Bernie as a fan?
The first time I saw Bernie I was 14 years old at Madison Square Garden at a Parliament-Funkadelic concert. My life changed seeing that show, because I grew up in a musical family and in a musical community in the northeast Bronx. I'm the youngest, so my oldest siblings always brought home the records they picked up like Earth, Wind & Fire and Ohio Players and all these different styles of music. But being a young, possibly aspiring musician, Parliament-Funkadelic took on a different tone with me; more importantly, the melodies and the style of the music.
At that young age, I was already heavily into jazz. I listened to Coltrane and I was a Mahavishnu guy. But Parliament brought with it all these African rhythms and Latin stuff with the bells, and George Clinton was excellent at putting together a cast of amazing musicians where you always wanted to know who was playing in the group with him. As a band, they were always tremendous. It was an educational process for me, because there was all this information to learn from in those records, especially reading the cover and the comic strip things and the comments.
Bernie took on another meaning for me seeing him as a child, listening to what he was playing and listening to those tunes. So when I met him, I was leveled by his humility and his intelligence towards life. Bernie Worrell is, I have to say, the greatest human being that I ever met. He was always positive and talked about energy and how energy in music is absorbed and put out.
How old were you when you finally met Bernie?
When I met Bernie in person, I was probably around 19. I met him before Living Colour. I had finally made some contact with a couple of musicians who knew musicians, and that led me to go backstage and go to sound checks with P-Funk, and that was how I first met Bernie. And he would remember that moment, because a lot of people were back there and I was this young, aspiring cat who was just happy to be there.
And then my first session with Bernie was with Skip McDonald and Doug Wimbish from the then-Tackhead days. They were doing a session with the P-Funk Horns, and they were going to put together this one track for a small record label and it was my first time with them and Bernie. And when I started to work with him, I'm a bit of a sound freak and I'm into technology, so I saw Bernie come in with clavinets and wah-wah pedals and flangers and all these kinds of things, I started to talk to him.
He's naturally a genius in terms of his harmonics and what he knows about theory and stuff. I have a political underground book at my house, which has an interesting angle about frequencies and low hanging wires in black communities and the power of the voltage and what it does to the human brain. It talks about neighborhoods, technology and what a television set emanates and the kind of energy a toaster or a refrigerator passes around a room. So I had this book on the floor when I was rehearsing at my house, and Bernie was there and he saw it, so he opened it up and was immediately like, "Oh yeah!"
Before even getting into the politics of it, he already related to the book's depiction of the reaction to that energy. Most people who pick up that book look at the political side of it, but Bernie loved the academic side of it. He knows exactly what notes do what and the aspects of frequency and vibration in what he plays. He was a very, very intelligent man. It might have been overlooked because when he was onstage he was having fun and wearing purple, but he was also a scientist.
[youtube https://www.youtube.com/watch?v=I-P6FTOMRN8?list=PLx8ducY0Jo73398OSBf7nKDlRFRzj9Ufh&w=560&h=315]
Black Jack Johnson was such a great supergroup with you and Doug Wimbish, Dr. Know, Bernie and Mos Def. How did you all come together?
Mos had mentioned the idea of this band to me, and I thought we should go with the top guns for it. I knew he was a P-Funk fan, I knew he was a Bad Brains fan and I knew he was a Living Colour fan, so I figured let me just go for it and try to get the guys who were going to blow up the spot. Plus, it had never been done before. That was my intention, to go into that situation with total honesty and openness for us to put together this thing.
If you looked on that stage you had Bernie's generation and then you had Doc and Doug, who are around the same age and came up in the advent of punk and Sugar Hill during that time and then you had Living Colour and then you had Mos, who was the next guy at the time pushing the envelope and tipping the iceberg. So I thought it would be great to line it up in that manner, where we were all going to be able to benefit from that situation and learn something from each other. It was an unstoppable amount of information and integrity.
Black Jack Johnson, we had taken a volcano and put it into a coffee cup. What we were truly capable of doing, unfortunately, we never got around to. We did a record, but it never came out. It's still sitting to this day. I don't know what Mos is going to ever do with those tracks. The recording we did would have changed the music industry.
Celebrating Elvin Jones is such a great album. You went pretty deep into his catalog for this collection, yeah?
It was difficult to choose. I'm such a fan of Elvin's and I didn't want to think about the jazz police or what the Coltrane fans thought. I was just thinking about how he affected me and in what way, which he did in an array of things. There were so many things I wanted to record on this album that's not on there, even some of the recordings he made with his brothers.
I tried to keep it in the realm of a celebration, and that was the idea. I was actually thinking about doing a double LP at one point. It was six months of listening; making notes, writing some charts and making sure you're not doing the same thing twice.
[youtube https://www.youtube.com/watch?v=9Cp1NbyWYwQ&w=560&h=315]
Few people remember as well that Elvin had played with Miles Davis on his 1955 album Blue Moods with Charles Mingus, who not only played bass but released the record on his Debut Records label. When Living Colour first hit with Vivid, did you ever find out if Miles was a fan? You guys seemed like you were right up his alley.
I always wanted to be in Miles' band and, yes, I will say on record I would have quit Living Colour to play with Miles. That's how much of a fan I was at that time. It may have been a stupid move hypothetically because I might've only lasted one show and been ass out. But yes, he was into the band.
In fact, when we won a Grammy, in those days there were telexes. And we received telexes from two people with kudos. One was from Anita Baker, the other was from Miles Davis. He loved the band, and everybody in his family is great and they always tell me, "He would have loved you, man!"
Jan Hammer guests on Celebrating Elvin Jones as well, reprising his role on the song "Destiny" from the classic 1975 EJ album Elvin Jones "Is" On The Mountain. As a big Mahavishnu Orchestra fan, that must have been a thrill for you.
I can't even tell you, baby! It was so amazing, and I called him up out of the blue and just asked him on the vibe of just whether or not he wants to do it and he said yes immediately. I was completely in shock. He nails this song.
I've listened to so much of him my whole life and I've played back his solos a million times in my mind. It was an honor to play back that song on my album with him on there. And he was so polite. It was an amazing experience for me. And if you haven't heard Elvin Jones "Is" On The Mountain yet, you need to seek that out.
How did you guys come up with the idea of covering "Who Shot Ya?"
It started out, in all honesty, Corey used to rap the verse because he was a Biggie fan. He would do it in the dressing room here and there, and he would also do it during mic check at shows. And that was really where it started, and our producer Andre Betts was finally like, "Why don't we just cut it?" Then one thing led to another and became this great track. Cory was doing it for years. Sound checks are always a great place for things to happen. We just started playing it out around last year.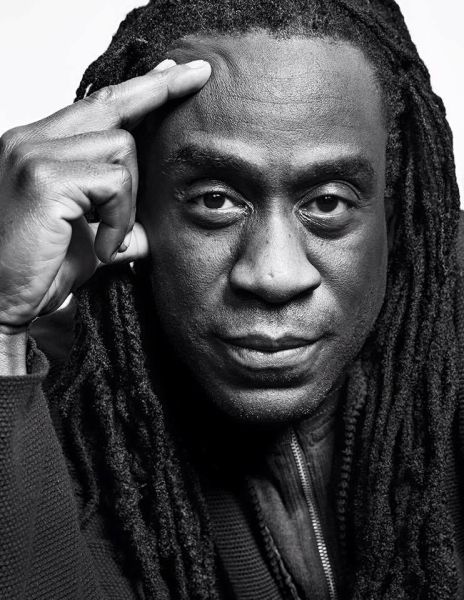 What's wild about your cover is how you flip the script, especially in the video, on the context of the song by transforming it from a 2Pac diss track to a protest song against gun violence.
Well, the gun violence thing has gotten out of control. It's deeper than that. The Ethiopian situation is out of control. Countries are selling Russian M-16s in a country where they don't even have food, you can start doing the math from there. But the National Rifle Association is a very powerful industry in this country, and they put their money where they want to open their mouths and they control that dynamic whether its Hillary Clinton's pocket or Donald Trump's pocket.
The fact that you can still sell tobacco and put a warning on the packet that says "This causes death" tells you everything. You can't put marijuana on the market, which hasn't killed anybody. But cigarettes kill people and they sell it. The very powerful and the very wealthy are able to manipulate things that not many people are aware of, and I just find it interesting that you have a warning on them but it's still legal. I mean, people have sued the tobacco industry for millions of dollars over their loved ones dying of cancer, but they still keep it on the shelves.
But the gun control title is scary to some people, because they want to hunt and some want to be able to have a shotgun in their car or a 9mm in their glove compartment because they feel safer that way. But look what happened with that guy who went in and got a gun because some African-American kids were playing their music too loud and he lied about it. He shot them boys and went back to a hotel and had pizza with his girlfriend like he was just going about his business.
Random question, but what did you think about CM Punk using "Cult of Personality" as his entrance music all those years he was involved in pro wrestling?
It was a beautiful shock, man. And then to play Smackdown!, it was just incredible. And they tried to get him to stop using the song, the WWE, and he said no. They wanted him to use their inside composer, but he didn't do it. He was a softball coach, and he used that song to get his team on the field and it was always something he listened to getting in a headspace, so it was a good luck thing for him and he didn't want to stop doing it when he got to the WWE.
I should mention for this interview the one concert I will always regret not going to for as long as I live was when Living Colour played SUNY New Paltz in 1990, having grown up right next door in Wallkill. Half my school was there. Do you remember that show at all?
Yeah I do. A lot of my brother's friends went to New Paltz. It was a real party school, man. For me, I had been going to that school since I was 14. My brother's band played up there at least twice a year. Somebody from the Bronx was always going up there, so I would just jump in the van with them to experience college and see how it looks. And then when I saw everybody having a great time, I was like, "I want to go to college!" But then I realized that's not how all colleges function [laughs].