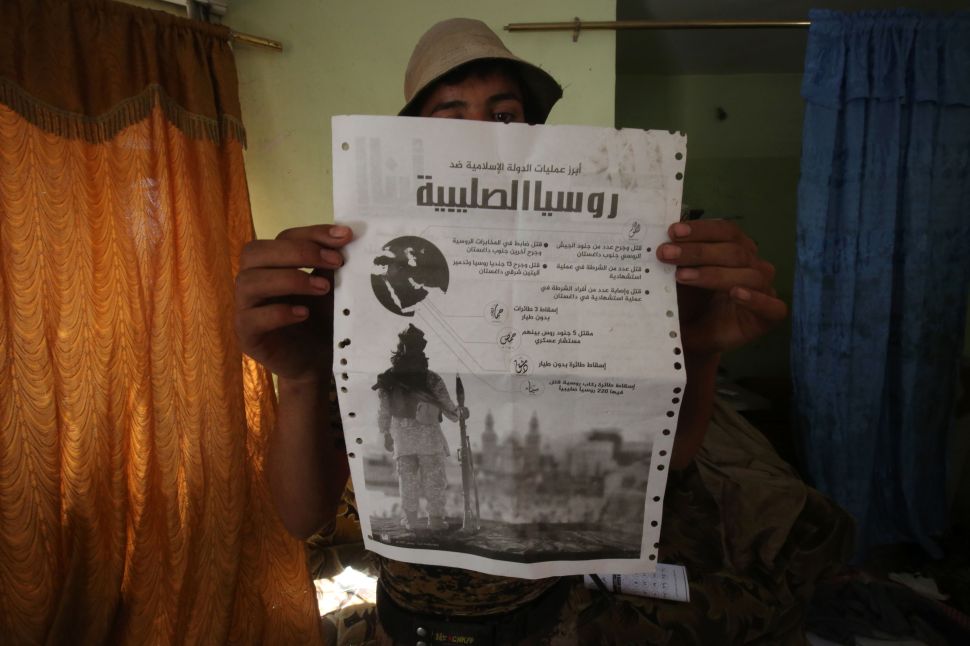 The same day vice presidential candidates met to clash over who had the best plan to stop terrorism, the Islamic State was telling would-be jihadists that they didn't need a lot of planning to wage homespun attacks—just a sharp weapon and the most mundane of targets.
The chilling directive was issued in the second edition of ISIS' new magazine Rumiyah, a monthly publication distributed in several languages on easily accessible sites across the web.
ISIS plainly stated, for starters, that they would eschew the term "lone wolf" to describe terrorists popping up in communities from Minnesota to Belgium. From now on, the magazine said, any attacks in the lands of "disbelievers" conducted with a pledge of allegiance to Abu Bakr al-Baghdadi will be called "just terror operations." That's not "just" as in just a bit of terror, but "justice," the group explained. They'll no doubt use their other favored monikers like "lion of the caliphate," but there's calculated outreach in the "lone wolf" phrasing shift: ascribing a degree of loftiness and official business to what would otherwise sound like an out-of-control loner.
That was the first propaganda poaching from al-Qaeda, who started calling their lone operators "open-source jihad" a long time ago.
And this past spring, al-Qaeda in the Arabian Peninsula's Inspire magazine dedicated their cover story to assassination how-to. The issue called for a "knife revolution," modeled after random stabbings of Israelis by Palestinians, to descend upon America, and discussed how to carefully select and stalk assassination targets.
The new ISIS magazine, in a series on terror tactics, explained why jihadists should get over being "squeamish" about the thought of stabbing someone and described how they should pick a quality blade with safety features so that the terrorist doesn't accidentally slice himself. ISIS explicitly described what organs the attacker should aim for, how hitting a skull risks a broken knife blade and how pausing to "fully detach the head" isn't advised for the novice beheader.
The suggested targets were especially unnerving: head for random people, ISIS directed, walking on the beach, in a park, coming home from the night shift, leaving a nightclub, enjoying a rippling creek. Forget the large crowds, the terror group said, and hit quiet neighborhoods in multiple-attack sprees with "widely available" knives.
"One need not be a military expert or a martial arts master, or even own a gun or rifle in order to carry out a massacre or to kill and injure several disbelievers and terrorize an entire nation," the ISIS article said.
It was more a call to spontaneous jihad than a call to use a specific kind of weapon. It was outreach to the unskilled and the unsophisticated to take household items—a baseball bat was recommended to daze victims before stabbing—and commit jihad. It was a message that ISIS, which has already staked out its corners of the dark web, wants its operatives to similarly descend as far under the law enforcement radar as possible.
ISIS understands they don't necessarily attract the sharpest tacks in the drawer to their team. They would rather have smaller-scale attacks that aren't easily intercepted in the planning stages no matter how amateur the terrorist—without leaving a trail of gun purchases or other activities to arouse suspicion.
Homeland Security Secretary Jeh Johnson echoed other national security officials in September when he said "the thing that keeps me up at night" is the jihadist created "at home, in their garage, in their basement, online without us knowing about it" before the eventual attack.
ISIS has heard those fears, and thinks they can build a veritable army of those garage jihadists.
In a listing of attacks over the past month, ISIS' magazine did not claim New York and New Jersey bomber Ahmad Rahami, who allegedly amassed his bomb parts over eBay in the run-up to the attacks.
The terror group did, though, once again laud—and claim—St. Cloud mall "soldier" Dahir Adan for picking up a knife, heading to the shopping center and stabbing 10 people "in response to the calls" of ISIS.
Counterterrorism interdiction has stopped dozens of plots since 9/11. And the ISIS call for would-be jihadists to wage medieval, simplistic attacks is disconcerting and clear: Spontaneity not only spreads terror to the most unlikely corners of the country, but creates an even bigger nightmare for our efforts to intercept terrorists in the planning stages.
Bridget Johnson is a fellow with the Haym Salomon Center. A veteran journalist, she is a contributor at NPR and serves as D.C. bureau chief for PJ Media.