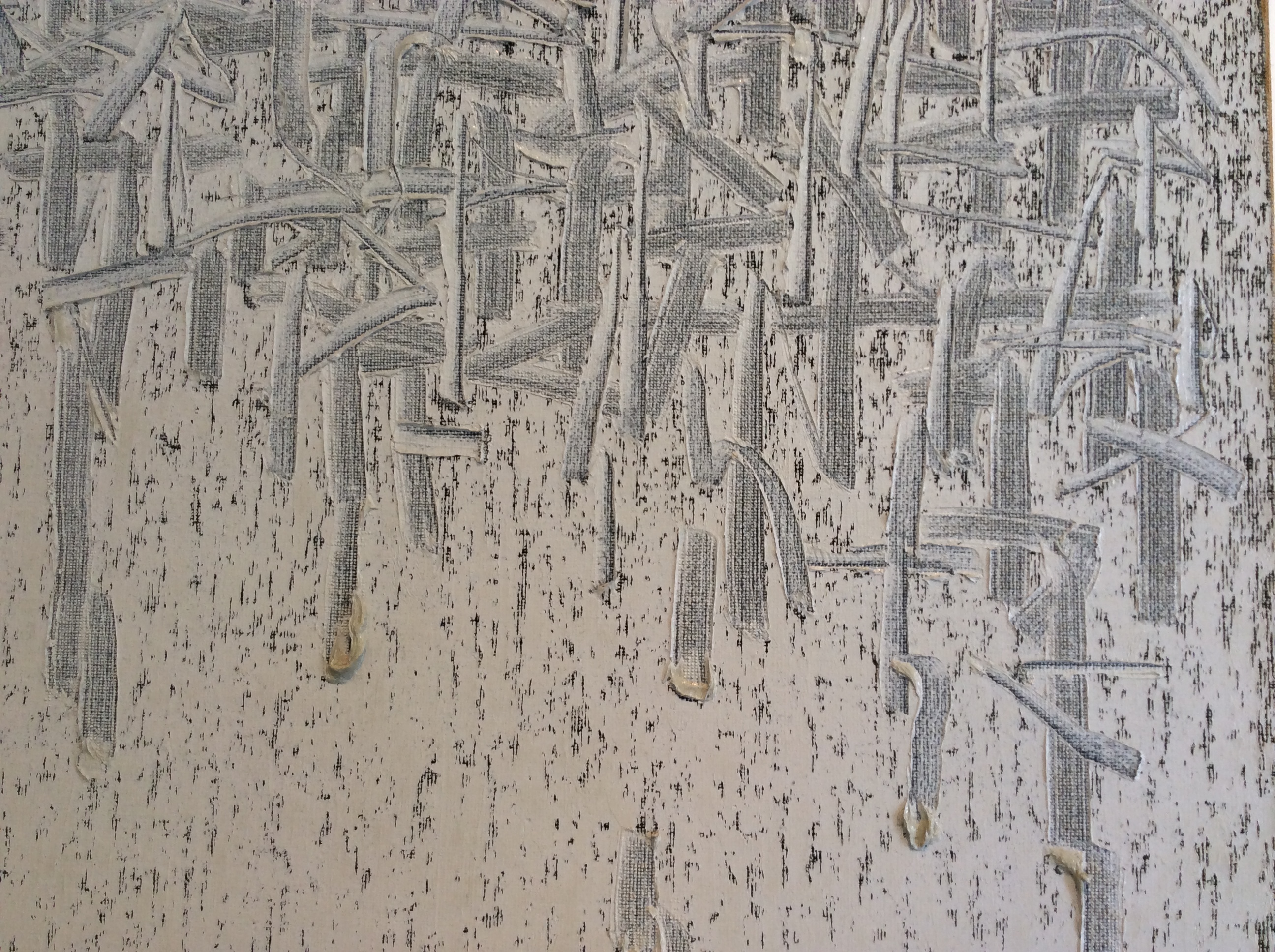 In recent years, the Dansaekhwa movement in Korea has been having a moment, to say the least. The abstract painting practice has drawn abrupt appreciation both in its home country and abroad; some of the avant-garde works have grabbed seven-figure bids at auction.
Of course, sometimes distinct cultures, with little direct interaction, come upon the same idea, and even execute it similarly. Like opera—both in the East and the West, this form arose separately.
Similarly, Korean painters independently developed an abstract practice similar to the abstract expressionism that took hold in Post-war U.S., but reflecting a more Confucian approach to the sort of meaninglessness such work is thought to convey, following the Korean war.
With strong emphasis on materiality and in earthy, muted tones, Dansaekhwa painting in many ways resembled the work of Barnett Newman or Agnes Martin in the West, though such comparisons might be impolitic—or unnecessary.
In 2014 an exhibit at Kukje Gallery—Korea's toniest by far—shed a spotlight on the once-forgotten Dansaekhwa movement, and the art world took notice. A 2015 auction at Christie's augmented the focus on Dansaekhwa; The New Yorker ran a feature.
But at least some of the Dansaekhwa artists are tired of being compared to Western painters and analyzed by Western standards. They're seizing the movement's moment in the sun to talk about Korea, Korean-ness, the post-war era in their home and the future of art and politics (to name just a few minor subjects). Of course, there are also fissures in the perception of Dansaekhwa, undeniably the most-exported fine art from Korea, among Koreans. A later movement, Minjung, or "people's art," confronted violence and repression in the 1980s in the country. It receives far less international attention and is surely less marketable internationally, raising some questions about why the most palatable painting has also had the most institutional muscle behind it.
The Observer recently met with three artists in or near Seoul who made at least some of their work in the Dansaekhwa mode. Here's what they had to say.
Ha Chong-Hyun
Chong-Hyun's works, in earth tones and grays, for the most part, often feature his distinct process: pushing the paint through the back of the canvas. In his studio in Ilsan, Korea, he welcomed western journalists in August with a strong admonition: don't compare me to Western painters. (Too late, and we're sorry.)
The technique, though, may have been one way to make his work distinct when he did not have all the resources other painters did. "Livelihood was difficult," he said. "Even getting the proper oil paints or canvases," was often not possible.
He used things he had, such as barbed wire, which was plentiful in post-war Korea. But these items are employed as true materials, not as found objects, to create abstract textures and surfaces.
"Western journalists would always try to pinpoint references," he said, "which was very difficult for me." He was not educated in the West and rejects the idea that even the barbed wire is a symbol. "Barbed wire was easy to get," he said. His works are usually simply about "the action between hemp and oil paint."
In his eighties, Chong-Hyun has finally achieved a comfortable life. But it was not always the case. For years, when he had to move, schlepping his massive canvases laden with inches of thick oil paint was a huge logistical issue. He endured, though, and "they become more meaningful to me each year."
Ha Chong-Hyun's solo show at Blum & Poe in Los Angeles goes up November 12. 
Park Seo-bo
Seo-bo's first solo New York gallery show was earlier this year at Galerie Perrotin; he also turned 84. His textured, disciplined squares are not "conceptual," he insists, in another rejection of the Western imposition of its vocabulary and ideas on this movement.
In his work space in Seoul's Hongdae neighborhood, paintings are stored all around him but there is none of the paint splatters or disorganization one might associate with a typical artist's studio. Perhaps this relates to his concept of Dansaekhwa painting, which is as a discipline: the end deposit of the Confucian process of self-purification is the painting.
He spoke of "painting as chanting," and called art "the scum of emptying oneself." So the West doesn't have a monopoly on dramatic descriptions by artists of their work, either.
The deep veins in his almost geographical works are the result of a months-long process of soaking and layering paper. Many are in monochrome.
He's also quick to resist the Western assumptions about what artists' choices mean. "Monochrome is not the same as in Western art," he said. "The burning stove creates a black… different from pitch black"; it's more restrained.
"Ecriture, Black and White" by Park Seo-bo opens at Tina Kim Gallery in New York November 11.
Kim Yong-Ik
Yong-Ik, younger than the core Dansaekhwa artists, began his career making abstract work, but moved away from what he saw as a sort of amorality linked with abstraction in the 1980s, after a political awakening, he said. His works fill two floors at the Ilmin Museum currently and his evolution from monochrome painter to conceptual artist and politically irreverent provocateur is evident in that show.
One of his criteria for a good piece of art is the very practical stipulation that it be mobile, and therefore easy to get from the studio to the gallery. Pointing to a large assemblage of found items—his recent work—he says "this is not a good work. It's hard to carry this." Is he having us on? Serious? Winking, at the least? Via a translator it's hard to tell, but with his broad smile and inviting gestures, it's clear he's enjoying himself either way.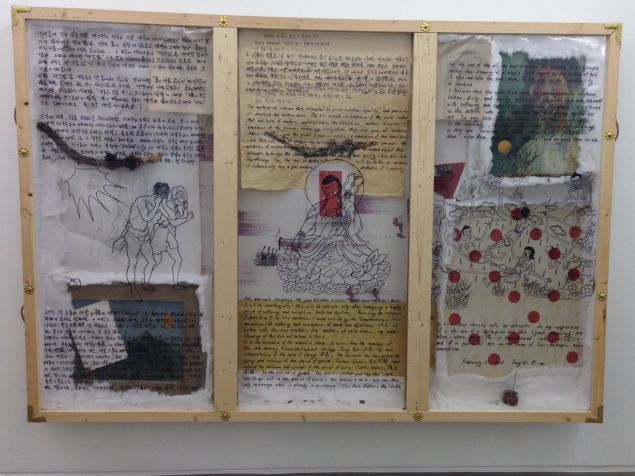 He tells the tale of his abrupt shift towards work more rooted in the world we inhabit thusly: he was sick, and could not find a cure. Nothing was medically wrong with him, but he couldn't leave the house. Eventually, he figured it out. He "was so sick… because of modernism."
Looking at an early, abstract work of his, he says "these polka dots are just meaningless signs." But the 1980s in Korea, when citizens could not leave and government paratroopers were massacring left-leaning students, was not a time for meaningless art. So he abandoned it.
Many of Yong-Ik's later work deals with his death and his body. His later, found assemblage-type works are awash in blood-like colors, footprints, bits of trash.
Yong-Ik is not precious about his work, or his life. He worked to receive a doctorate, but when he'd completed his thesis, he simply printed the pages and went to a remote southern part of the Korean countryside, where he buried the entire dissertation in a hole in the ground. He became a very productive artist later, while an academian, he said, only because he needed more money.
The wall text next to the upper floor at Ilmin describes his latest pieces, while also perfectly illustrating the artist's current approach to his work.
"… the 'coffin series' was inaugurated in 2015. As if washing and dressing his own corpse, it was through this series that the artist started to humbly embrace the fate of the modernist. Collecting his work inside coarsely built wooden boxes with texts and images of the Kristigarbha, the coffins seem to be the inevitable conclusion of the artist perceiving his footsteps—from modernist experimentations, to voicing against political situations or the self-reflection and struggle with his own ethics—in a historical context, and organizing a funeral for his works."
"Closer…Come Closer" is up until November 6 at the Ilmin Museum of Art, Seoul, Korea, and Kim Yong-Ik's solo exhibition at Kukje Gallery opens November 22.
***
Interviews were conducted with the aid of a translator.