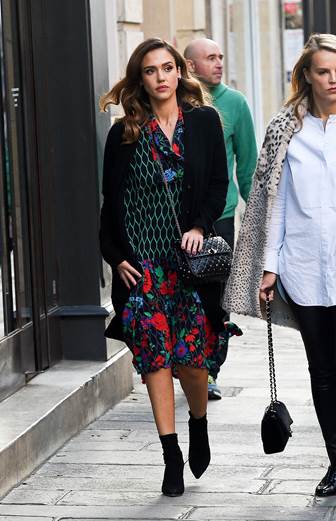 Jessica Alba is very open and public about her love for Kenzo. In fact, she recently Instagrammed a picture of her purchases from the French label, posing alongside the brand's creative directors, Carol Lim and Humberto Leon (and curiously, the hairstylist Jen Atkin). She thanked them for "hooking me up with the coolest fashions in all the land," which might be the best compliment a fashion designer has ever received over social media.
Her unwavering support for the brand continued during Paris Fashion Week, when Alba became the first celeb to wear clothing from the forthcoming Kenzo x H&M collaboration. She donned a black printed dress, with geometric shapes and colorful florals. The loose silhouette, paired with a studded Valentino bag and pointy suede ankle boots was the epitome of carefree, cool chic. Sadly, the rest of us mere mortals will have to wait until November 3 to shop the Kenzo x H&M range, which appears to be very print crazy and worthy of an Instagram or two.
Though a few sneak peeks of the range have been released, it seems all images of the collection will be revealed mid-October. Additionally, Kenzo and H&M will be staging a runway show in New York to celebrate the launch. It seems that celebration will also include a blowout party (with a surprise performance) to celebrate the range. We guarantee that this will be one collaboration to remember. And who knows, Kenzo's number one fan (yes, that would be Alba), just might make a not-so-surprising appearance, too.