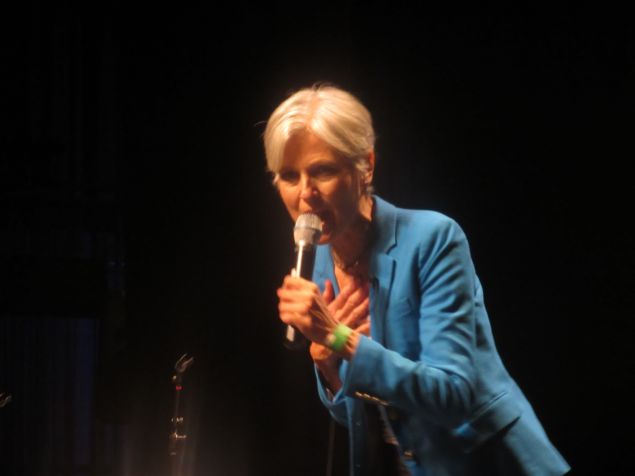 Just a few weeks shy of the November presidential election, Green Party presidential candidate Dr. Jill Stein told the Bronx she hopes to continue the political revolution Vermont Sen. Bernie Sanders kicked off with his presidential campaign—but argued she alone would do it without the Democratic Party.
It was no coincidence that Stein chose to rally at the Hostos Community College in the Bronx, the same borough in which Sanders stumped back in March. She reiterated her usual themes—most reminiscent of those evoked by Sanders: a broken two-party system overcome by greed, a shift to clean renewable energy and a "peace offensive in the Middle East." 
She even did a fast poll of how many "Berners" were in the 200-strong audience.
"I hope you understand that your power has only just began and I thank you Berners from the bottom of my heart," Stein said, after at least half the people in the room raised their hands. "I thank you for getting this started and for refusing to be told to please shut up and sit down."
She said that, although Sanders has endorsed Hillary Clinton, he helped give power to the movement that supersedes any one individual.
"When they say that we are trivial, that we're just window dressing in this political dialogue," Stein said. "Bernie showed that's not true. We are the heart and soul of American values."
In a one-on-one interview with the Observer ahead of the rally, Stein said that she and Sanders are both focused on getting money out of politics and socialized medicine, and differ only on foreign policy—she wants a weapons embargo in the Middle East and a freeze on the bank accounts of the United States' Allied partners who she says "continue to fund terrorist enterprises like Saudi Arabia." 
She even took a jab at Libertarian Party presidential candidate Gary Johnson, who she said is afraid to debate her because she was declared the winner of their 2012 C-SPAN debate.
"Gary Johnson seems to be running scared this election," she quipped.
She also said she would go a step further on their shared commitment to free public higher education by offering student loan forgiveness, and make more concessions the Black Lives Matter movement. Both Sanders and Stein, as white left-wing outsider politicians, have struggled to attract minorities to their political programs.
Stein selected African-American activist Ajamu Baraka as her running mate, made sure to appear in the Bronx tonight with him and a number of politically active hip-hop artists, including Immortal Technique.
Stein praised Sanders as "honest" and clear about his plans from the start but that whether he intended to or not, he "drove home a lesson about betrayal by party," citing the hacked Democratic National Committee emails in which party operatives discussed undermining his campaign in the last leg of the primary season.
"I think there are a lot of people who have really seen the light and who aren't going back, and we owe Bernie Sanders an incredible debt of gratitude for having mobilized this incredible social movement that is really committed to doing the work for the long haul," she told the Observer. "The main difference between us is that, is the party that he's working with, which I think constrains him as we saw in fact in his election when he was really sabotaged."
And she weighed in on recent controversies surrounding the presidential candidates. She insisted, contra the State Department, there is no evidence that the Russian government is behind the email leaks—which she said uncovered "backstabbing and double-dealing." 
"What the Democrats are trying to do is create a smokescreen because the content of these emails is so incredibly embarrassing," Stein said.
Stein herself shared a table with Russian President Vladimir Putin at the state-owned Russia Today forum in Moscow earlier this year.
Disclosure: Donald Trump is the father-in-law of Jared Kushner, the publisher of Observer Media.