It's a quirky layout.
Oxford Property Group
Renovated kitchen.
Oxford Property Group
It doesn't look like there have been too many changes since Feldstein moved in.
Oxford Property Group
Exposed brick galore.
Oxford Property Group
Red mood.
Oxford Property Group
The two-bedroom, two-bathroom duplex is on Crosby Street.
Oxford Property Group
Perhaps he's planning on upgrading, like his brother.
Oxford Property Group
It seems Jonah Hill's little brother isn't so into long-term commitments. At least, not when it comes to real estate in the city.
Talent manager Jordan Feldstein purchased his two-bedroom, two-bathroom Soho co-op almost exactly one year ago, in October 2015—he paid $2.5 million for the duplex at 37B Crosby Street.
Alas, one year later, and Feldstein has apparently decided this exposed brick-haven isn't for him, and it's back on the market with a $2.699 million price tag attached.
Perhaps Feldstein is feeling inspired by his actor brother. After all, Hill decided it was time to part ways with Soho and sold his one-bedroom on Howard Street, opting to make the upgrade to a $9.16 million four-bedroom at 36 Bleecker Street, just up in Noho.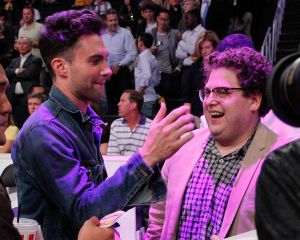 The duplex Feldstein is listing is set up with a wood-burning fireplace and exposed brick walls in the south and west-facing living room, as well as a renovated kitchen, though the renovations are from the previous owner.
The master bedroom is on the second floor, with more of that exposed brick as well as a customized walk-in closet and en-suite bath, according to the listing shared by Oxford Property Group brokers Adam Mahfouda and Jules Borbely—the same brokers who had the listing for Adam Levine and Behati Prinsloo's Soho pad, which perhaps makes sense due to Feldstein's connection as Maroon 5's talent manager.
The brokers said they were unable to disclose why the seller is listing the home now, and that there have been "no major changes" since he moved in, according to Borbely. "I don't think there have been any renovations, other than just maintenance and new furniture," he told the Observer.
"The location is extremely attractive," Mahfouda added. "It has a lot of character. There's a wow factor," he said.
Feldstein, whose other clients include Robin Thicke, is also known for his humorously brief marriage to Francesca Eastwood in 2013—the weeklong union ended in an annulment, as is entirely unexpected of all impromptu Vegas nuptials. Oh, and for that time Sharon Osborne threw a glass of water in his face at Clive Davis' pre-Grammy party in 2014. Perhaps now, he'll be known for his rapid-fire real estate decisions, too.