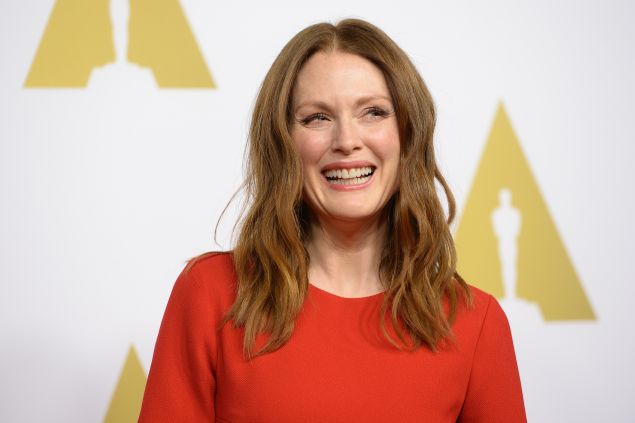 Before Academy Award-winning actress Julianne Moore moved into her lovely West Village townhouse, she resided in a loft just a few blocks away.
Moore and her now-husband, director Bart Freundlich, purchased the second-floor duplex at 345 West 13th Street for a mere $911,500 way back in 1999.
Moore and Freundlich eventually fell in love with the penthouse in the very same building, and traded in their three-bedroom, 2.5-bath condo—they sold it to David Clark and Patricia King for $1.95 million in 2002.
While Moore and Freundlich have made quite a few property moves in the years since (like buying, renovating, listing and then delisting their townhouse at 335 West 11th Street), Clark and King stayed put in the 2,573-square-foot apartment.
Until now, that is. The unit just popped back onto the market, listed for $4.3 million. Yes, times have definitely changed in New York real estate since Moore first fell for the once-gritty Meatpacking District.
"The apartment is incredibly special," Sotheby's International Realty broker Tom Doyle, who has the listing, told the Observer. "It's like an oasis," he added, and though the living room faces 14th Street, "the noise isn't crazy."
This duplex loft features exposed brick, of course, as well as high ceilings, hardwood floors, and a total of eighteen windows. There's an open galley kitchen, as well as a windowed home office-slash-library.
The master bedroom, with en-suite windowed bath, "feel like it's in its own world," according to Doyle, and contains four closets, while an additional bedroom has access to a 225-square-foot terrace that overlooks a garden. "It's such a special part of New York—you can't believe you're in the city, it's so serene," Doyle opined.
Sadly for those of us eagerly awaiting a glimpse of the aforementioned exposed brick, the listing photos aren't yet up, though Doyle assured us there will be plenty next week.
Ironically, last year Moore told Town & Country, "I think I'll tell my family that I want an old loft for Christmas…We have a townhouse in the West Village that we renovated 12 years ago, but I'm ready for something new." Perhaps Moore was thinking of her former abode?