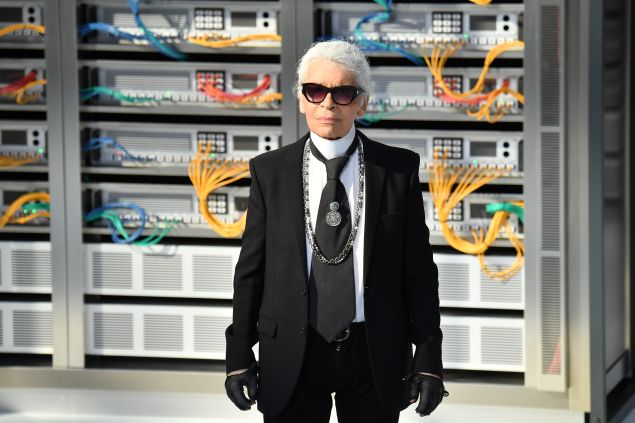 Karl Lagerfeld has been in the fashion industry for at least 60 years, having won a prize from the International Woolmark Secretariat back in 1955. For 51 of those years, the Chanel creative director has been designing for Fendi, a brand celebrating its 90th anniversary this year. That's a lot of time to hold one job, no doubt, and in the fickle world of fashion, Lagerfeld (born Lagerfeldt) has become a bit ostentatious to stay on top.
Take his Fendi show back in 1993. According to reports, Lagerfeld designed a collection that he felt was simple (and beautiful) enough to hold their own on mannequins. And while that may have been true, the Kaiser did not feel the same way about the line's swimsuits. So instead of mannequins, he put the lace-trimmed white swimsuits and red-and-white striped suits on Italian porn star Moana Pozzi and a posse of dancers. Anna Wintour apparently made an abrupt exit from the slightly offensive show, though that was unbeknownst to Lagerfeld as he didn't make it to the show at all due to plane complications.
Of course it wasn't all sauciness. In 2007, the brand wanted to fete its show with a blow out. The only way? Spend an estimated $10 million to bring a party of 500 people from around the globe to The Great Wall of China. Yes, the wonder of the world that's visible from space, as just a beautiful backdrop for 88 models showing off the brand's latest wares. Understandably, the over-the-top spectacle caused chatter for years, likely only rivaled by the interactive sets Lagerfeld has built every season for Chanel's showcases.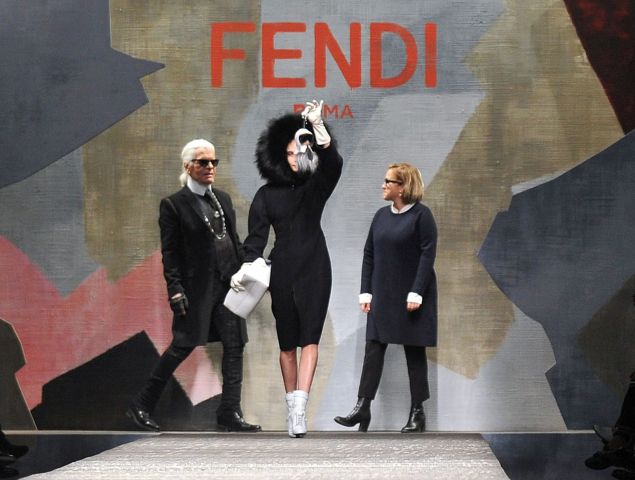 At the end of the day, fashion is a business and it's all about making money. Luckily Lagerfeld does that in spades. In 2014, the creative debuted the Karlito as a tote bag and charm (the phone case debuted in 2015). The charm alone created waitlists of over 600 before it ever hit stores and is said to have made the brand over $1 million. So yes, while the headlines are cool, Lagerfeld does make the company quite a bit of money as well.
In 2015, Lagerfeld made brand history when he organized Fendi's first couture show. Held during Couture Week in Paris, the brand dubbed the presentation "Haute Fourrure" as it would focus on fur; a cornerstone of the brand. The show contained 36 looks made from fur, in a variety of colors, bedecked with floral appliqués and even accented with feathers. While PETA was understandably upset about the showing, Lagerfeld pressed on, hosting a follow-up couture show in Rome this year.
One can only imagine what the next 50 years will bring.