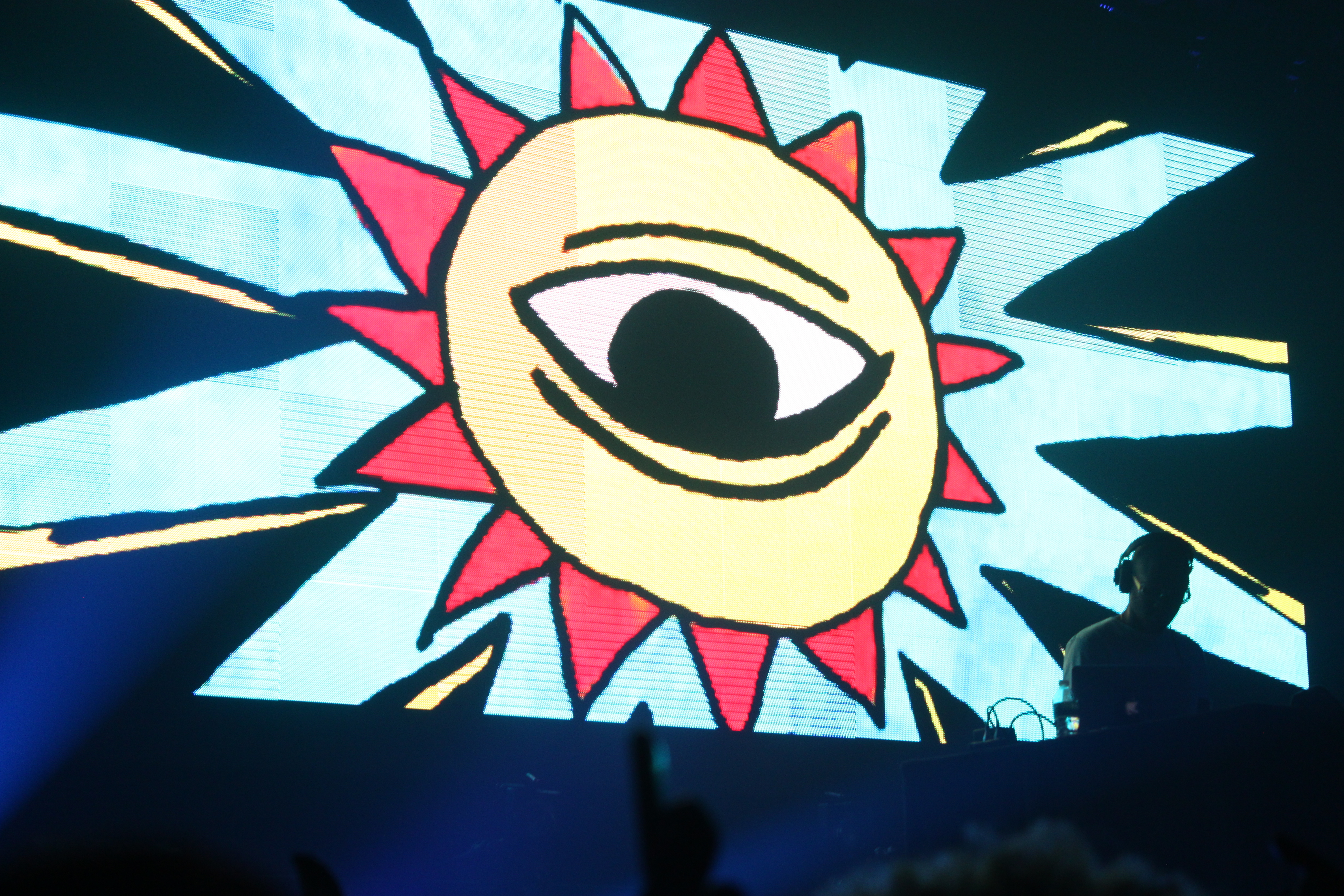 There's a special place in hell for the "press play" laptop DJ.
You know the one, the recording artist who relies wholly on an ornate stage design, sensory-overload lights and bass to disguise the fact that they aren't actually doing anything up there. They're charlatans, taking your hard-earned money for an experience you could have just have easily had at home, in the comfort of your own room, on nice speakers. But there's a reason folks are already grumbling about EDM jumping the shark, and it starts with our ears and our eyes working together to accept what constitutes "live" electronic music. We don't have to understand exactly what's going down onstage, but we know when the gestures are live or improvisational.
Montréal producer Kevin Celestin, better known as Kaytranada, has had a breakout year without any of the gimmicks expected in a live electronic set circa 2016. He's got no drummer playing to a click track, no live guests coming out for their featured track, no synchronized laser lights in the style of illuminati triangles. Kaytra's still hot on the heels of his bumpin' debut LP, 99%, and while he's been known as a remix master for years, his time on the marquee has arrived. There's no reason he ought to share it with anyone.
It would have been an easy ask considering 99% is chock full of awesome collaborations—including Anderson.Paak, Little Dragon, Craig David, Alunageorge, Vic Mensa, BADBADNOTGOOD, and more. The smorgasbord of artists who stand in the shade under his umbrella might sink the music of a lesser producer, make the album feel held together by little more than featured spots that work better as singles than a cohesive listen. Instead 99% stands apart as a distinct experience, with Kaytra's signature production serving as the glue—a melange of Downtown house, hip-hop, and R&B uniquely his own.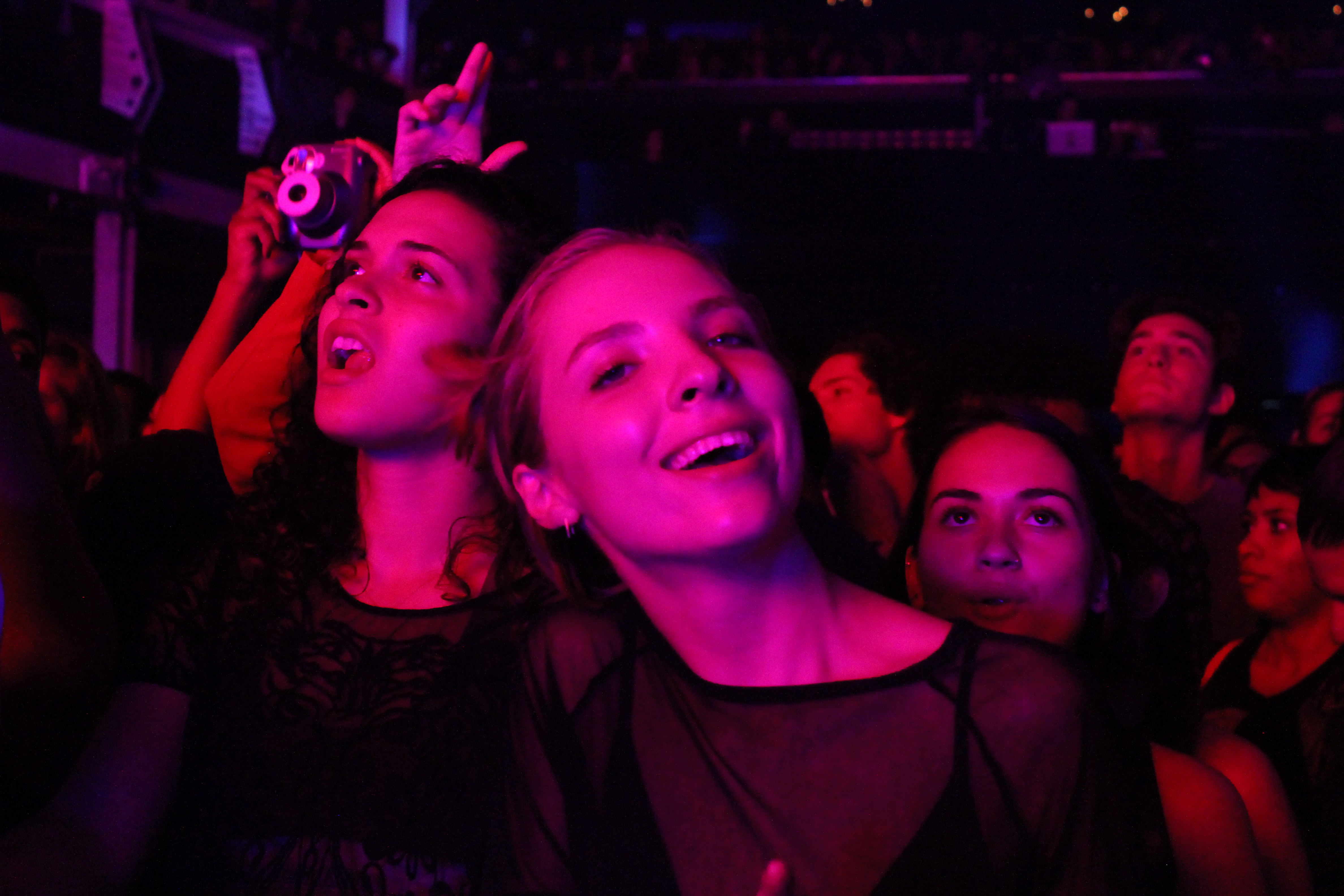 Kaytra brought new remixes and edits of 99% to Wednesday's sold-out Terminal 5 show, giving the now well-familiar tracks new life. But it was the way he weaved his new songs in with older, more tried and true edits like his reworking of Flume's "Holdin' On" that truly made for a solid night.
Accompanied only by a video screen projecting moving versions of the 99% artwork—imagery of eyes and candles that nodded to his Hatian heritage—and his name in red script over found footage, his remixes were still the star of the show. He hadn't yet fucked with Solange's acclaimed a A Seat At The Table, which just came out last week, but chose Terminal 5 as the place to premiere a fresh edit of "Cranes in the Sky" for the adoring crowd. Repurposing the slow-burner groove into something dancier with sped-up percussion, Kaytra's sense of jams past and present all merged to lucid, ass-shaking effect.
He had his hands on every single track that night. My buddy who spins under the name Jams Bond said, "He puts vocal stems or a whole other beat on top of these tracks. So he has his go-to snares, go-to kicks, go-to rhythm as a bed for all of the other elements he's putting on top. But he's a composer, too. Lakim on Soulection said he's gotten his start because of what Kaytranada has taught him—you get out there by making remixes. So his main introduction to live music has been through the art of the remix, and he remixes everything."
So there's not a single track in Kaytra's set that wasn't an edit of his, even if the edits weren't made on the fly.
Drum pads and tempo triggers give him more control of the switch-ups beyond his computer screen, while his acute awareness of what sounds the most fluid and what best fits the room takes care of the rest. "That's why it's not as cheesy, because he doesn't press play on the track, dance for a little and just do a cool transition," said Jams. "He's adjusting the track to have its own vibe."