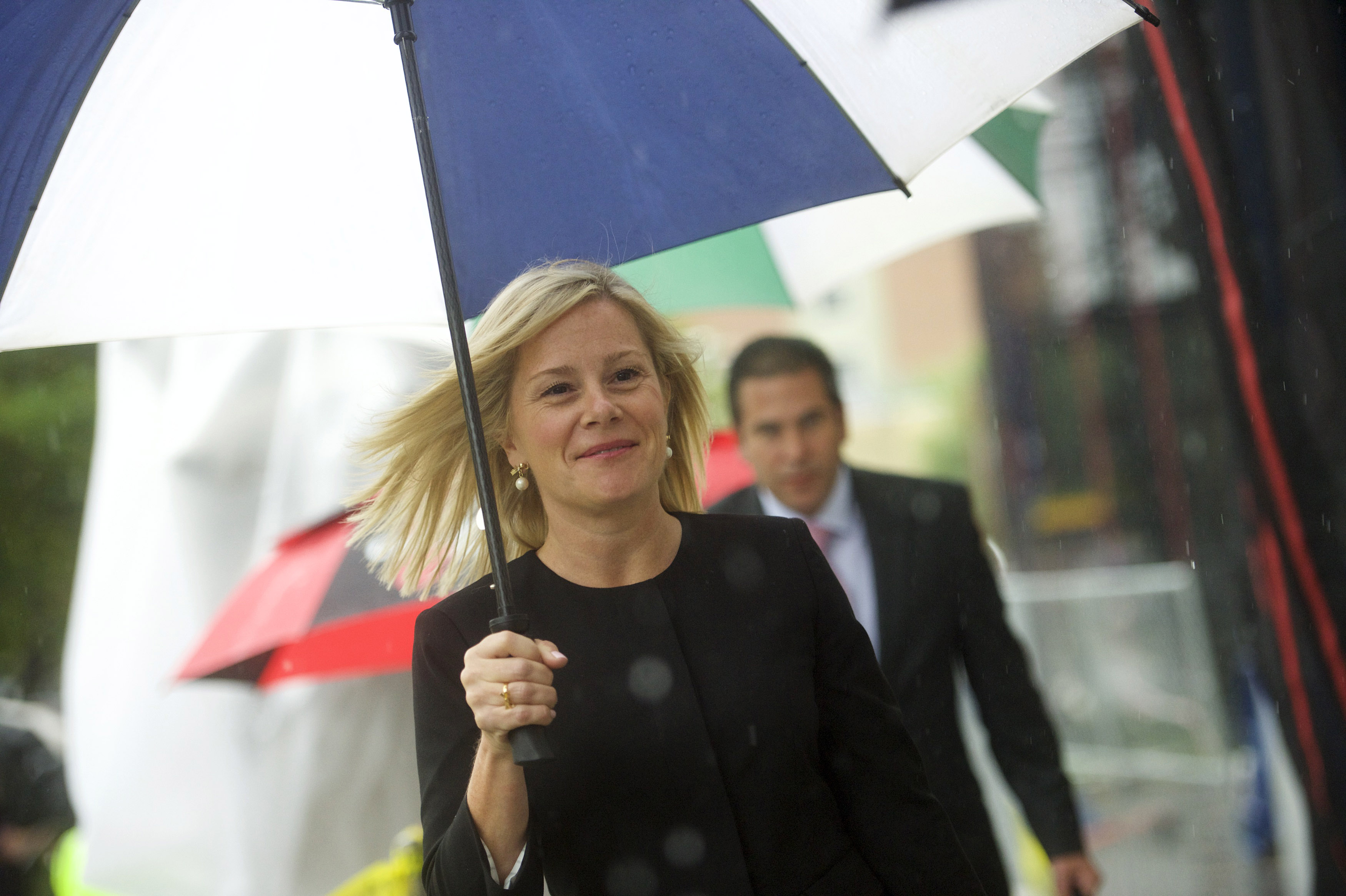 NEWARK N.J. – On Tuesday, Bridgegate defendant Bridget Anne Kelly continued her testimony with cross-examination from Vikas Khanna, an attorney from the U.S. Attorney's Office. At times the testimony grew tense with Khanna questioning Kelly on answers she gave during her direct examination, evidence that was presented and new information not presented by her attorney, Michael Critchely. In an unusual move for defendants, both Kelly and fellow defendant Bill Baroni have taken the stand as witnesses in their own defense.
During his questioning, Khanna pressed Kelly on the nature of her working relationship with key figures in the September 9 through 12, 2013 lane realignment of the George Washington Bridge in Fort Lee for which she is currently facing nine charges of conspiracy and related charges and senior staff from the governor's office. Those figures include former Port Authority employee and admitted Bridgegate mastermind David Wildstein (who implicated by Kelly and Baroni), New Jersey Governor Chris Christie, former Christie Chief of Staff Kevin O'Dowd and former Christie campaign manager Bill Stepien. During the lane closures, Kelly was working as Christie's Deputy Chief of Staff. According to Wildstein, she helped him coordinate the lane closures. Kelly–like Baroni did while he was testifying–maintains her innocence and claims that she had "no reason not to believe" Wildstein's claims that the lanes were being shifted as part of a "traffic study."
Khanna's questioning also explored the now-infamous "time for some traffic problems in Fort Lee" e-mail Kelly sent to Wildstein in August 2013. She claimed that the e-mail did not indicate payback as has often been implied. Kelly said that, rather, the e-mail was a "parroting" of words that Wildstein regularly used to describe goings-on at the Port Authority.
"I sent a poorly worded e-mail," she said. "The words–and that is obviously why we are here today–were not as they are read."
Kelly was also questioned about a text exchange with Wildstein dated September 10, 2013, the second day of the lane closures. In that exchange, Wildstein forwarded her a text message from For Lee Mayor Mark Sokolich to Baroni pleading for help and mentioning children facing difficulty getting to school due to the swelling traffic. Kelly responded: "Is it wrong that I'm smiling?" According to Kelly, Wildstein had told her that there would be residual delays resulting from the traffic study but, that when the two spoke the day before, he told her that the study was going well and that the outcome would be positive. On the stand, Kelly claimed that her response was related to happiness that Wildstein's study was going as planned, something that he had previously claimed would reflect well on the governor.
According to Kelly, exchanges she had been with Wildstein have often been misrepresented. She said that those misrepresentations have "bothered" her since the documents started to be released in 2014.
During direct questioning, Kelly spoke of her deletion of a number of e-mail and text exchanges she had with Wildstein leading up to and at the time of the lane closures. She attributed that to being "scared" because she claims that while Christie and members of his senior staff denied knowledge of the closures in December 2013 despite the fact that she had discussed the lane realignment with them in earlier months.
On Tuesday, Kelly spoke of insistence from Christie in 2013 that Jersey City Mayor Steve Fulop be "iced" (intentionally ignored) as he pursued a meeting with Port Authority officials and the governor's office. Because she acknowledged that the governor had directed that protocol with Fulop, Khanna attempted to relate that treatment to the actions of the governor's office toward Sokolich. Kelly said that those two interactions have been wrongly correlated. According to Wildstein, the lanes were moved with the intention of causing traffic in Fort Lee as an act of political retribution against Sokolich, a Democrat, for not endorsing Christie, a Republican, for re-election in the New Jersey governor's race.
"We never has a bad relationship with Mayor Sokolich," Kelly said, reasserting that the comparison between Fulop and Sokolich was "wrong." Kelly also said that email exchanges related to Fort Lee and Sokolich were the result of hyper vigilance on her part that everything be done with the utmost care. She said that that vigilance resulted from an interaction where Governor Christie told her that "no one was entitled to a f*cking meeting," referencing Fulop's requests.
Cross-examination will continue on Wednesday.