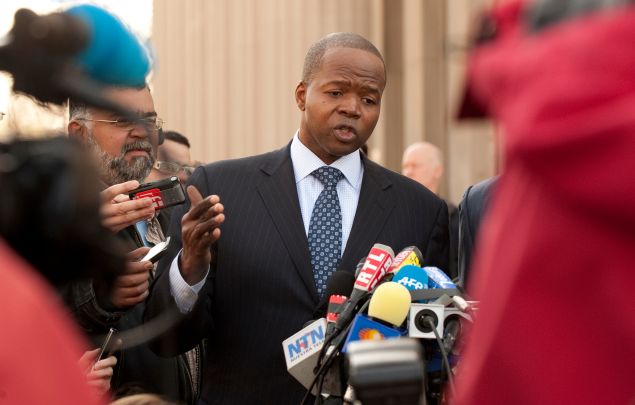 Five days after he announced he will take a leave of absence to fight cancer, Brooklyn District Attorney Ken Thompson—the borough's first African-American district attorney—died in hospice at the age of 50, his family announced tonight.
Thompson announced his illness and impending departure from his post this past Tuesday, though he did not disclose when or for how long he would leave his position, or how advanced the disease was. He said that his Chief Assistant Eric Gonzalez would take over during his absence.
Thompson's family said funeral arrangements will follow. He is survived by his wife of 17 years, Lu-Shawn Thompson; his two children, Kennedy and Kenny; and his mother, father, brother and sister.
"With a heavy heart, the family of Brooklyn District Attorney Ken Thompson announced that the District Attorney passed away today after a hard fought battle with cancer," his family said in a statement.
Gonzalez said he and the executive team will lead the office and carry out Thompson's vision and initiatives.
"It is with deep regret and tremendous sadness that I announce the passing of D.A. Ken Thompson," he said in a statement. "He was a giant among those seeking to reform the criminal justice system and we are all privileged to have worked under his transformative leadership these past three years," he said.
Thompson first rose to prominence in 2013 when he beat 22-year incumbent Charles Hynes to become Brooklyn's district attorney. The new D.A. was part of a growing Central Brooklyn political machine headed by Congressman Hakeem Jeffries and former Councilwoman Una Clarke.
He is known for establishing a model Conviction Review Unit that moved to vacate or support the dismissal of the convictions of 21 people who were wrongfully convicted of murder and other offenses by Hynes in three years. And in 2014, he implemented a policy not to prosecute low-level marijuana possession arrests to spare young people from building up a criminal record.
But Thompson ran into trouble when investigators accused him of making them from personal errands on his behalf. He also got slapped with a $15,000 fine from the city Conflict of Interest Board for using office funds to finance his personal meals.
And though he was praised by the Black Lives Matter movement when he secured the indictment and conviction Officer Peter Liang for the killing of black Brooklynite Akai Gurley, the Gurley family and black elected officials condemned him when he recommended Liang serve probation in lieu of jail time.
Before being elected district attorney, Thompson served as a former federal prosecutor in the Eastern District of New York. He was a member of the team that prosecuted former Officer Justin Volpe in the 1997 beating and torture of Haitian immigrant Abner Louima.
He also co-founded his own firm, where he represented victims of pregnancy discrimination and people who experienced unlawful prejudice due to race, gender, age, religion or sexual orientation. He also worked with members of Congress and the clergy to convince the U.S. Department of Justice to reopen an investigation into the 1955 murder of 14-year-old Emmett Till in Mississippi.
Mayor Bill de Blasio and his wife, First Lady Chirlane McCray, said Thompson was a champion of reform. De Blasio ordered all flags to be lowered to half staff in Thompson's honor.
"With a life and promise cut far too short, our city was blessed with but a glimpse of Ken's unwavering commitment to justice and his unrivaled pursuit of a more fair system for all those he served," de Blasio and McCray said in a statement.
Gov. Andrew Cuomo also said he would direct all flags to half staff Monday as a tribute to Thompson's legacy.
He praised Thompson for making history as Brooklyn's first black district attorney and noted he worked with Attorney General Loretta Lynch in the Eastern District of New York before establishing a law firm focused on social justice and fighting discrimination.
"I am profoundly saddened to learn of the sudden passing of Brooklyn District Attorney Ken Thompson after a battle with cancer," Cuomo said in a statement. "Ken was a dedicated public servant who embodied the highest principles of the law, and his grand presence will be sorely missed."
Public Advocate Letitia James expressed her condolences to Thompson's family and called Thompson "a great fighter for justice."
"District Attorney Ken Thompson was committed to bringing equity to Brooklyn, and to making our borough safer and fairer for all," James said in a statement. "He stayed true to his commitment until his last moments, and we must all continue his legacy by working for a more just New York."
This story has been updated to include a statement from Mayor Bill de Blasio and First Lady Chirlane McCray.