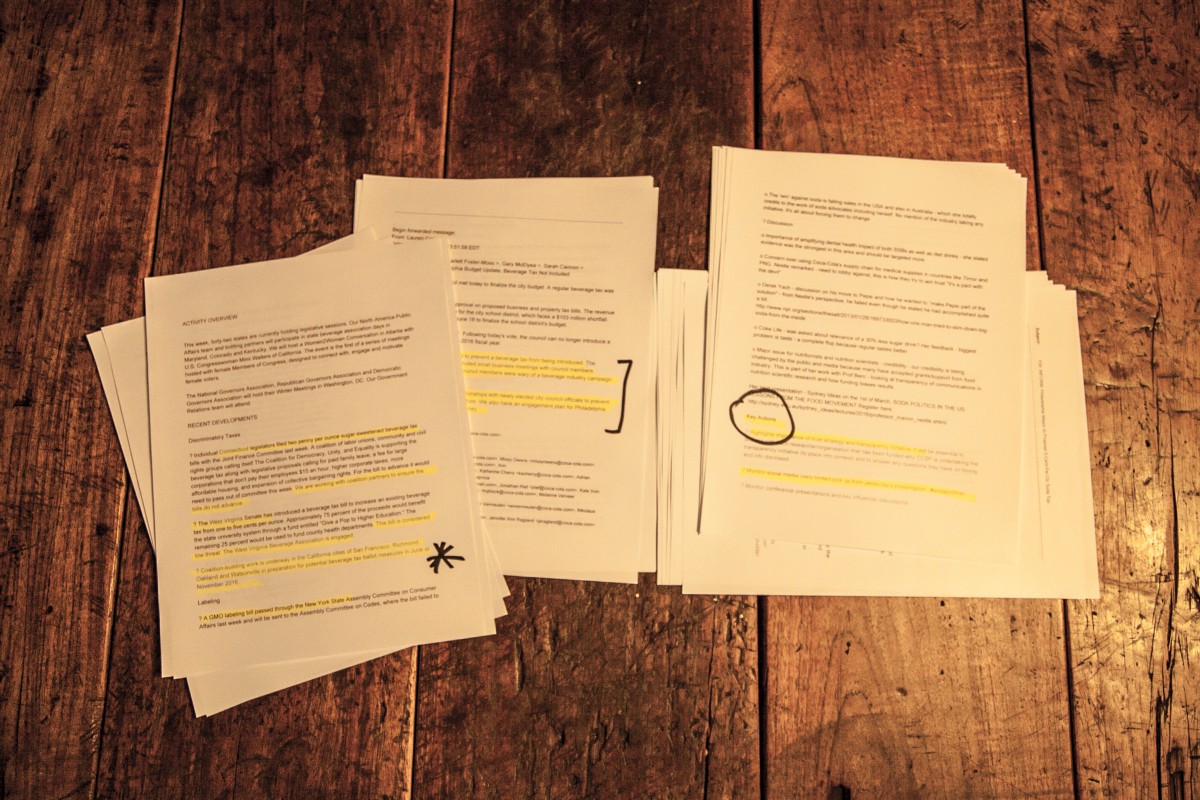 Internal emails recently leaked to "DCLeaks" give the public new insight into Coca-Cola's coordinated strategy to defeat public health policies at the local, state, national, and international levels. The leaked emails are exchanges between Coca-Cola VP Michael Goltzman and Capricia Marshall, who is a communications consultant working (the emails disclose) for both Coca-Cola and the Clinton campaign simultaneously. While we didn't ourselves hack any private emails nor condone that political tactic — this information is now publicly available.
We already knew the huge amounts of money spent by Coca-Cola and the American Beverage Association to lobby against health policies, but these new leaked emails illuminate the inner-workings of the soda industry's coordinated political strategy. They confirm many health advocates' deepest suspicions: the soda industry is a united force against public health.
The emails describe a wide-range of Coca-Cola actions: local strategies to oppose soda taxes in Philadelphia, San Francisco, Richmond, Oakland, Watsonville; state strategies to oppose various policies in Connecticut, West Virginia, New York, and Iowa; national strategies to influence Federal US regulation; and international strategies to influence the WHO and defeat soda taxes across the globe in the UK, France, Israel,and and Bosnia Herzegovina.
Overall, the internal documents paint a picture of an industry fighting a coordinated war against public health policy on on many fronts: coordinating messages, influencing reporters, debunking science, stalking social media influencers, building astro-turf coalitions, and lobbying heavily at every level of government.
They're pretty bold about their intent:
"We will be reaching out to this reporter to better understand her decision not to include our perspective, and to build her brain around our strategy." —Amanda Rosseter, Coca-Cola (5/25/16)
The soda industry appears to believe that they can convince the American public they're trustworthy enough to be invited into all levels of public policy, as high as the World Health Organization, and should be seen as part of the solution, not the problem like the Tobacco Industry. But they're as trustworthy as a wolf in sheep's clothing:
"As anticipated earlier this week, our calorie commitment in the Netherlands is now out and is getting massive media traction locally. It's a key element in our strategy to fight discriminatory legislation and to improve category perception by taking the lead on innovation, choice, transparency and balanced lifestyles." —Salvatore Gabola, Coca-Cola of North-West Europe and Nordics (6/25/15)
Behind their cheerleading of voluntary commitments, a "trust strategy", a coordinated "transparency initiative", and seemingly reasonable pleas for "self regulation over legislation", these email strings help us see the soda's industry scheming has nothing to do with our health — and everything to do with growing their profits.
"The entire Government Relations team is committed to effectively managing the national, state and local public policy issues and strengthening our social license to operate so that our business can grow." —Kate Rumbaugh, Coca-Cola (12/18/15)
How Big Soda Fights Local and State Policy
Ok let's dig in. A good starting place is a nice overview of this year's local and state legislative priorities thanks to Jennifer Lemming, Director of State & Local Government Relations for Coca-Cola. She emailed this legislative update on February 15, 2016 to Senior Communications VP Mike Echols and President Sandy Douglas. It details Coca-Cola's national strategy to defeat the various local policy efforts, including soda taxes, GMO labeling, and recycling laws.
At the beginning of the year, Coca-Cola was busy building "coalitions" across California to defeat soda taxes put on November ballots by citizens concerned about local childhood obesity rates:
"Coalition-building work is underway in the California cities of San Francisco, Richmond, Oakland and Watsonville in preparation for potential beverage tax ballot measures in June or November 2016" —Jennifer Lemming, Coca-Cola (2/15/16)
How Big Soda Blocks Policy Across the Globe
The World Health Organization recently made news by urging nations across the world to pass soda taxes to reduce sugar consumption. But the soda industry had already been trying to infiltrate the WHO for years.
When Coca-Cola heard the WHO would be recommending soda taxes to address childhood obesity, their strategy was to "stay ahead of the curve":
"Through the Coca-Cola system's actions at country level we should try to stay ahead of the curve, demonstrating how we can help reduce added sugar intake from children." —Wouter Vermeulen, Coca Cola Europe (5/18/16)
When WHO Europe included soda taxes in their 7th "Health Behavior in School Children Report", Coca-Cola scurried to find a way to deflect attention from sugar and soda:
"We are also digging into some of the data to explore how we can leverage this report to push for a more holistic view on promoting health rather than a sole focus on sugar and soft drinks." —Wouter Vermeulen, Coca-Cola Europe (3/15/16)
As we see throughout their policy strategy, Coke ironically tries to position itself as public health partner, a strategy to weaken or distract efforts like soda taxes that are proven to decrease soda consumption. They delusionally believe they should be seen not like the tobacco industry, but rather a public health contributor:
"Certain Member States and NGO's wanted to treat the F&B [food & beverage] industry in a similar was as the tobacco industry, where no engagement would be allowed. Through our trade associations and outreach with Member States we have advocated for the potential of the private sector to positively contribute to public health challenges." —Wouter Vermeulen, Coca Cola Europe (5/18/16)
Of concern to Coke is the WHO internal accountability policy that companies (like them) who hurt public health will be treated with "particular caution":
"WHO will exercise particular caution, especially while conducting due diligence, risk assessment and risk management, when engaging with private sector entities and other non-State actors whose policies or activities are negatively affecting human health and are not in line with WHO's policies, norms and standards, in particular those related to non-communicable diseases and their determinants."
They're optimistic in their ability to poke holes in that reasonable conflict-of-interest protection: