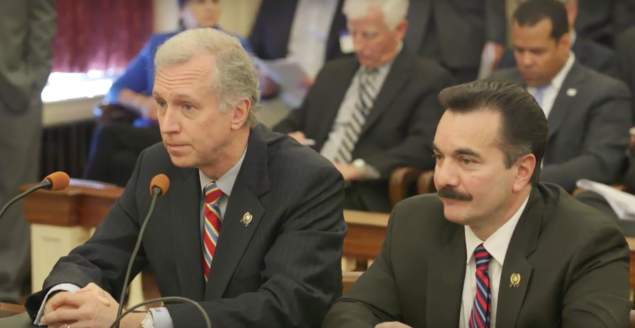 Lawmakers will vote on whether to authorize an investigation into N.J. Transit during tomorrow's session day in Trenton, and the legislative committee that stands to gain subpoena power is not the one voters might expect. Democrats moved to take the investigation to the Assembly Judiciary Committee rather than the Assembly Transportation Committee, a choice that could reflect on the standing of one of the state's most prominent potential gubernatorial candidates.
Assemblyman and transportation chair John Wisniewski, who is still weighing a run for governor despite predictions that former U.S. Ambassador Phil Murphy has clinched the Democratic nomination, earned much of his reputation when he chaired the original committee that investigated the 2013 Bridgegate scandal.
Assembly Speaker Vince Prieto's choice to offer the investigation to judiciary chair John McKeon instead could mean that Democrats are looking to cut off Wisniewski's chances of challenging Murphy now that the party is mostly united. With Governor Chris Christie facing a criminal summons, the possibility of impeachment proceedings could have Murphy allies hoping to deny Wisniewski a similar platform.
Seton hall University political scientist Matthew Hale said he has his doubts that impeachment proceedings would amount to much more than theater even if the investigation into the state's declining rail system does reveal negligence or misconduct. Christie will be term-limited out in 2018, too soon for an impeachment to affect him.
"My guess is that they're looking at the potential criminal involvement of Chris Christie in Bridgegate," Hale said of the move from transportation to judiciary. "I certainly think that Wisniewski has made whatever small amount of fame he has based on his attempting to get Chris Christie. But he also failed.
"I think Democrats are clearly ready to settle on Phil Murphy, and the only hope that Wisniewski has is to become a rockstar and indict or impeach Chris Christie. So perhaps it's a move to finally say to Wisniewski that it's time to hang it up."
Wisniewski, meanwhile, said had introduced his own request to grant his committee similar powers only to see the caucus move ahead with McKeon. He said he supports the current effort to investigate N.J. Transit following the Hoboken rail crash that killed a young mother and injured many others.
"I put in a resolution asking for subpoena authority for the transportation committee. I had spoken to my colleagues, I had attempted to speak to the speaker about it," Wisniewski said by phone. "I was certainly not made aware of it in advance."
"It speaks to a broader pattern of mismanagement, and as anyone who has followed the legislature under this administration knows, that department heads, cabinet officers, are routinely not permitted to appear in front of legislative committees to provide the level of oversight that we're constitutionally responsible for. So if they're not willing to come we may have to force them to come."
"This review will greatly assist the Legislature's efforts to enact meaningful reform to ensure that NJ Transit fulfills its purpose – safe transportation service in the public interest," McKeon wrote in a statement.
Asked about his gubernatorial ambitions, Wisniewski said he is still deciding whether to run or not. One-time frontrunners Steve Fulop and Steve Sweeney abruptly announced that they would not be pursuing the nomination after Murphy locked down North Jersey—the former Goldman Sachs executive now has all of the state's northern counties except for Somerset.
The Assembly will vote on granting those subpoena powers tomorrow at 1:00PM, with the Assembly Judiciary Committee meeting for discussion at 3:00PM. Assuming a successful vote in the Democratic-controlled lower house, testimony will begin 10:00AM on Friday. Listen to a livestream of those proceedings here.