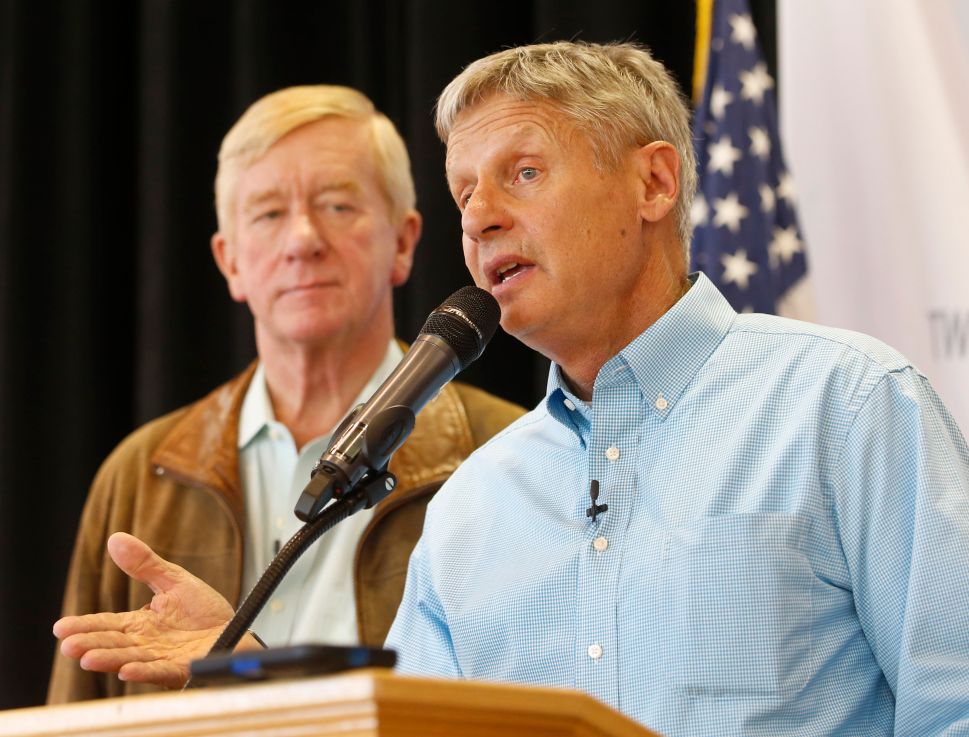 There is little in Bill Weld's background that would have foretold his enduring popularity among Massachusetts voters spread across a wide political spectrum, and even less that would have presaged the fondness with which he is regarded by lunch-bucket types. A descendant of Edmund Weld, class of 1650 at Harvard College, Weld's ancestors, to borrow from Woody Allen, came to this continent with the original lungfish. Once teased at a political gathering about his forebears arriving on these shores via the Mayflower, Weld quipped "Actually, they weren't on the Mayflower. They sent the servants over first to get the cottage ready."
The New York-born scion's upbringing was not exactly a textbook example of priming oneself to appeal to the common man. He studied classics at Harvard, graduating summa cum laude, went to Oxford and capped his blue chip education at Harvard Law School. A stint as a staff lawyer on the House Judiciary Committee and a brief tenure at a white shoe Boston law firm led shortly to his appointment by President Reagan as United States Attorney at the not-very-ripe age of 36. As Massachusetts' chief federal prosecutor, he attacked corruption in the Democratic political establishment with zeal, and no small degree of success.
Weld, whose entire political career has been as a Republican, maintains that his transition to candidate for Vice President as a Libertarian is a natural.
So his election as Governor as a Republican in overwhelmingly Democratic Massachusetts in 1990 was improbable. His re-election four years later by the largest margin in Massachusetts history was a testament to the bond he forged with ordinary citizens, who liked his straight shooting, his disdain for political dogma, his bipartisan bent and, perhaps most of all, the obvious comfort he felt in his own skin, quirks and all.
It was regarded as something of a coup when former New Mexico Governor Gary Johnson, the Libertarian Party's candidate for President, persuaded Weld to join him as the Party's vice-presidential nominee. It wasn't only the fact that Weld, who since leaving the Massachusetts State House for the private sector two decades ago has retained his stature, reinforced the seriousness of the third party's inherently quixotic gambit. It is that Weld's intellectual heft, coupled with his ease on the national stage, gave the Libertarian campaign a real boost, particularly in an election when the two major candidates have staggeringly high unfavorable ratings and the partisan divide in Washington is so broadly sickening. Shrewdly, therefore, the Libertarians have found ways of emphasizing Weld's place on their national ticket, making sure that both Johnson and Weld are featured wherever possible, and that Weld, experienced with the media and good at it, as evidenced on their joint 60 Minutes segment, is given as much exposure as possible.
Part of Weld's appeal has long been that he genuinely seems to actually be unfazed. During an interview with him on the day that the Commission on Presidential Debates vetoed the Libertarians' participation in the first presidential debate, he seems as at ease as ever. "I am a happy warrior," he says. "This for me is part joy, part patriotic duty. I didn't want this country to sink into negativity. Group has successfully been set against group." He readily accepted Johnson's invitation to run in what is a bid for the White House that is highly unlikely to succeed because of what he sees as a dreadful disintegration of the American spirit taking place, and the opportunity he relishes to speak out about it. "One thing that Ronald Reagan did," he says, "was to make people feel good about being American."
Weld, whose entire political career has been as a Republican, maintains that his transition to candidate for Vice President as a Libertarian is a natural. "People always called me a 'moderate'" he told the Observer. "Maybe I was a 'net moderate.' On fiscal issues I am well to the right of center. On social issues, I am well to the left of center. I am well-suited to the Libertarian Party."
Weld's claim to have been well in front of his Republican colleagues on social issues is inarguable. Indeed, he was well in front of many Democrats. "I led the pro-choice movement in the Republican Party," he points out. "In the gay and lesbian rights movement, I was all by myself in the GOP back in the 1990's."
The former Governor is best known in Massachusetts for a trademark civility that has won him not only support, but friendships, on both sides of the aisle. "It was [former Massachusetts Senator] Paul Tsongas, a Democrat," Weld says, "who told me 'You never know where your next coalition is coming from,'" As for his almost constitutional aversion to personal attacks, Weld, not prone to public introspection, confesses that it runs contrary to his personal DNA. "A quality I greatly prize, and which I find more frequently in women than in men, is empathy," he says. "A slightly different quality that I have in large measure is sympathy."
Weld's law office is strewn with esoteric-looking public policy journals; his bookshelves contain volumes as diverse as Tolstoy's Anna Karenina and a biography of the late Israeli Prime Minister Ariel Sharon. He has thought a great deal about the partisan divide in America, and about the nastiness of political discourse. "It's gotten worse every year since 1995," he says, pointing to the Congressional mid-term election of 1994, in which Newt Gingrich and the Contract-for-America Republicans took control of the House of Representatives. "The Republicans got very mad at Bill Clinton because he effectively stole their playbook," says Weld. "They weren't mad at him for stealing their playbook. They were mad at him because he was successful."
Pressed to share his view of the impact of Trumpism on the country, Weld, typically, is restrained in his choice of words.
It is in large measure the dramatic decline of American political debate, Weld says, that motivated him at an age when most people are slowing down to agree to run with Johnson. "Right now," he says, "the two parties in Washington seem to exist for the purpose of killing each other." Asked whether this phenomenon is reversible, Weld has a ready answer. "There's only one silver bullet, and that's term limits," he says. "Three or four terms for the House. Two for the Senate. If the members of Congress knew that they can't get reelected incessantly, they would stop obsessing about reelection and might even do the right thing for the country at large."
Asked about a Boston Globe editorial that demanded that Colin Powell, Condoleezza Rice and other "sane Republicans" expressly disavow Republican nominee Donald Trump, Weld replied, " I guess I am a sane Republican." He says that others' reluctance to speak out "does not apply to me. I do intend to speak out against Mr. Trump's call for closing our economy and withdrawing from global trade, as well as his planned wall on the American border, and the round up and deportation of eleven million immigrants."
He is obviously appalled by Trump, even if the language he uses to express it is relatively high brow. "I think Mr. Trump has taken the level of civility to a new level," he says. Pressed to share his view of the impact of Trumpism on the country, Weld, typically, is restrained in his choice of words. "It cheapens the coin of political discourse," he says. "It is dulling to the quality of the discussion."
Weld rejects critics who say the Libertarian Party is suffused with isolationism. "I think we're the only ticket in the race that's not isolationist," he says. "We wholly embrace free trade, which has been the underpinning of our economy since World War II, and which is responsible for 40-50 million jobs in the United States."
As for the perception that the Libertarians are naïve-to-the-point-of-squishy on national defense, he demurs. "We need to have a demonstrably invincible national defense," says Weld. "'Demonstrable' in that the whole world needs to see it.' He also rejects the criticism that the Johnson-Weld ticket is draining support from Hillary Clinton, thereby making the election of Donald Trump more likely. He says support for the Libertarian ticket draws "absolutely 50-50" from the two major parties. "The reason Mrs. Clinton does worse when both third party candidates are included in polls," he says, "is because of Jill Stein," whose support, he says is drawn solely from voters who, if they voted, would vote exclusively for Clinton.
Bill Weld is no naïf. He can read the polls quite a bit better than the next person, and suffers no illusions about occupying the Vice Presidential mansion next January. A low-key warrior, he is also a happy one, satisfied in knowing that, if nothing else, he is modeling a way of conducting himself as a public citizen and a candidate for high office that may be old-fashioned, but has a great deal to recommend it.
Bill Weld is counsel at Mintz Levin, where the author works.
Disclosure: Donald Trump is the father-in-law of Jared Kushner, the publisher of Observer Media.
Jeff Robbins served as Chief Counsel to the Democratic Senators on the United States Senate Permanent Subcommittee on Investigations. Twice appointed as a United States Delegate to the United Nations Human Rights Commission under President Clinton, he is an attorney in Boston. Follow him on twitter: @jeffreysrobbins