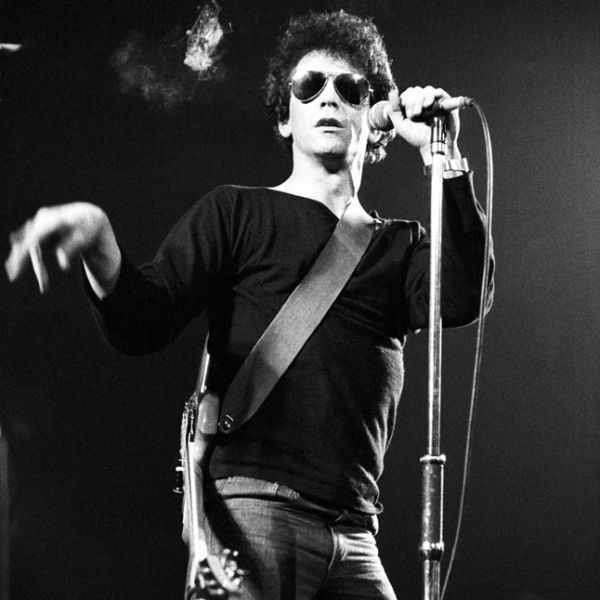 Lou Reed's solo albums are about as varied as any single artist's catalog in American pop.
The music he recorded for the RCA and Arista labels in the '70s and '80s comprises the lion's share of the late Long Island legend's post-Velvet Underground canon. It's a discography that doubles as a swinging pendulum of taste and tolerance, bookended by one album considered to be the absolute cream of the rock 'n roll lexicon (1972's Transformer) and another title so reviled by critics that The Chicago Tribune's Greg Kot once declared it "Tuneless noise" that "can only be interpreted as a vile gesture aimed at the record industry, a bad joke, or both" in his one-star review of 1975's Metal Machine Music.
However, the extremes within this period of Lou Reed's career have overshadowed the vast majority of titles released while he was recording for both RCA and Arista, sometimes eclipsing LPs that are as good if not better than Reed's perceived best (Coney Island Baby, The Bells and The Blue Mask all arguably trump Transformer) and other selections that have been woefully overlooked or were simply given a bad rap by a critic with a stick up their ass about Lou at the time (more on that later).
Either way, there are some excellent titles from this time in Reed's career that deserve reassessment, which is why the release of The RCA & Arista Album Collection last week has been such a hotly anticipated affair by those who loved and appreciated Reed throughout the entirety of his career, and not just the cliches of his legend.
Produced by Reed with Legacy Recordings VP of A&R Rob Santos and longtime friend and collaborator Hal Willner, this gorgeously constructed 12-by-12-inch limited-edition box set was the last thing Reed worked on in the studio before he succumbed to liver disease at the age of 71 on October 27, 2013. And what a final statement. These 16 albums—released over a 15-year period to varying degrees of renown and resentment—have never sounded better whether you liked them the first time around or not.
"This work was done at New York's Masterdisk in June and July 2013," Willner reveals in the liner notes featured in the stunning 80-page hardcover table book featuring memorabilia from Reed's personal archives. "Everyone who was in that room or around Lou during this period witnessed a beautiful thing as he enthusiastically relived that whole period of his work with the joy of rediscovery, excitedly pointing out subtleties in sounds he hadn't heard in years."
Below are five albums selected from The RCA & Arista Album Collection that rank among Reed's best—both in sonic and aesthetic rediscovery—yet which never quite received the proper adulation they should have enjoyed upon their original release. For all the beautiful, challenging and thought-provoking music Lou Reed provided us during his too-brief time on earth, you owe it to him to give these records a second shot if you blew them off the first time or were swayed by a naysaying review. And not just for your own good—it will also grease your gears for the upcoming "Bootleg Series" style archival series Legacy Recordings plans to roll out in the coming months and years.
Lou Reed (1972)
[youtube https://www.youtube.com/watch?v=wWVCshp6Z84?list=PLDAz7dH0q7YoZ5AGL3ofbumIMccTbQy_Z&w=560&h=315]
"The first album, at one point, he did not want to put in there," explains Santos, who had been working with Lou Reed on a variety of reissue projects since the late '90s. "He had come back to the session one day and was just like, 'Yeah, honestly, I don't want it in there.' It took some convincing to get him to let us include it."
We should be glad Reed decided to polish off his eponymous 1972 debut as a solo act, which, yes, is largely comprised of re-recordings of Velvet Underground songs. Recorded at London's Morgan Studios with a crack session group of U.K. musicians lead by Steve Howe and Rick Wakeman of Yes, the more professionally crafted revisions of such beloved VU fare as "Lisa Says", "Ride Into the Sun" and "Ocean" make for highly enjoyable listens.
There is a gorgeous early version of "Berlin" on this record as well. However, the hidden jewel of Lou Reed is its sole exclusive track, "Going Down", augmented by such beautiful, organic piano work from Wakeman it's hard to believe it came from the same hands that helped create the proggy bombast of Yes's Fragile inside those very same 12 months.
Street Hassle (1978)
[youtube https://www.youtube.com/watch?v=k8qFbzGvq0w?list=PLHulZyEr7hH2XcpcQWhU6Dohf0CKcLAAm&w=560&h=315]
If you really want to know why Lou Reed shit on Robert Christgau the way he did on the 1978 double-length "comedy' album Live: Take No Prisoners, perhaps it's the way by which the self-professed "Dean of American Rock Critics" levied his judgments with letter grades.
"Imagine working for a fucking year and you get a B+ from an asshole in the Village Voice?" Lou Reed sneered somewhere around the 7:15 mark of a 17-minute improvisational ramble through his biggest hit "Walk On The Wild Side", which was cut during his weeklong residency at New York's The Bottom Line in May of '78.
By Memorial Day that spring, Christgau blasted back with a smarmy review of Reed's eighth studio LP Street Hassle—released earlier that February—in his Consumer Guide column.
"I find its production muddled, its cynicism uninteresting, it's self-reference self-serving," scoffed the self-professed "Dean of American Rock Critics," grading it a flat B as an extra slap in the face.
I'll have to agree to disagree with Christgau on this one: It's in that self-reference where Street Hassle, released at the apex of the New York City punk explosion, achieves its transcendent brilliance. It's the sound of the singer beating up the legacy of The Velvet Underground in a dark alley with a sinister switchblade sensibility that unleashed Reed's inner hoodlum. He throws a cup of beer right in the face of "Sweet Jane" on opening cut "Gimme Some Good Times" before eviscerating her base groove entirely by way of a searing Marty Fogel sax solo. He also transforms VU's "We're Gonna Have A Real Good Time Together" into a jittery meditation that's more Suicide than Sterling Morrison.
Meanwhile, the three-movement title cut makes a power play at orchestrally outmaneuvering his old foil John Cale while simultaneously paying homage to the duo's days as pop pencil pushers for the old doo-wop label Pickwick Records.
And then there's "I Wanna Be Black", one of the songs on the album that was cut live in concert, and one where he speaks of wanting to have natural rhythm and the ability to shoot 20 feet of jism. Like Guns N' Roses' "One In A Million", this is a tune no performer in 2016 could ever get away with covering. But Reed sings the shit with a tossed-off swagger that only he could get away with and in a style that sounds like he's making fun of Mick Jagger in the most socio-politically provocative way possible.
"Like so many of his contemporaries, maybe he's better off not aiming for masterpieces," Christgau concluded in his Street Hassle review. Maybe so, but I guess it was statements like that which prompted Reed to call him "toefucker" on acetate in the first place.
Growing Up in Public (1980)
[youtube https://www.youtube.com/watch?v=uysWaBnKVd4?list=PLGbb9KO9XC_PlG1B9mwv5QLd3cIP22oXn&w=560&h=315]
In his review of The Bells in Rolling Stone, Lester Bangs called Reed's 1979 championship collaboration with improvisational icon Don Cherry "the only true jazz-rock fusion anybody's come up with since Miles Davis' On the Corner period." Yet for its 1980 follow-up, Reed took his longtime touring band to Electric Lady Studios in the West Village to craft a decidedly more listener-friendly affair. Growing Up In Public actually finds him in conjunction with such peers as Todd Rundgren and Warren Zevon in terms of the accessibility by which he approaches his most personal set of songs at the time, colored by the imaginative keyboard work of Michael Fanfara and his new marriage to British designer Sylvia Morales.
"Much of this record is like the family scrapbook that nobody wants to share with polite company: sharp recountings of the ways in which parents thrust their disillusions upon their children," veteran music journalist Mikal Gilmore wrote of the album in the July 10, 1980 issue of Rolling Stone.
Unfortunately, Public was sandwiched between two of Reed's bona fide masterpieces in The Bells and 1982's The Blue Mask, an obscured position akin to being a Smart Car driving down the highway with two 18-wheelers on either side of you. But this box set is the perfect opportunity to get re-acquainted with this fantastic and misunderstood little pop gem.
Legendary Hearts (1983)
[youtube https://www.youtube.com/watch?v=Ltk-F6eFfmc?list=PLiaOytEHao7E88LxFcpmYfG2OnD0nmg0W&w=560&h=315]
Perhaps the best lineup Lou Reed ever enjoyed outside of either version of the Velvets was the three-piece band who backed him up on 1983's Legendary Hearts. For the second volume of his "Average Guy" trilogy, he was flanked once again by Blue Mask alums Fernando Saunders on fretless bass and the late, great Robert Quine on guitar as well as future Scritti Politti drummer Fred Maher behind the kit. According to Saunders, Reed's guitar is also featured much more prominently on this album as well, a secondary gain to having such a championed six-string hero as Quine as his foil.
"Lou was definitely feeling more confident on that guitar," he tells the Observer. "Not in a bad way, but Robert Quine was taking more of a backseat on these songs. Lou wasn't pushing him away, but he wanted to get back to showing people what he could do on guitar, too. Quine helped Lou get the confidence back to play the guitar the way he does on Legendary Hearts. I don't know what was going on between them personally, but you can tell Quine definitely inspired Lou to be a better guitar player."
The one drag about this box was that Reed didn't want to include 1984's Live In Italy, because it was an import-only release (1975's Lou Reed Live was also omitted, because Reed had nothing to do with its creation). But what that live disc showcases is the power of this amazing combination on stage and is well worth seeking out or, if you already own it, breaking out.
Mistrial (1986)
[youtube https://www.youtube.com/watch?v=nvq-lCmV9_s?list=PLEoZwkbzln7xlUvqFqwg2eiUxBavf6OoA&w=560&h=315]
If there is one album from this box set that harbors perhaps the most misunderstood reputation, it's Reed's last LP for RCA, 1986's Mistrial.
Robert Christgau considered the LP "weak," while other critics wrote it off as an obligatory contract fulfiller with minimal spark in comparison to other Reed solo albums and mired in '80s production. One champion of the record, however, was David Fricke, who in the June 19, 1986 issue of Rolling Stone embraced the album's utilization of modern production of the time, augmented in collaboration with Latin pop icon Rubén Blades.
"In that basic commercial sense, Mistrial is classic Reed, reminiscent of Coney Island Baby's lighthearted swing," he writes. "'I Remember You' gently bumps and grinds to a sunny, circular guitar hook, fleshed out with gently colliding lead guitars and cozy male vocal harmonies by salsa superstar Rubèn Blades and Reed's bassist and co-producer, Fernando Saunders. 'No Money Down,' the album's sassy flagship single, takes off with a brisk electronic drum program accented by Reed's rippling guitar and a high-spirited guitar-sax reveille."
Listening to Mistrial 30 years later, through the lens of the post-millennial reappraisal of '80s pop production, the fruits of Blades and Saunders' collective labor as producers are nothing short of revelatory, especially once you get to the final cut, "Tell It To Your Heart", one of the prettiest songs in Reed's oeuvre and a seemingly obvious influence on the direction taken by U2 into the mid-to-late '80s.
"We all put our own stuff in on Lou to make him more accessible," Saunders says. "Plus, we recorded Mistrial at the Power Station, where Steve Winwood was doing his album on one floor, Cyndi Lauper was doing her album on another floor at the time. And everybody that was working in that studio was working with the same drum tech, a guy named Artie."
[youtube https://www.youtube.com/watch?v=XiyX70ZqsVQ&w=560&h=315]
Having a fairly popular video on MTV for the single "No Money Down" also played a role in helping Mistrial gain a wider audience as well. Directed by English pop duo Godley & Crème, who also helmed vids for Wang Chung, The Police and Duran Duran at the time, the clip was quick to cause controversy as it wound up freaking out some of the kiddies watching at home with its twisted animatronic video that was somewhere between Max Headroom and Scanners.
"That video with the robots was originally made for the song 'Video Violence'," Saunders remembers. "But it was kind of strange seeing this video of someone tearing up their face and hearing this poppy lyric. It was visually working against the song. If they used the video for the song it was supposed to be used for, I don't think there would have been a problem with the video because the plot of it is right in the title. 'Video Violence'. But Lou decided he wanted to use the robots, and I was at his house and he played it for me and he looked at me, because he saw my reaction and he said, 'Well, it's not for you anyway.' [Laughs] So MTV put out the video and they were getting phone calls that kids were crying, they were afraid, and they had to take it down."
Just like most misunderstood albums by AOR icons in the 1980s, revealed beneath the gloss of the era-appropriate production techniques exists some of Reed's best material.
"This was not a stupid pop album," Saunders asserts. "If you listen to the lyrics of 'No Money Down' or 'Tell It To Your Heart' or any of those songs, it was the magic in Lou's words that made the album so great. Regardless of what kind of song it is, once that voice comes in, you know it's Lou. And Mistrial was what made him huge back then, especially on pop radio where those DJs were waiting to play something new of his on morning and afternoon radio. It served as a perfect setup for the New York album."
LOU REED – THE RCA & ARISTA ALBUM COLLECTION
1. Lou Reed (April 1972)
2. Transformer (November 1972)
3. Berlin (July 1973)
4. Rock n Roll Animal (live – February 1974)
5. Sally Can't Dance (August 1974)
6. Metal Machine Music (July 1975)
7. Coney Island Baby (December 1975)
8. Rock and Roll Heart (October 1976)
9. Street Hassle (February 1978)
10. Lou Reed Live  Take No Prisoners (2 CDs – November 1978)
11. The Bells (April 1979)
12. Growing Up in Public (April 1980)
13. The Blue Mask (February 1982)
14. Legendary Hearts (March 1983)
15. New Sensations (April 1984)
16. Mistrial (June 1986)