Marilyn Minter, Deep Frost, 2016.
Salon 94
Tender Temporary.
Salon 94
At the Salon 94 gallery on the Bowery, past a video in the window that spells out the letters in Marilyn Minter's name and down a staircase from ground level, seven new paintings by the artist are on view, all enamel on metal. On the far wall was Thigh Gap, a picture whose title was unambiguous about its subject.
"You know what you're lookin' at?" asked the friendly, mischievous Minter. "It's pubic hair."
If that tactile view of private parts was the practice, then came the theory.
"There's no pubic hair in the culture anymore, so I made a picture of the most beautiful pubic hair that I could think of. It's so beautiful that you could put it in your living room," she said, mentioning Gustave Courbet's notorious and unforgettable Origin of the World from 1866 at the Musee d'Orsay—the world's most famous painting of pubic hair. Courbet was the only artist Minter could name who chose that subject.
Equal time for pubic hair? Works in Minter's eponymous show at Salon 94 (open through December 22) are priced between $150,000-$350,000.
On the adjoining wall was Ginger, another view of pubic hair at eye-level named for the color of the hair inside the frame. "I wanted a redhead too," Minter said, her deadpan expression easing into a grin.
Then came the pivot. Once Minter started discussing the work in her first gallery show in two years, the artist in her late 60s sounded more traditional than transgressive. This wasn't exactly the bomb-thrower whose four decades-worth of work deploying discomfort (and much more) goes on view November 4 at the Brooklyn Museum in the exhibition "Marilyn Minter: Pretty/Dirty."
Sexual defiance was out front in her newest work, but Minter was talking about materials. Enamel has been her medium since 2009. "I could get that human skin much more with these layers of enamel," she said, "I've always been interested in surface. Clearly, I'm a detail-oriented person."
"People always call me a photo-realist, but I really work in these tiny areas and stitch an image together." — Marilyn Minter
Exquisite details that have become her signature over the years include water drops and wet surfaces. "People always call me a photo-realist, but I really work in these tiny areas and stitch an image together," she said, explaining that her sketches for the paintings involve photo-shopping multiple photographs into preparatory sketches before she begins painting.
"There's layers of art history in this, too," she noted. "It's almost pointillism at this point," directing my view to the skin tones in Ginger.
"You get all these colors from the dots, so it's more Seurat than it is anything else,' she said. "I think of my work as abstract realism."
On the wall across the room was Big Breath, a hyper-close-up of a mouth licking the frozen glass through which the model is observed. It's a clever take on Gustav Klimt, and heir to Minter's oozing 2009 video, Green Pink Caviar.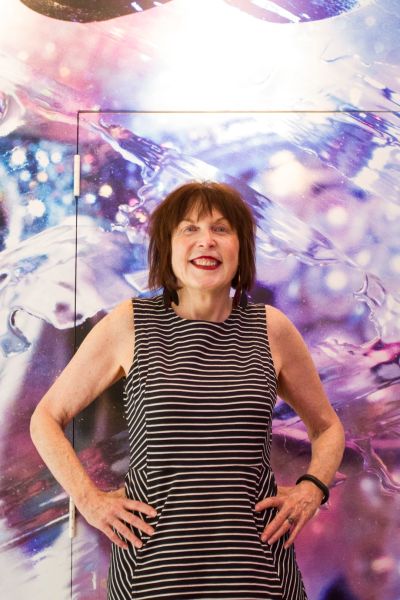 In earlier years, when Minter showed no mercy skewing media culture and its own skewing of women, the conventional wisdom was that her influences were Andy Warhol and Pop Art (Tom Wesselman comes to mind) and the broad phenomenon of photorealism. All those influences will be on view at the Brooklyn Museum, in a show that began its travels at the Contemporary Arts Museum Houston in April 2015.
Yet at Salon 94, Minter's confrontational images have a surprising intimacy. "I'm always working in terms of paradox. Everything is a paradox. Lots of times we talk about how glamorous images give us so much pleasure, but at the same time no one really looks like that," she said.
"So I like the idea of having two opposing ideas in the exact same image," she noted, "I don't want to be told what to think. I don't want an illustration," she said.
"It's too easy to kick the fashion industry in the teeth, when it causes a lot of harm, but it gives people so much pleasure," she said. "It's not my goal to criticize. My goal is to make an image of the times we live in. This is our lives."
"It's too easy to kick the fashion industry in the teeth, when it causes a lot of harm, but it gives people so much pleasure."
Minter has surveyed her own times in photographs (of her mother), oil paintings, on video, and now in enamel on metal. "Technology doesn't frighten me at all. I like it," she said, calling herself an early adapter.
"I use everything that's going to enhance my vision. I sort of feel like information is power—the more information you have, the smarter you are. More information makes people more tolerant," she said.
Let's hope so. Now that Minter's work will be on view at the Brooklyn Museum, it will also be on the jumbotron at the Barclays Center—an affront to some everyday commuters, no doubt, but an affirmation of the encroaching culture of hipster Brooklyn.
The young audience that sees clips from Green Pink Caviar up there is unlikely to be aware that, back in 1990, the enterprising Minter filmed a commercial and bought a 30-second ad on the David Letterman Show to promote her exhibition 100 Food Porn at Simon Watson in New York. The TV ad was more affordable than an ad in Artforum at the time, she said.
The ad was all the more brazen because Minter was a woman. She shrugged when asked about feminism. "A feminist? Yeah, but I don't know of anybody who isn't one in the New York art world. It's just part of a vernacular. It's like saying that I'm a woman, or tall, or a redhead. It's endemic to who I am," she said.
"I think it's part of the popular culture, except for [George] Baselitz and, you know, a handful of old white men on the wrong side of history," she noted. "Maybe it's aspirational, but it's definitely in my genetic make-up, and it always has been."
Still, the recognition of a traveling museum show in the U.S. came to Minter in her late 60s. She has been around and working since the late 1960s. "It seems typical for a woman artist," she said, "woman artists get a lot of attention when they become old ladies. The art world loves young bad boys and old ladies."
"Marilyn Minter" is on view at Salon 94 Bowery through December 22.