While women globally are fighting the bro culture of the tech world, it's still by all means a boy's club. Despite the fact that women-led companies perform three times better than those with male CEOs, women in the U.S. earn only 28 percent of computer science degrees, own only 5 percent of startups and hold only 11 percent of executive positions at Silicon Valley companies. What's more, women are dramatically less likely to score VC money, leading them to start companies with 50 percent less funding than their male counterparts.
Mark Cuban, who makes many of his investments in the most public way possible, in front of millions of viewers on ABC's Shark Tank, is, despite his very bro-y appearance and ownership of an NBA team, a very successful exception to this trend. He recently told the Observer that more than half of the deals he closed in the last few seasons of the show have been with women entrepreneurs. Just two weeks ago on the season eight premiere, he invested in Trisha Prabhu, a 16-year-old Google Science Fair finalist who teaches coding classes for girls and has given three TED Talks. Her app ReThink offers a way to stop cyberbullying and has already seen interest from a major phone carrier.
SEE ALSO: We Talked to the Sharks About What Makes This 'Shark Tank's Most Shocking Season Ever
"She's obviously incredibly intelligent," Cuban told the Observer at a recent event at the Paley Center for Media in NYC. "I asked her a lot of tech questions that didn't make it into the episode because we were in there for over an hour, and using it as a keyboard extension meant that there are so many more things you can do rather than just checking for what somebody said. And because of that, that made it a platform for just incredible opportunities."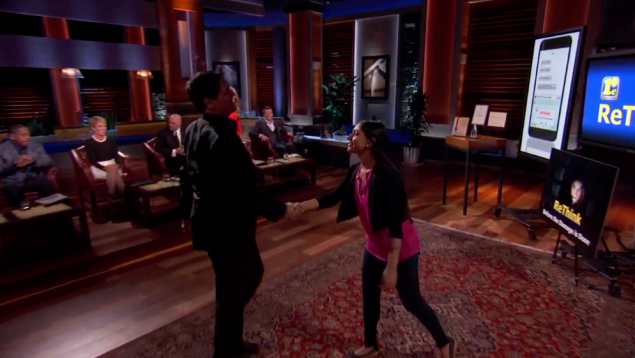 As we began to discuss the adversities and systematic (as well as direct) discrimination women in tech face and how this can be changed, he pointed to investing in strong and passionate women like Prabhu as the way. He believes with more strong female role models in tech and business, the industry can be more inclusive and little girls can grow up believing they too can pursue and succeed in STEM fields.
"I have two young daughters ages 10 and 13. So to me, it's very important," he said. "I try to be very supportive that [my female entrepreneurs] become, and it's not just about their own businesses, but it's about the example that they set. And so the more examples, the more successful women entrepreneurs, minority entrepreneurs, the more kids have to look up to. It's easy to invest in smart women, and so I try to do it as often as possible."
He pointed to a few of his entrepreneurs as examples of such role models: Lani Lazarri (Simple Sugars), Kim Taylor (Ranku), Chelsea Briganti (Loliware), Angela Antony (Scoutible), Andrea Sreshta (Luminaid), Falon Fatemi (Node.IO), Joyce Reitman (Motionloft) and Sarah Melton (Dallas Mavericks).
A major issue holding women in tech back is discrimination if they become pregnant or have young children. While men don't outwardly display their family plans and often head back to work quickly in a field where traditional gender norms persist, a woman's baby bump is automatically a glaring red flag to many bosses, recruiters and investors. After talking to 12 women about their experiences with family planning as coders and entrepreneurs, we learned that the industry advice, "Do not under any circumstances tell people you're pregnant if you're the CEO and fundraising. It's a death sentence," holds true.
SEE ALSO: The Stories of These 12 Women Are Why Female Founders Are Terrified of Being Pregnant
Women believe making it possible to simultaneously navigate the tech world and family life is essential for the industry, and Cuban believes a pregnancy shouldn't hold a VC back from making an investment.
"I invest in great entrepreneurs. Some do well with young families and some don't," he said. "If I think someone is going to be great, I'm willing to be patient and give them family time. I try to be honest, direct and supportive. I'm never going to discount a woman because she is pregnant or a man because he is a new father."
When we asked how founders and investors can better work together to make having a family and growing a business something that is not seen as impossible, he pointed out the absurdity that pregnancy is pinpointed as such a big problem when really, anything can take someone's time away from a business.
"There are any number of things that can take someone's attention away from business: illness, family, mental health, etc," he said. "To me it's a question of what the business requires and can the entrepreneur fulfill those needs. For some businesses, the time horizon is a decade. For others it's weeks."