Ignoring a tidal wave of Wikileaks documents that show instance after instance of media collusion with the Clinton campaign, Politico on Monday morning declared that "Trump takes media-bias myth to new heights." The Washington Post's Margaret Sullivan agreed, telling CNN "There is no sort of little group called 'the media' that gets together and decides to do terrible things to Donald Trump." Nevertheless, the recent Wikileaks dump has forced even some serious liberal critics, such as Glenn Greenwald, to assert that the profession has damaged its credibility in ways that will outlive this gruesome election.
And now, Observer has uncovered additional collusion that runs deeper than the "news" branches of organizations, including entertainment-based forms of media such as talk shows, beauty and gossip publications and even The Howard Stern Show, according to multiple sources. Employees of these companies who don't comply with the plot to rig the election for Clinton face consequences including threats, intimidation, hours cut and termination.
"Staff members at publications and with the major networks will get punished for even daring to pitch a story that's positive about Trump," an insider told the Observer. "Anyone that promotes Trump in the business or exposes Hillary's corruption will face immediate consequences. They're punished. Workers will get their hours cut or they'll lose their jobs and threatened too – it's that bad. This is happening all over the place from the bigger networks down to their local news affiliates to radio, Hollywood sets and even with entertainment magazines and shows."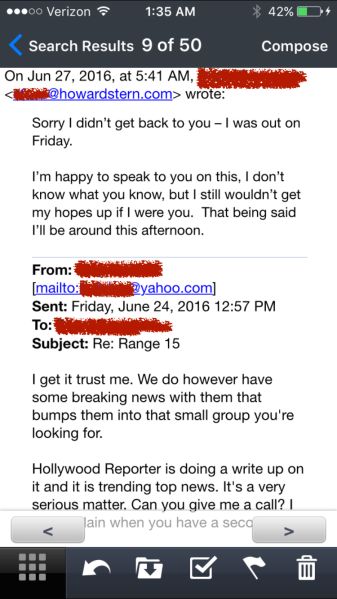 A source close to the CBS editor responsible for editing a recent interview with Bill Clinton to paint Hillary in a more favorable light told the Observer that the producer was ordered to edit the piece. In the interview, Bill said that Hillary "often faints" but the network edited out that comment. The network released a statement claiming that the edit was made to save time — a ridiculous claim since the part that was deleted lasted only one second. Our source insists that the comment was edited only to promote the narrative that Democratic presidential nominee does not have health problems.
"I actually know the editor that edited the piece with Bill Clinton," the source said. "He was told to do it. He was so proud because he's far left and would never be a whistleblower."
Another source told the Observer that his close friend works at one of the major networks and her sole job is to report positive stories about Clinton and negative ones about Trump. "I have a friend whose only role at the news organization is to put out positive stories on Clinton and negative stories on Trump," the source said. "That's what she's instructed to do all day. She doesn't agree with this but she doesn't want to lose her job. People know if they don't stay quiet and just do what they're told they will lose their jobs. These people have kids to feed, mortgages to pay – so to speak out about the collusion that's going on isn't worth it to most of them."
According to TMZ, NBC knew about the Trump "locker room" talk audio long before they publicly said they did but the powers that be at the network wanted to hold the tape to maximize negative impact on Trump. TMZ reported that Billy Bush had even bragged about the tape to NBC execs at the Rio Olympics in early August. Their plan was to unveil the tape 48 hours before the debate so it would dominate the news cycle prior. However, due to Hurricane Matthew, some NBC insiders decided to hold the tape until the Monday after the debate. This didn't sit well with others at the network so someone leaked the tape to the Washington Post pre-debate. In the initial plan, NBC was going to edit out Bush but the version that they leaked did not edit him out.
"NBC really screwed Billy," a source told TMZ. "They had no problem with him on the tape till it got leaked. There was never mention of disciplining Billy till the tape got leaked." Since the leak, Bush has been suspended and is reportedly negotiating an exit from the network.
Information revealed from various recent leaks also corroborate with the claims made by multiple Observer sources. The latest Wikileaks dump reveals that CNN leaked at least one debate question to Clinton in advanced of a debate she had with Bernie Sanders. Another leaked memo shows that someone from the "Steve Harvey Show" leaked Clinton the questions Harvey would ask her before appearing on the talk show.  Another leak details how CNBC correspondent and New York Times contributor John Harwood advised the Clinton campaign, and he even gloated about provoking Trump as he served as moderator during the first primary debate.
The collusion trickles down to other more entertainment-based shows including The Howard Stern Show. Even though Stern clearly likes Trump, who's been a guest on his show often for decades, the Sirius franchise player has been warned.
"There's a wink, wink, nudge, nudge thing going on in the business where people know that they can't expose Clinton's corruption or praise Trump too much," the source said. "If you do, you'll be punished just like Dr. Drew was." The source was referring to the cancellation of Drew Pinsky's show "Dr. Drew On Call," which CNN suddenly axed days after its host speculated about Hillary Clinton's health.
The Observer was told by a Stern employee that despite Stern's negative views on Clinton and respect for Trump, a producer at Howard Stern told her that only certain guests are allowed on the show right now.
The Observer was told by a Stern employee that despite Stern's negative views on Clinton and respect for Trump, a producer at Howard Stern told her that only certain guests are allowed on the show right now. In an e-mail, the producer suggested to our source that pro-Trump guests should not expect to be booked. The source told the Observer that the producer wrote, "I don't know what you know, but I still wouldn't get my hopes up" in reference to booking pro-Trump personalities.
Another industry source told the Observer that freelance writers who pitch stories that are fair to Trump get them rejected automatically. "Freelance writers who pitch stories about Trump that may come off in a positive light get their stories rejected including profile pieces on his family members," the source said. "Many publications will only accept stories that disparage Trump. Salacious stories about Clinton are also rejected; however, journalists who write favorable pieces on Clinton are more likely to get their work published. This is happening with a ton of magazines ranging from the tabloids to the high-end beauty magazines."
More leaks prove these claims. The New York Times gave Clinton permission to edit quotes and they also were uncovered providing Bill with questions before an interview. Leaks also show that the Boston Globe colluded with Clinton's campaign on how to maximize her presence.
Kelly Roseren, a publicist for the pro-Trump and pro-military Freedom Festival hosted a screening on Oct. 14 of Range 15, a zombie virus movie, to honor veterans and the nation's fallen soldiers in Denver, Colorado. She told the Observer that the collusion against Trump is widespread and even military members receive biased treatment.
"It's all over the place. It's anti-Trump, pro-Hillary and also anti-military," Roseren told the Observer. "If you're pro-Trump or pro-military, it's almost impossible to get the media to cover your event."
"Range 15" producer Nick Palmisciano added that Trump supporters are blacklisted. "Our movie broke almost every indie record there is. Although media initially expressed interest, upon learning that we are pro-Trump veterans, they rejected us. The only Hollywood article about the film was a hit piece making us look like uneducated fear mongers. Since the movie has come out, our director and several actors have been told they're blacklisted. It's insane – we should be hailed as heroes."
Roseren is very disillusioned with the collusion against Trump occurring in the media and Hollywood. "There's a lack of morale in this country for our military and an orchestrated effort by the media to destroy Trump and raise Clinton up and it's very sad."