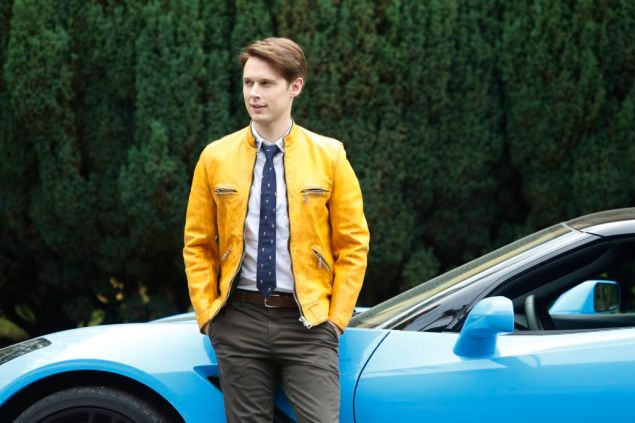 There's a show airing on BBC America now about fast-talking detective solving crimes with a hapless straight man by his side, and before you get your hopes up: no, Sherlock is not back early.
The comparisons seem inevitable, until you see an episode of Dirk Gently's Holistic Detective Agency. If Sherlock is an aged whiskey, Dirk Gently is a strawberry daiquiri spiked with an extra few shots of vodka from a flask disguised as a tube of sunblock. Dirk Gently is gorgeous, ambitious, pre-meditated chaos, a firework shot into a crowded room, or a child drawing with lipstick on the good wallpaper, grounded only by subtle performances by Elijah Wood, and Samuel Barnett as the titular detective.
Barnett is as fast-talking as his character, baby-faced for his 36 years, and friendly to the point where you feel bad for not being a good enough person to deserve it. Different as his show might be from Cumberbatch's, don't be surprised if Samuel Barnett is the next Brit to make the leap to mainstream American heartthrob.
OBSERVER: So where are you from?
BARNETT: I live in London now. I'm originally from Whitby in North Yorkshire. It's probably three hours from the Scottish border in a car? It's nice, it's really pretty. 
I was just up there! It's gorgeous. I fell in love with Edinburgh, I just need to marry someone with a citizenship.
You just need to marry someone Scottish. And what's also great is Scotland is probably going to end up staying in the European Union, so we're all going to move to Scotland and be Scottish. Sorry, let's leave politics out of it!
And now Brits are going, please America, learn from us. Clearly we were complacent and we just thought, Nah, we'll never leave Europe. And people voted and… please America, don't be complacent about voting.
I was in Vancouver filming Dirk Gently while all the Brexit stuff was going on—
So it's your fault!
You know what? I did vote! By proxy! But I wasn't there to dsavce my country. But it was weird. I came back, and there's a 53% rise in reported cases of racist abuse, one of the headlines of the Times yesterday was that companies must publish lists of foreign workers. It's like, this is fascist. The lid's come off: you can now be openly racist. It's horrendous.
There was a petition for a second referendum thing, and I just happen to retweet it. And the abuse that I got for retweeting was just unreal. I know that happens on Twitter a lot, but I'd been lucky and never experienced it. It was interesting, the reactivity of people, just to me retweeting something. It was just vile. The whole thing is vile.
I moved down to London at the age of eighteen years old—far too early to move down there, it was a real culture shock—and I went to LAMDA.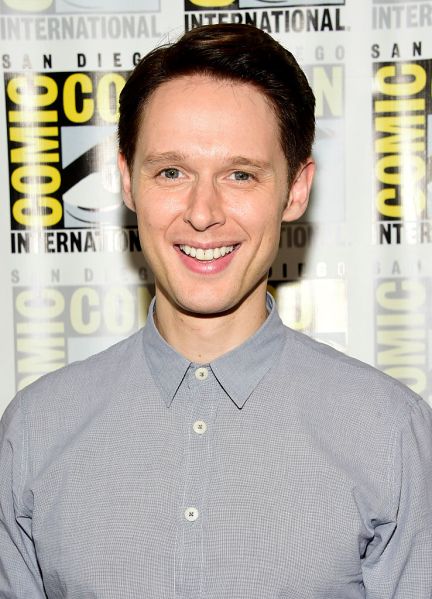 You knew you wanted to be an actor?
I guess so. I trained there for three years, got my agent in my third year and came out and started working. I never intended to be an actor, and I never thought I wanted to be, and I also thought drama school was for professional actors, or for people who could do it. So I was amazed when I got in. And then I was amazed when I got an agent. And then I keep being amazed when I get work. Honestly. I don't mean that to sound like false humility—it's probably low self-esteem or something. I'm just always going, "God, really? You want to give me a job? Okay, cool, I love it!" Always in my head I'm going, I'll keep doing this as long as it keeps working. But I don';t have a backup plan so…
But you're the star of a TV show now so you might be past backup plans.
Apparently that's the case! Although that's interesting because what I love about this show is that it is called Dirk Gently's Holistic Detective Agency, but Dirk needs people around him, so it is very much an ensemble show. Someone asked me yesterday, "Do you feel a pressure carrying a show?" and I'm like, no. I hadn't actually thought of that before someone said it because I don't feel like I do carry it. I feel like there's six main cast, and then a cast of a hundred and we're all ensemble and we all get a great crack at the whip.
Do you feel pressure representing such a beloved book character?
That I do. That, a little. That's interesting, because when I was auditioning and got the job, I had read the books, I read the comics, I listened to both seasons of the Radio4 show, I watched the BBC original episodes….
I do feel some pressure because back home, Douglas Adams is universally beloved. Everyone loves Hitchhicker's, less people know about Dirk, although I was amazed at the number of family and friends who, when I got the job, were like, "Oh my god, I love Dirk Gently, I read the books when I was a teenager!" And probably the fans of Dirk Gently are even more die-hard fans than even the Hitchhiker fans because it was more cult I think.
So there's definitely a feeling of wanting to do it justice. But what I think is great about [writer and creator Max Landis'] script is he's taken the essence of the books, he's taken the essence of the Dirk character, and he's made it his own. And, I'm not just saying this, it is under the guidance of Arvind Ethan David, who executive produced it and worked very closely with Douglas Adams for years, and who, in fact, he and his friend James Goss at University put on the play Dirk Gently's Holistic Detective Agency. So I feel creatively that there is a link back to Douglas Adams, and it is almost like if Douglas were alive and writing today, these might be the next installments of the books that he would write for Dirk. I think it's got the same spirit as the books.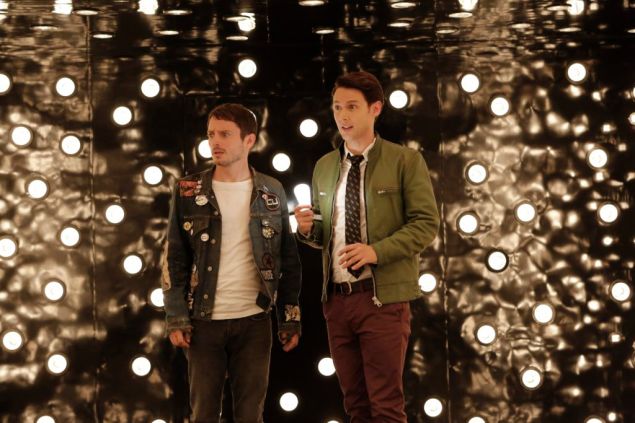 What's the challenge in adapting Douglas Adams, when so much of his humor is written into his language?
Max was very clear that you cannot adapt Douglas Adams because the beauty of so much of it is in the language. And that's true. My favorite Dirk Gently book—no that's not true, I love the first one, and the second one is great, but I really love the third one which has only eleven chapters, because then Douglas died too soon and didn't finish it, but it has all of his writings as well. I think the beauty of it is in his writing and his observations, not the plot stuff.
I think Max has come up with incredible plots for this season, but he's combined it with his own wit and writing style. He's given more language to all of these characters, which Douglas gave descriptively rather than through dialogue. So I think to fulfill that challenge visually, Max has created more characters that aren't in the books. In a way, he almost picks up where we left Dirk in chapter eleven in the third book, where Dirk has arrived in America and is about to solve a mystery, and that's where I come in, I guess!
[Max] has created all of these incredibly zany, intense, complicated, complex humans—I use the word "humans" loosely—and I think that's how he's fulfilled that brief.
How would you describe Dirk to someone who hasn't read the book or seen the show yet?
Dirk is a holistic detective who believes in the inter-connectedness of all things. Not only does he believe it, but for him it's something very real and tangible. He's connected to something in the universe, which gives him all these intuitions and hunches and messages, which he just instinctively follows.
The problem with Dirk is, he's not a good detective. He doesn't know what to do with all of the signs and signals he receives, so he just kind of bumbles through life, and that's why he needs someone like Todd Brotzman, who he assimilates into his life as his assistant. Todd saves his life so many times in the first season, Dirk would probably be dead within the first twenty minutes of the show if it weren't for Todd. He needs the full detective agency around him.
The other thing about Dirk is just this beautiful thing, like: he believes in interconnectedness, and yet the one thing he struggles with is connection. He's an incredibly lonely character; he's looking for a friend, he's looking for security, he doesn't know how to ask for it, he has absolutely no people skills. To call him a detective even…. A "detective" is just the closest word he can find to try to describe what he does. He tries to use his powers, such as they are, to try and help people. But he's just really, really bad at it.
Well, he doesn't make money.
No! But he believes he will get everything that he needs when he needs it. He believes in that flow of the universe, and for him that's been true. Like, he's wearing a nice jacket in the show; he's got great costumes. He drives a really cool car in the first episode. Where's he get that from? He just gets what he needs.
Is it hard talking that fast?
Yeah. This is where I think my theatre work and theatre training has come in useful. It's probably one of the reasons why I got the job. I'm like a real slave to the text—it's how I was trained at LAMDA to respect the text, respect the punctuation, whether it's Shakespeare or a soap. Whatever has been written—someone has put that comma or that full stop for a reason, so you observe it. So I'm not someone who approximates text, I will learn it fully, word for word and observe all the pauses.
And then if I can learn it, and do it at speed, which is what is required for Dirk… I remember from my audition, there's a rhythm to Max's text, like there is in Shakespeare. I think Max is a great writer and I think a lot of great writers don;'t necessarily write down how humans actually speak, they write down how we think they speak. He has an ear for how we all hear one another and he's written that for Dirk. I think it's really clever, and incredibly hard to learn.