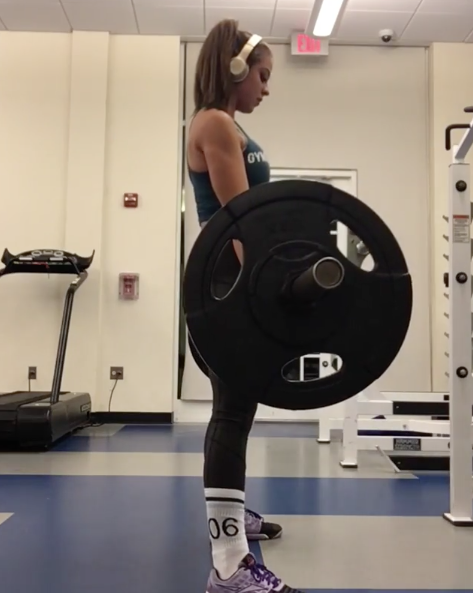 Sam James, better known as @sjamesfit to her 90,000 Instagram followers, is a 19-year-old college student and powerlifter. On Instagram, she posts videos lifting enormous weights overhead, alongside bikini selfies and grocery hauls, which look like the inside of a nutritionist's refrigerator. James also shares tidbits about what she calls her "fitness journey," including opening up about her body image issues throughout the years.
James began running in pursuit of the elusive thigh gap, but quickly became obsessed, and subsequently realized four hours of cardio a day was a bit much. "I was never going to be skinny, or small enough in my eyes. No matter how much weight I lost, I would never be satisfied because my perception of my body was so skewed," James explained. She purposefully avoided doing certain exercises because she didn't want to become too bulky, a common misconception female lifters on Instagram are working towards changing.
After trying everything from circuit training to CrossFit, she found competitive bodybuilding on Instagram and was hooked after watching videos that participants were constantly sharing. James hired a coach and began competing. She also took up powerbuilding, a combination of bodybuilding and powerlifting.
While she was originally intimidated in the weight room, she's been training for three years. "I thought women shouldn't lift heavier than 15 pound dumbbells or else they would basically look like the Hulk. Even when I began bodybuilding, I always had a voice in the back of my head telling me that I shouldn't lift too heavy," James told the Observer. Once she realized how difficult it is for women to gain muscle, she truly began lifting, and credits it to helping her re-gain confidence.
"Women are presented with unattainable body ideals our entire lives. When I was most self-conscious, the body ideal was a thigh gap and toothpick arms. That is a body shape that is beautiful, but it was never achievable for me in a healthy way. Now, the body ideal is largely a tiny waist and big butt and hips. Again, a beautiful body type, but may not be achievable for everyone either," James explained. By lifting weights, she was able to target specific body parts.
Despite the confidence boost she found from lifting, she still dealt with some older men who didn't know how to react to seeing a woman in the weight room. James recounted an experience at 17 after she first started lifting, when a fellow gym-goer told her lifting weights would make her less feminine. To avoid receiving negative comments while filming, she works out late at night. While she shares the videos on Instagram and YouTube with her thousands of followers, they're mostly used so her coach can judge her form.
James warns that nasty comments and looks are an "unfortunate reality" of being a woman in the weight room, but maintains that it shouldn't stop women who are interested in lifting from getting started. "I think my body and physique is relatable. I've gone through periods of extreme restriction and disordered eating, periods of binging and weight fluctuation and I'm trying to find peace with my body," James said. By entering the weight room, she was able to focus more on gaining strength than perfecting her body.