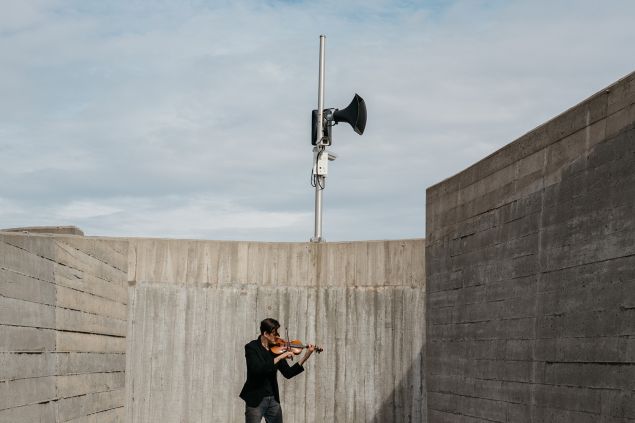 Live electronic music's largest concern these days is a question of returns—how do you keep putting on the same epic DJ sets for the same crowds, year after year? Even the most booty-shaking body is tied to a mind that soon grows desensitized to the spectacle of lights and bombastic visuals, and just like depleting serotonin, soon the thrill is gone.
To remedy this, some electronic artists have started bringing drummers onstage, hoping to offset some of the synthetics of the music with organic performance. Acts like Tycho and Caribou feature drummers who play along to a track, but have elevated their projects into the muscular band dynamic nonetheless, complete with bass and guitar. For others like Disclosure and Odesza, drumming has become an ornamental gesture, a formality necessary to sell the image and the movement of performance when much of the music is still a result of just pressing play.
That's whats so fascinating about composers who embrace electronic music through technological innovations of their own design, all in the interest of regaining some of that sonic warmth, that intimacy, which seems lost. Tristan Perich and Christopher Tignor represent a nexus where sound meets technology, and they're taking the time to explore this crossroads because it helps them answer the questions their work kept asking.
Perich's been building and releasing music on one-bit circuit boards for years, devices that don't just play back the sounds like a speaker, but actually produce them when activated. His latest circuit board release, Noise Patterns, continues that exploration.
Tignor, meanwhile, makes and distributes free software that adds electronic harmonies, octaves and other accompaniment to live performances, all in response to the performer's movements. These releases are an extension of his days working as a Google software engineer, but the applications are far from mainstream. His new album, Along a Vanishing Plane, was recorded live at an abandoned schoolhouse/psych ward using only the software.
"I'm trying to provide a fucking life-raft out of culture."—Christopher Tignor
"If I wanted to make a commercial application I certainly never would've built the stuff that I built," says Tignor. "Most people want pretty applications where there's a strong visual component, where you drag something around the screen and it uses sound files on your disk that are pre-recorded and makes some fun sound out of it. That doesn't interest me at all. I'm trying to provide a fucking life-raft out of culture."
Of greater concern are the elements of live performance that have always been out of electronic music's reach—movement, prowess and the gestural action of physically producing the notes he plays. When the triggers on Tignor's drum kick and violin bow send an electronic signal to his software, Tignor is able to produce all of the electronic accompaniments to his music live. There's a computer running the software, but he doesn't touch it during a set, save for quickly queuing up the next track with the tip of his bow. The triggers pick up on the intensity of the gesture, too, and produce a sound with a resonance to match.
"Like all art, it's really about what's at stake," he says. "And the idea of keeping things live really should expand the scope of what's at stake. A big part of my technological ideas about art are that it should stand and redefine the limits of personal expression. I'm trying to go up there and say, 'you can expect more from what you're about to see.' There's more at stake now, the stakes are bigger. So this would be contrasted with the typical standard electronic music practice [of] playing some pre-recorded thing, then playing in front of it. For me that really diminishes what's at stake, because the audience knows what's pre-recorded, there's safety there. I'm trying to make things risky, and think that that's what's exciting. I'm trying to dig into that inherent live conflict, because that's how you bring the audience into the process."
[vimeo 170393075 w=640 h=360]
Bringing the audience into the process is why Perich makes such an effort to release his music as circuit boards, too. And the key to unlocking that process for listeners means challenging the stigma of what technology means to an audience.
"Technology is ultimately a tool, and it all depends on how you use it," says Perich. "So you can use technology as a distancing mechanism, where it gets so complex that you don't even know all the aspects going on, like a social media site. And you can use the exact same type of technology to call attention to itself and make its role in your experience as explicit as possible. I'm trying to remind us that there is technology in front of us, that there's software running this circuit that's creating the sound you're listening to, and I'm trying to expose that."
"I think that is a humanizing experience, which is kind of funny because the sound itself is so primitive, raw and unnatural. The one-bit fidelity waveforms are totally outside the natural world. But to me they kind of connect, they're so self-evident. They teach us how they work and connect us to what whole process."
Revealing the process of electronic performance to listeners taps into a major cultural and societal issue, says Perich. "As technology becomes more opaque and more miniaturized, less fixable—there are so many layers separating us from what's actually happening, so we have to kind of let go of our agency and trust that the systems we're using have our best intentions in mind," he says.
The point of his circuit board music, then, becomes an effort to reclaim some of that agency.
"There's a lot of experimentation with software and technology where the system gets in the way of the music."—Tristan Perich
Both artists give listeners a great deal of credit for reclaiming their ability to distinguish between the real and the fabricated. "My music is a cultural resistor, in a sense," says Tignor. He explains how most of the visually-based software clicks music into a deterministic grid, a comfortable beat that's always going to be there for us no matter how hard of a day we're having.
"The benefit of the grid is that it really makes it possible for it to be popular," he says. "It's a commodity, so we all understand where the beats are gonna go. That goes away in my music, which relies so heavily on space. It's different every time I play it because a lot of the time, I don't go on to the next phrase until I hear the reverb in the room decay. So it's inherently subjective. And it really forces you to step up. I think for a lot of people that's certainly refreshing, but it inherently asks more of the listener, asking them to reclaim time as a personal object."
In avoiding a deterministic grid and focusing on the subjectivity of the live space, Tignor's favored live presentation differs slightly from Perich's.
"The experience of sound is an acoustic experience, whether the sound source is electronic music from a laptop or the bowing of a violin," says Perich. "I try to think about that in all aspects of the work, which kind of tips the experience in the direction of being a sound installation. My favorite performances are in galleries, where there's no separation between the audience and the musician, where there's no stage with stage lighting that kind of takes you to a different place. I'm much more interested in being in the place that we're in, listening to sound being created in the same space."
[youtube https://www.youtube.com/watch?v=XZEXX9Yezjw]
Though the gallery is different from the stage because of the lack of distance between creator and listener, both Perich's circuit boards and Tignor's software nonetheless seek to recapture that intimacy. Though Perich's technology exists as something more proprietary and self-contained, he as tremendous respect for Tignor's skill at perfecting his sonic capabilities as both performer and engineer.
"We need good music that asks these questions," says Perich. "There's a lot of experimentation with software and technology where the system gets in the way of the music. People spend so much time on the software, but someone like Chris has been thinking about these things for a very long time. And there actually becomes a meaningful difference. 'Algorithmic music' can be such a catch-all phrase, but that's so antithetical to what it should be, because it represents infinite potential and you just want to hear what the artist has to say with it."
"My software is not fetishistic," says Tignor. "It should be a transparent process that gets us away from hovering over knobs. That's a bit of a dead-end, and a bit misleading since you have all these DJs up there pretending to do something. I'm trying to just do real talk. Up there, actually making hands-on music and living or dying by how prepared you are in the practice room. What I know how to do as an instrumentalist, which is where all of this stuff comes from, is practice."
Tignor's explaining how technology, for all of its endless wonders, can't take the place of composition and skill. When eclipsed by the human capacity to innovate and evolve, the software and the circuit boards eventually become artifacts. And though artifact isn't a word we commonly associate with our technology, the institutions that decide what's still working and what's obsolete are creating artifacts of technology all the time.
"Producing music, I look at various formats and think about their longevity," says Perich. "Apple's pretty interesting. Ditching the headphone jack and making all headphones wireless is pretty cool, but at the same time, that was our last line, our last physical connection between player and speaker. And now that'll be gone. Just another ephemeral thing."
"I don't think of technology as being artificial at all," says Tignor. "I see it as a very natural fit for reclaiming our gestural human form. Because in my mind, technology is the ultimate natural expression of what humans, unique to other species on this planet, are good at—taking a problem apart into pieces and trying to figure out, meaningfully, how to solve that problem. Working through it, building off ideas and using our rational, creative abilities is what makes us human in general. Humans aren't the fastest-running animals in the world, we're not the strongest. We're the best at thinking things through, when we want to be. Technology is just the artifact of that.
"It's not the silicon, it's not the ones and zeroes. It's the ideas that are built into technology. [A good composer] has a specific set of rules for how the notes can interact with each other, and those rules are his technology, and that technology is a beautiful thing that leads to his sound. That's the beautiful thing about technology, it doesn't have to be some beautiful thing. I'm interested in the ideas that are in the technology. Because those can enable real change."