So there was Michael Moore on the right-wing Fox News Channel Thursday night talking to Megyn Kelly, who allowed him to make rude remarks on The Kelly File about Republican presidential candidate Donald Trump.
"This the most vile, disgusting candidate that has ever run for office in this country," Moore said while promoting his new documentary, Michael Moore in Trumpland.
And here was Moore challenging Fox orthodoxy about the Affordable Care Act and its increasing premiums for health insurance.
"The real problem with Obamacare is not the Obama part of it," Moore told Kelly. "It's that private insurance companies are still calling the shots . . . Obamacare was only a halfway measure. We'll get the rest of it under Hillary Clinton."
Had Moore appeared with Bill O'Reilly or Sean Hannity—the Long Island Bully Boys whose prime-time shows flank Kelly's 9 p.m. hour—Moore would have been shouted down ("Excuse me! Excuse me!") or simply ejected ("Cut his mic! Cut his mic!")
But Kelly let Moore preach his progressive heresies. Who knows what other boats she might rock before Election Day?
By battling Trump surrogate Newt Gingrich (R-Fox) on Tuesday night over Trump's alleged sexual assaults (something he has bragged about, on tape), Kelly put more distance between herself and her reactionary network just as her contract is about to expire.
Kelly offered mirthless laughter that seemed to say 'Look at the crap I have to put up with from this fat, old, ugly, crabby, creepy white man.'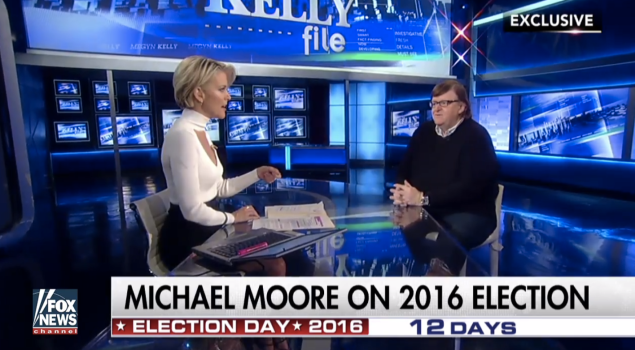 She continues to write her role as a feminist factor in what could be the election of the first female president. Oh, but Kelly's not really a journalist, according to right-wing cranks like Mark Levin. Perhaps not—but she plays one well on TV.
Kelly, indeed, is a polished news actress, perhaps the best in the business. While pushing back against core Fox issues, Kelly has mastered the visual component of television by playing to the camera, and not just with blond hair, slender legs under a glass desk and an impressive array of startling outfits in high style.
You could see her method Tuesday when Gingrich accused her of being fascinated by sex. Before responding to the former House Speaker, Kelly, at first, just rolled her eyes to the right. She offered mirthless laughter that seemed to say "Look at the crap I have to put up with from this fat, old, ugly, crabby, creepy white man."
More than a year ago, at the first Republican primary debate, Kelly helped define Trump's candidacy—and her place in the world of newsiness—by asking Trump why he has said, over the years, such rude and crude things about women, calling them slobs and fat pigs and so on and so forth.
It's all too much for the right-wing media, which is splintering much like the GOP. Levin viciously attacked Kelly on his national radio show Wednesday night, pushing smutty insinuations about her and her body.
"What the hell is this?" Levin screeched. "Is this the New Fox? Unfair and unbalanced?"
Kelly, Levin said, has no right to defend women from Trump's alleged sexual assaults, because she, Kelly, discussed sex more than six years ago on another radio show with renowned sex creep Howard Stern.
Kelly, Levin said more than once, discussed with Stern the size of her breasts and that of her husband's genitalia.
"Disgusting," Levin snarled "What was that, Megyn? Was that OK? Do you regret it?"
Probably not. She's likely to cash in after the election—if not at Fox, somewhere else. Also in the mix is the possibility that Trump, should he lose, might start a media company with people like Steve Bannon of Breitbart and Roger Ailes.
Small world, isn't it? Ailes, a Trump advisor in the shadows, was forced to leave Fox last summer after lawsuits and other allegations of sexual harassment of his female employees. Kelly was one of few stars who did not defend the boss but spoke, instead, with lawyers investigating the case, leading to Ailes' departure.
O'Reilly and Hannity have out clauses in their contracts that allow them to leave because Ailes is gone. Perhaps it is time to do that, because their Fox shows have grown lazy and stale. (Hannity tweeted "I'm staying" last night at 7:01 pm.)
They are pre-recorded and, by the time they air, the news cycle has turned on this "news channel." O'Reilly, for instance, showed no knowledge Thursday of Mike Pence's airplane accident at LaGuardia runway. Neither did Hannity. The network itself broke in, but not the star anchors; it happened too late for them.
So, instead of live coverage of breaking news that you could see on CNN and MSNBC, O'Reilly's canned show opened with a recorded interview with Trump, who treated the show—the highest rated in cable news—as he always does, like it was his private infomercial.
Trump said the election is rigged and the media "how horrible they are, how false they are, how negative toward me." Trump said "nefarious things" were conspiring against him and that dead people vote (do they vote on Halloween?) and that President Obama is "holier than thou."
Had you not known he was the Republican candidate for President of the United States, you might have thought Trump was a second-tier actor over-playing the role of sore loser on a two-bit reality show.
With a new enterprise, after Kelly takes over Fox, sour people like O'Reilly, Hannity, Bannon and Trump could out-flank Fox on the right wing and take with them a sizable portion of Fox's category-leading audience.
We also might find out if Ailes has—or can break—a no-compete clause in his departure agreement. There's room for two right-wing networks.
As for the Kelly-Gingrich throw-down, O'Reilly never asked Trump about it, even though Trump praised Gingrich the next day. Fox has pretty much avoided the story, although it was in heavy rotation on CNN and MSNBC (with the exception of the suddenly timid Morning Joe).
You had to tune to those channels Thursday to escape the Fox swamp and get a breath of fresh air. One of them came in the afternoon when First Lady Michelle Obama, at a Clinton rally, hugged Hillary Clinton and called her "My Girl" before a big, happy, cheering crowd.
Along with alluding to one of the great pop songs of the 20th century, Mrs. Obama delivered another electrifying speech. Her appearance brought joy to Joy Reid on MSNBC.
"She seems like your cousin," Reid said of Obama. "She's so real."
Most analysts predict the election will be decided by suburban, white women with education. Clinton is clearly playing for that demo, as they say in TV.
Along with Mrs. Obama, another of Clinton's most popular and effective surrogates this fall has been Massachusetts Sen. Elizabeth Warren, whose views on social and domestic issues are closer to Michael Moore than they are to Donald Trump.
While Trump disrupts and disgusts and upsets all with his "locker room talk" about grabbing women by their private parts, Clinton—for all her flaws—is leading the culmination of a women's movement that gained the vote only 96 years ago.
This was not lost on Michelle Bernard, who waxed wistfully on MSNBC about the Women's Rights convention held in Seneca Falls, N.Y., in 1848.
"It is a historic moment," she said. "I cannot imagine women did not watch this speech today and think to themselves that this is an opportunity for them to be part of history."
One final digression to a story I may have written here before (but so what?). At the Winter Olympics in Salt Lake City in 2002, I attended a concert that included the elderly folk singer Pete Seeger, now deceased.
Since it was still early in the century, people were still making predictions. In that wise old folk singers are known to be seers and prophets, I asked Seeger what he saw coming.
He smiled, paused, nodded and spoke.
"Women," he told me, "will lead us."
Disclosure: Donald Trump is the father-in-law of Jared Kushner, the publisher of Observer Media.