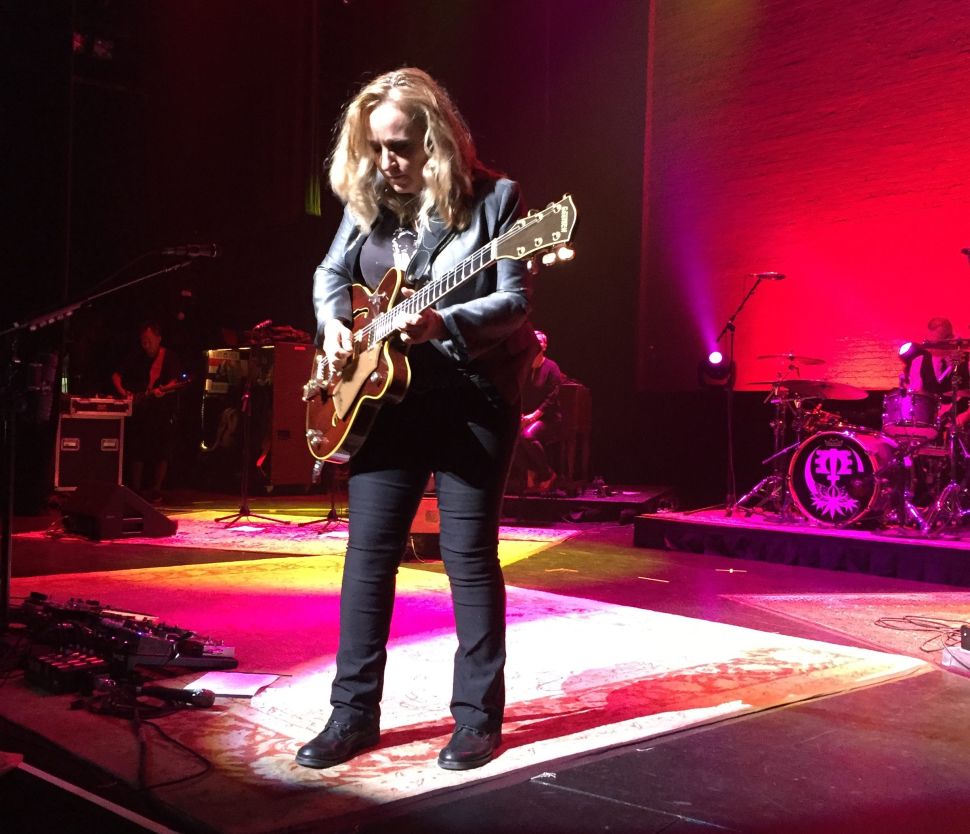 In late 2010, researchers from McGill University proved what everyone who ever heard Otis Redding sing "These Arms of Mine" already knew: a perfect song doesn't just elevate the spirit, it actually triggers the release of about 9% more dopamine in the brain. In other words, a music fan literally gets high from a favorite song. But is it possible to achieve that associated phenomenon, the contact high?
That experiment was conducted last night at the Apollo, the sacred stage upon which Melissa Etheridge led her crack band through a set of Stax covers in support of her new record, Memphis Rock and Soul. The sheer joy Etheridge takes in belting out "Hold On I'm Coming" or "Born Under a Bad Sign," positively vibrating while this booming voice somehow erupts from within this tiny frame, is enough to wring new life from these songs, all of which have been covered so often (and often so badly) that it'd be fair to wonder whether they'd have been better left alone.
Etheridge comes by the blues honestly. Her own catalog reveals plenty of traditional licks slipped beneath the yearning woman genre she helped popularize in the '90s—just try to hear "I'm the Only One" without thinking of Steve Cropper on those triple-note guitar walks after each line of the chorus. Indeed, the crowd seemed to make the connections between Etheridge's hits, which were interspersed in the set, and the Memphis rhythm and blues she was there to commemorate.
Her set benefitted from a phenomenally tight and professional band, which included three female back-up singers befitting the Apollo plus a killer horn section. At the center, however, remains Etheridge herself, whaling on a variety of guitars (and throwing in some harmonica and even percussion) and singing with everything she's got.
And that's a lot, actually. Etheridge made a dramatic return to the stage after a battle with breast cancer, electrifying the Grammys with a chemo-bald version of "Piece of My Heart" that provided a memorable image of strength to the fans who followed her recovery.
In fact, as you watch Etheridge shred on stage before an audience mostly packed with 40-something females, you get the sense that part of the joy the crowd receives comes from watching the singer-songwriter-guitarplayer-frontwoman be the man up there. She leads her band with total confidence, praising them, pushing them, introducing them, selfie-ing them. It's a leader in firm command and it's exciting to see, even if the trademark scream that lit up a song like "I Want to Come Over" isn't quite the hurricane it was in 1995.
Actually, her voice has held up remarkably well over the decades. On the new record, there's no case in which she even comes close in timbre or richness to the singer of the original. But because she's picked greats like Mavis Staples, Otis Redding, and Sam and Dave to draw from, there's lots of room to fall short and still be real damn good. And she is.
On the covers, she's left the arrangements essentially in tact, just smiling her way through the greatness of the Fender Rhodes chords of "Respect Yourself." In a couple spots, the times bump up against the realities of these old songs and the pronoun game was spotted a couple times. She changed the words to Johnnie Taylor's "Who's Making Love" from "your old lady" to "your sweet baby," explaining that she spoke to one of the song's writers, Bettye Crutcher, for her blessing. It's a kind of silly modification, in my view, but the audience, shaking their asses in mom jeans in the aisles of the Apollo, they got it.
Other non-traditional touches totally worked. Like one example of macho guitar culture holds that you're either a Fender guy or a Gibson guy. Etheridge, whose guitar playing is lively and soulful if not virtuosic, picks the ax that fits the song. You'll see her playing a Stratocaster then crushing the whammy bar on an old Gretsch for the solo to "Born Under a Bad Sign" then switch to a Fender Telecaster Deluxe for another song before crushing a Les Paul – all with a bunch of custom acoustics in between.
It's clear how much these songs, these golden gems from Memphis in the early '60s, mean to Melissa Etheridge. And it's just as clear how much Melissa Etheridge has meant to the women who trekked up to 125th Street to spend a couple house with her.
Before the show, a group of four women asked me if I wanted to get high with them. One of them took my picture by the Apollo sign. I asked her what she expected to see. "A lot of 'nasty woman' t-shirts." It was a great line and a great night.