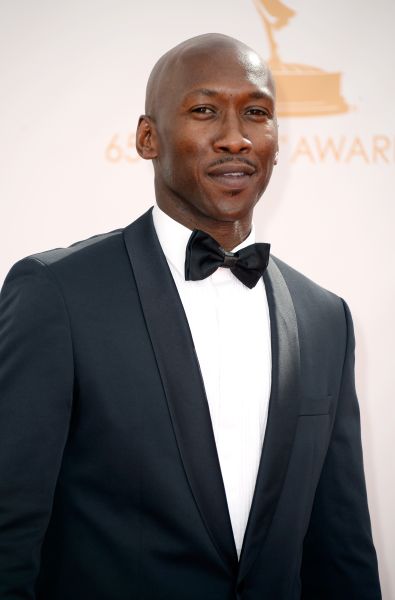 Last weekend, when I attended the Hamptons International Film Festival, I had one actor in my sights: Mahershala Ali. The 6 foot two, 42-year-old California native with the jutting cheekbones joined the festival as part of Variety's "10 Actors to Watch" – a prescient annual event that has welcomed Alicia Vikander, Alexander Sarsgard, Anna Kendrick and Adam Driver among many others to Easthampton. Ali was also there to represent Barry Jenkins' buzzy Moonlight, a black coming-of-age tryptic where Ali plays a Miami drug kingpin – and now has the inside track for Best Supporting Actor.
While I'm not as over the moon about Moonlight as the critical majority, Ali's Juan has a gravitational pull. He's soulful and multi-dimensional beneath his standard-issue do-rag – and it's a quality that Ali has brought to his previous roles as Remy Danton in House of Cards, Anthony King in Treme and Richard Tyler in The 4400. He is physically solid, grounded and capable of coiled power and deep passion – but he doesn't waste a drop.
In Moonlight, Juan befriends and godfathers the film's protagonist, Little (Alex Hibbert), a closeted black male who grows from skinny tortured adolescent to prison inmate to the spitting image of his mentor Juan over the film's narrative arc. In one tender vignette, Juan teaches Little how to swim in the Miami surf. The intimate moment washes over the viewer like a baptism, a communion between the dealer and the fatherless child – and is my favorite scene in the film.
When I bumped into Ali by the kale salad at the buffet for the Ten to Watch celebratory brunch and took the opportunity to talk to him about what made me crazy about Moonlight [spoiler alert]: In the first third of the movie Ali's character is so magnetic that he's the one that I connected to the most strongly. And, then, shortly after the swimming scene, he disappears completely from the movie, killed off-camera. Watching the film, I never recovered from his absence.
With his white ceramic plate in his hand, Ali explained that he'd heard Director Jenkins discuss just that artistic choice. The audience's feelings of abrupt abandonment, an inexplicable and sudden loss, reflect that of Little and so many boys like him in the hood. Often deprived of fathers, they are continually robbed of mentors and male figures in the war of attrition on America's city streets. Whether these father figures are incarcerated or shot down in life's prime, their absence resonates and refracts in a chain of loss and half-hearted recovery.
Over the event's course, Ali discussed his background with Variety's Jenelle Riley, while seated beside another up-and-comer, Riz Ahmed (Nightcrawler, The Night Of). Born in Oakland, California he attended St. Mary's College on a basketball scholarship. But on visits to New York, his father, the stage actor Phillip Gilmore who understudied on Broadway in Five Guys Named Moe and Dreamgirls, introduced his son to movies like Steven Soderbergh's Sex, Lies and Videotape and Robert Altman's Short Cuts.
Ali's father passed away when his son was 20, and his entry into acting was like a "therapeutic accident." Ali explained: "I started taking acting more as a response to not taking Spanish. I watched Raging Bull and Deer Hunter." Inspired, Ali ultimately moved east to attend the NYU Tisch School for the Arts. It wasn't until his "third year in grad school before I could say I was an actor," but, he said ruefully, "my dad never saw me act."
Ali portrays another shrewd tough guy with a complicated center as Cornell "Cottonmouth" Stokes, the venomous Harlem club owner squared off against the bullet-proof black superhero in a hoodie, the titular Luke Cage (Mike Colter). The binge-worthy Netflix series finds Ali two-fisting his role while weaving superhero wham-bam with Harlem history lessons, fantastic music and references to African American literary greats Zora Neale Hurston, Ralph Ellison and Walter Mosley. Well-read and kick ass – that's a Marvel series I can commit to – along with my man Ali.