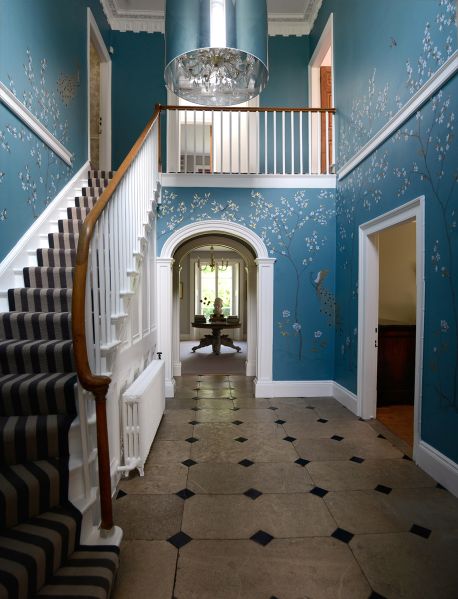 Are your walls looking a little bare? Perhaps you're in the market for a piece of art that will really tie the room together. While sending your favorite artist to study the palaces of St. Petersburg for six months before embarking on your home project is a trifle O.T.T., scoring an artist to create an original work straight on your walls or through the center of your hallway is part of a new direction in interior design.
Introducing the muralist for hire. Artists Matt Austin and Frederick Wimsett are among an elite group of artists sought after by discerning homeowners for their ability to transform any living space into an immersive, painted environment. Instead of painting on canvas in the studio, they prefer to work in clients' homes using the walls, ceilings or floors as their medium.
New York-based Austin specializes in fresco murals, floors and ceilings, which range in style from gilded Chinoiserie to geometric patterns inspired by traditional American quilts. His work has graced the walls of public figures such as art collector and philanthropist Frederick Koch, Marc Jacobs co-founder Robert Duffy and photographer Kate Cordsen, and he's done interiors for Jacobs' stores in Paris, London and New York. In Cordsen's Connecticut home, for instance, he painted the front corridor with delicate climbing gilded branches atop a muted blue-gray backdrop, and for the stairwell and side room of another client's 19th century Hudson Valley farmhouse, he chose only gray tones for a pastoral scene rich with waterfalls, woods and a steepled city on a harbor.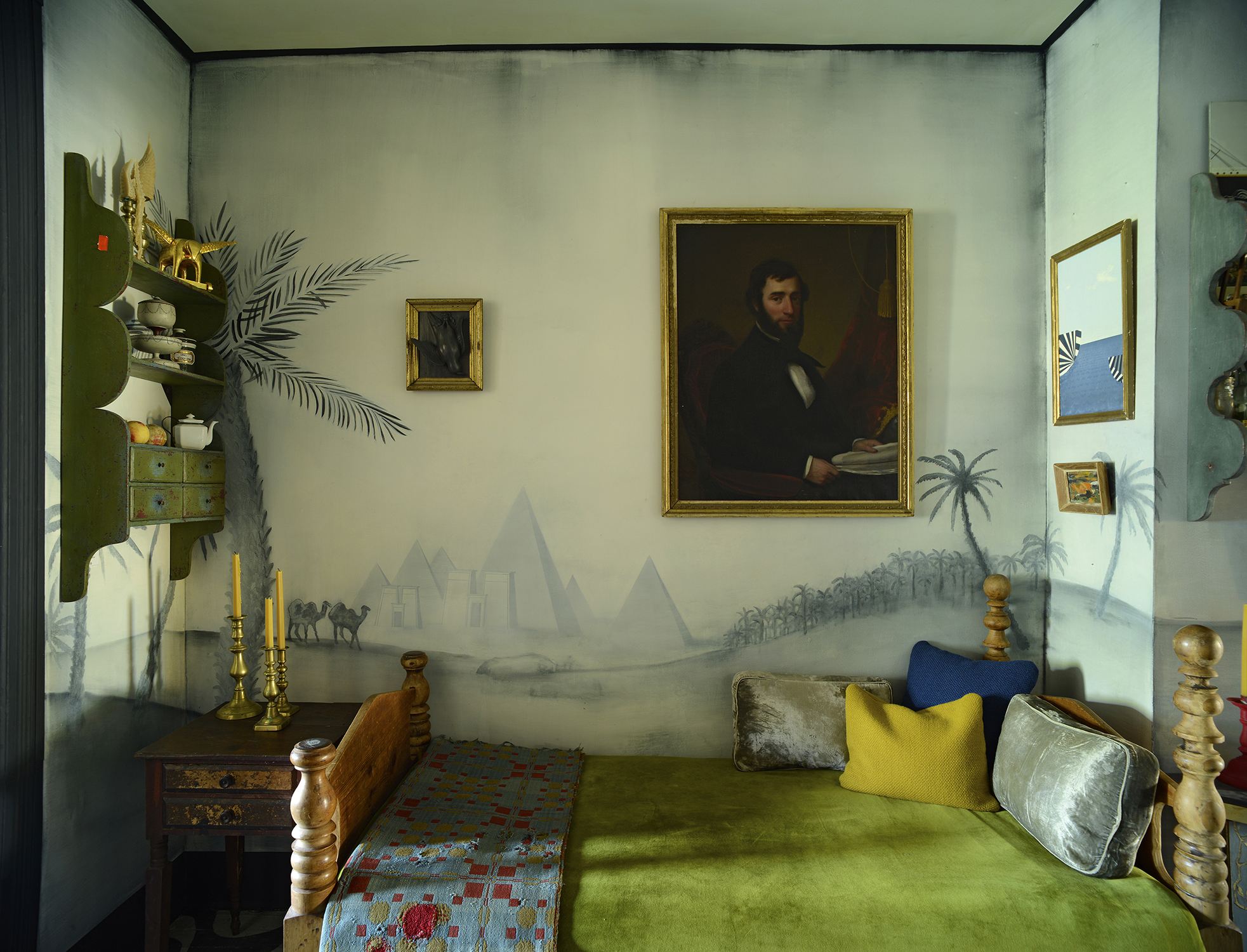 For the duration of each project, Austin lives and works in the space, setting up his atelier on site within a client's residence. "If the client is in the home, they become part of the process from A to Z," he told the Observer by phone, while at work on a new mural in Pasadena, Calif. "They like to watch it come to fruition." A mural by the artist typically costs between $4,000 and $65,000.
Across the pond, American-born Wimsett has put his stamp on some of Britain's most stylish residences. In 2015, the Telegraph dubbed him "muralist to the stars" for his work in the homes of Rita Ora, Kate Moss and Alice Temperley. The self-taught artist has become the go-to guy for whimsical, nature-inspired designs populated by exotic animals and jazzed-up with gold leaf.
But why would someone opt for a custom work of art that can't be easily removed? "My clients love their homes, and generally if you commission a mural you intend to stay for awhile," said Wimsett. "The permanence is the appeal."
"Generally if you commission a mural you intend to stay for awhile," said artist Frederick Wimsett. "The permanence is the appeal."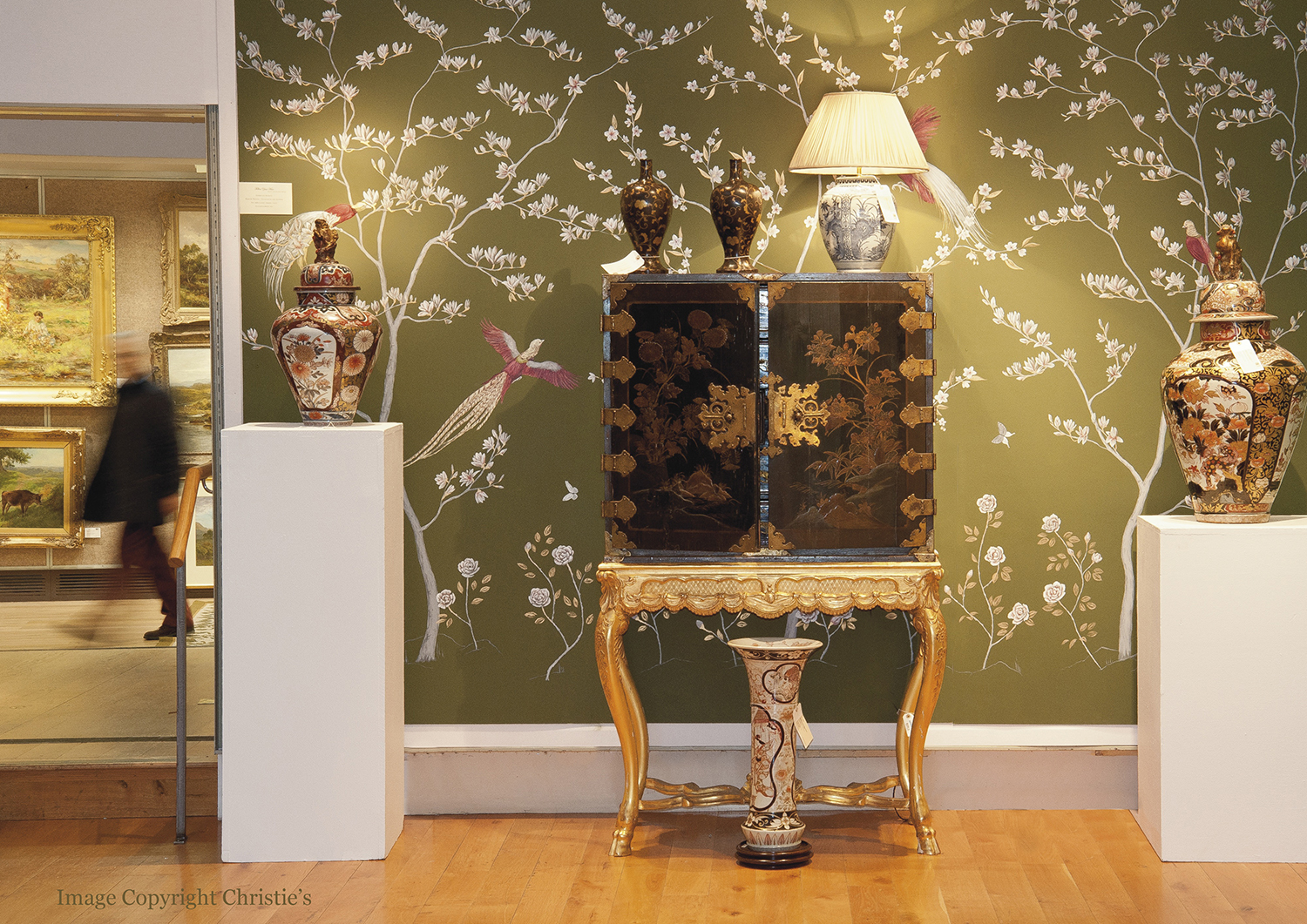 A framed painting may add to a room's visual appeal but applying a brush to the walls is more of an atmospheric intervention. "A true fresco mural is three things at once: architecture, fine art and decorative," said Austin.
Austin and Wimsett are experienced at creating rooms from scratch, and they have worked with clients on both wall designs and furnishings. Some clients have fallen so in love with Austin's imagery that they've recruited him to make custom lights as a finishing touch.
But while both artists base their designs largely on existing styles, if you're searching for something boldly original (and you're also looking to add custom furnishings) look no further than Swiss-born, Paris-based designer Mattia Bonetti, whose work has been shown around the world by blue-chip gallery Paul Kasmin. In 2015, the gallery covered the walls of its booth at the European Fine Art Fair (TEFAF) with Bonetti's lavender-colored wallpaper, which featured organic orb-shaped patterns and linear elements reminiscent of his famous Meander table.
Bonetti is perhaps best known for his furniture designs, but his wallpaper and wall drawings have been collected by the likes of Christian Lacroix (for one of his showrooms) and the late art collector David Whitney. A family in Hong Kong even asked him to design their entire apartment, which included meticulous graphite doodles on the guest room walls. "Some collectors really give him carte blanche to dive into his vision," Paul Kasmin director Nick Olney said of Bonetti's surreal imagery. A work by the artist will run between $15,000 and $125,000.
If the notion of a less permanent solution appeals, but you can't quite afford Bonetti's wallpaper, Brooklyn-based designers Rachel and Nick Cope have created a line of bespoke, handmade wallpapers that are consumer friendly. Wallpapers in their collection start at $32 per square foot, while custom jobs begin with a $750 flat fee for the design and go upward from there.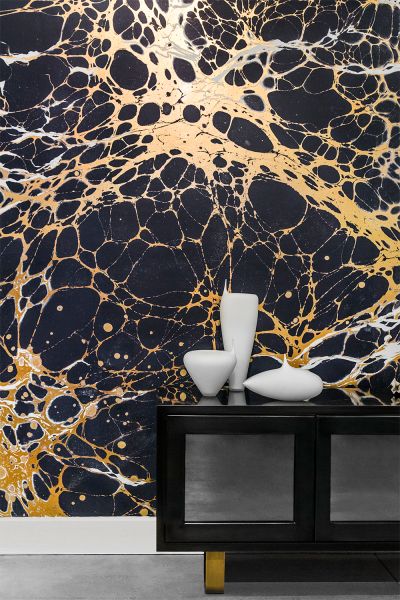 "We are fascinated with the notion of creating immersive environments and think a bespoke wallpaper adds more than just background," said Nick Cope. Founded in 2012, the imagery they create for their Calico Wallpaper line are inspired by antique marbling, traditional Japanese and Turkish crafts and ceramics, and NASA telescope imagery, and they've developed designs for Mast chocolates, lighting designer Lindsey Adelman's studio, the VIP lounge at New York Fashion Week and Neil Patrick Harris' Harlem abode.
"We also believe that beauty has a sort of practicality and that if something brings warmth and pleasure, it should not be considered less functional just because it doesn't have a clear purpose. Bespoke wallpaper can have a tangible effect on one's quality of life," said Cope.
"Bespoke wallpaper can have a tangible effect on one's quality of life," said Calico Wallpaper co-founder Nick Cope.
But before painting every room in the house, consider a few logistical things first. New York-based art installer and consultant Rick Slater, who has advised clients on the restoration and upkeep of murals and painted walls, reminds homeowners to save room in the budget for repairs. "It's always going to be more expensive than you think it is," he said.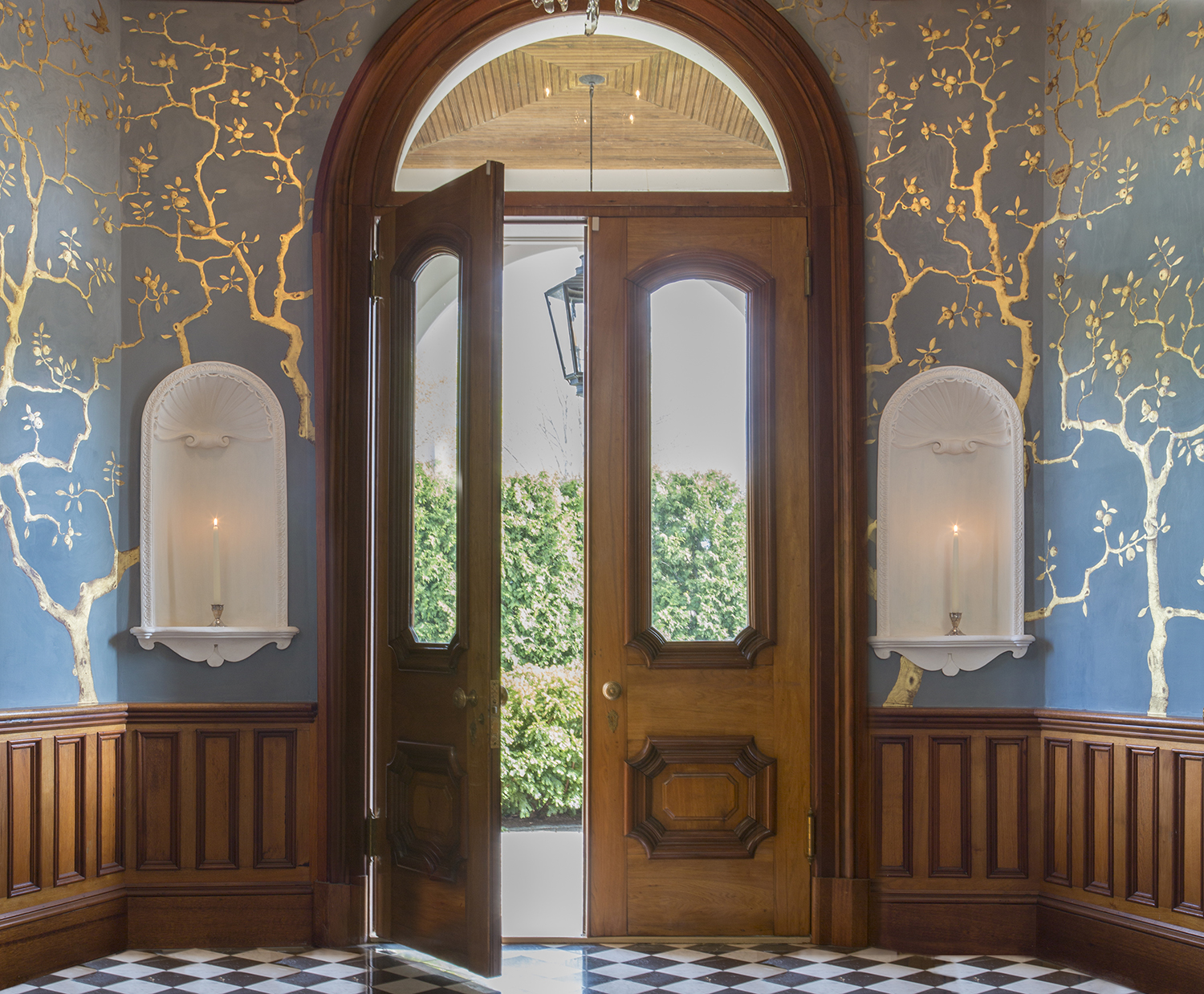 The placement of a mural is also key. "Hopefully, it's not in a high traffic area," he said. He advises mural enthusiasts to choose "an area that can be maintained" because "if you have parties, it's going to get touched."
Wimsett, on the other hand, encourages his clients to consider how the room will be used on a daily basis. "Think about when you're using the room and what sort of effect do you want. Do you want it to be peaceful, busy, loud—or all those things?" he asked.
And if you've chosen to take the step to put art directly on the walls, now is certainly not the time to be shy. "Be daring. If you have an idea and you're a little timid, just do it," urged Wimsett. "Clients that start out with muted tones, are often the ones that end up wanting bright red birds and gold. If there's something in you that wants a mural, you need to go with that."