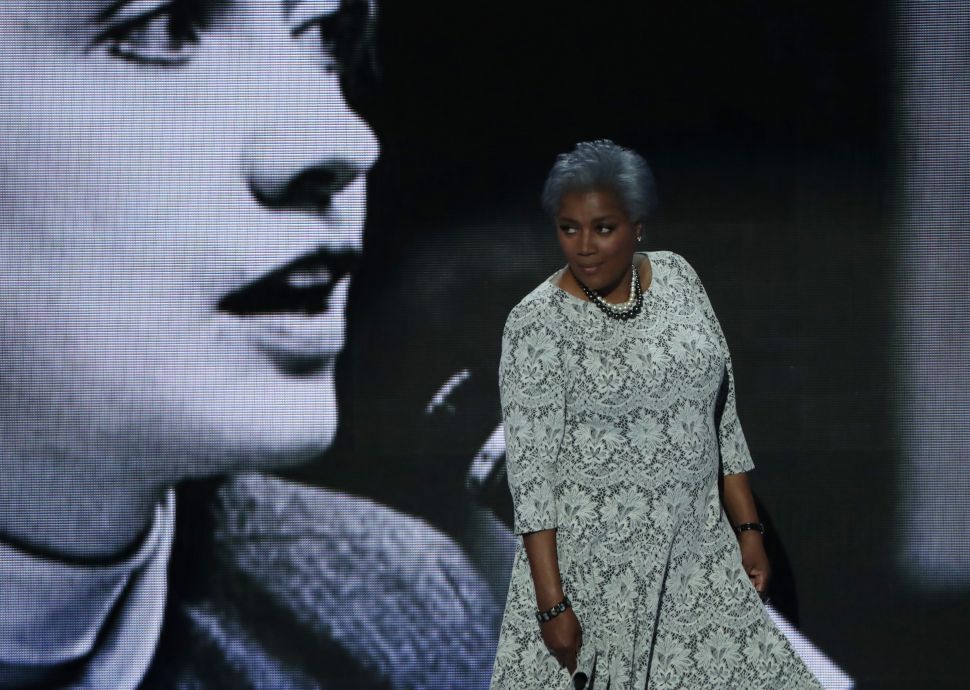 In a 2014 interview with The Washington Post, Democratic National Committee (DNC) Interim Chair Donna Brazile outright said she had a bias for the primary. "Technically, I'm neutral, but neutrality is something that gets you in trouble because, you ever notice someone who stands on the white line in the middle of the road? They get run over. And I don't want to get run over. So I'm not neutral. I have to tell people that I'm neutral, but I'm ready for Hillary." In disbelief, Washington Post reporter Joe Heim had to ask her if she knew the recorder for the interview was on.
During a 2013 interview with ABC News, Brazile claimed, "if Hillary gets in the race, there will be a coronation of her."
The resignation of DNC Chair Debbie Wasserman Schultz in the wake of embarrassing emails released by WikiLeaks before the Democratic National Convention should have served as an opportunity for the DNC and Clinton campaign to extend an olive branch to Sen. Bernie Sanders supporters. They did the exact opposite.
Despite the DNC emails confirming Sanders supporters' suspicions that the ostensibly-neutral DNC rigged the primaries for Clinton, the corrupt behavior of Wasserman Schultz was rewarded. After she resigned as DNC Chair, Clinton immediately hired Wasserman Schultz as honorary chair to the campaign's 50-state program, while President Obama, VP Joe Biden, House Minority Leader Nancy Pelosi, and other establishment Dems rushed down to South Florida to ensure Wasserman Schultz survived her re-election primary.
To replace Wasserman Schultz, the Clinton campaign chose their second most loyal supporter in the DNC—Vice Chair Donna Brazile.
Brazile's past comments in interviews and recent revelations in the WikiLeaks emails from Clinton campaign chair John Podesta reaffirm that Brazile worked to tip the primaries in favor of Clinton.
"Here is where we are from the surrogate standpoint," Clinton spokesperson Adrienne Elrod wrote in an October 2015 email entitled "Bernie Pushback Update" to fellow Clinton campaign staff members. "All of our friends going out tonight post debate, including Granholm, Donna Brazile and Bill Burton, are ready to call Bernie's team out if it comes up tonight."
In a March email, Brazile tipped off the Clinton campaign to the exact wording of a difficult question to be asked the next day during a CNN presidential town hall. Brazile also forwarded an email to the Clinton campaign about the Voter Rights Act, noting it was for the debate team.
In a separate email, Brazile tipped off Clinton staff with email outlining Sanders' outreach campaign to black voters. Though she was supposed to remain neutral as a DNC Vice Chair during the primaries, Brazile has been a longtime advocate for Clinton's presidency. She told Podesta in a January 2016 email, "As soon as the nomination is wrapped up, I will be your biggest surrogate." In the initial release of WikiLeaks DNC emails, Brazile threatened to "cuss out" the Sanders campaign.
With less than half of Podesta's emails released from WikiLeaks, more evidence that Brazile violated the DNC charter to serve Clinton's campaign is likely to surface.