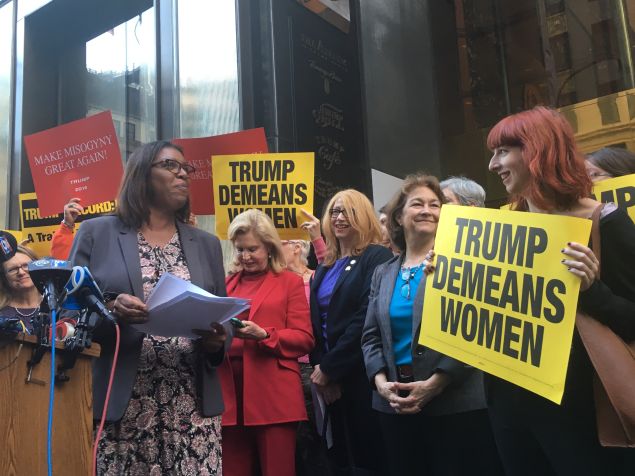 New York's top lady Democrats rallied outside Trump Tower this morning to rip the GOP nominee over emerging allegations of sexual assault—assault the candidate appeared to admit to in a recently leaked 2005 tape.
The protesters blasted Trump over an 11-year-old video published by the Washington Post 10 days ago in which the Queens-born businessman is heard bragging to Access Hollywood host Billy Bush about how his fame has enabled to sexually assault women. They also noted the two women who said Trump touched them inappropriately, a former Miss USA contestant's claim that Trump personally inspected each of the contestants and when he told radio and TV personality Howard Stern it was okay for him to call his daughter Ivanka Trump a "piece of ass."
"We're here today in front of Trump Tower to tell Donald Trump that we will not tolerate his disgusting record of sexual misconduct," Public Advocate Letitia James said. "We won't tolerate it in any beauty pageants. We won't tolerate it on airplanes. We won't tolerate it on elevators. We won't tolerate it anywhere in this country."
The Trump campaign did not immediately respond to a request for comment. A number of the roughly 50 protesters were holding a yellow poster with the words "TRUMP DEMEANS WOMEN" in black letters. Other protesters were seen holding posters with slogans such as "Dump Trump," "Make Misogyny Great Again, Trump 2016″—a derisive jab at his "Make America Great Again" campaign slogan—"Trump Record: A Trail of Victims" and "Mr. Trump, if I have an abortion, how much time should I serve?" The last was an allusion to the candidate's quickly retracted assertion earlier this year that women who terminate a pregnancy face punishment.
The rally marks the second time in five days that women have protested against Trump. Last week, a multiracial, multigenerational group of women rallied at the same spot for similar reasons.
Lieutenant Governor Kathy Hochul—a champion of Gov. Andrew Cuomo's Women's Equality Party—also made an appearance at the rally. She said Cuomo asked her to champion the cause of eradicating sexual assault on college campuses a year and a half ago, vital work she claimed Trump threatens to set back. 
"I'm fearful that all the strides we've made in trying to get women who have been sexually assaulted to come out of the shadows and get the help they deserve are now going to be silenced when they see what happens when people talk and tell what happened to them because of Donald Trump," Hochul said.
Brewer, for her part, kept her message blunt. 
"No, you are not going to be president and we are not going to vote for you," Brewer said, harping on recent complaints from residents living in a Trump-branded (though not Trump-owned) apartment complex on the Upper West Side. "And guess what? The people who live on Riverside Boulevard over there on the Hudson River, they want your damn name off their building."
And although protesters at the last women-led protest at Trump Tower did not necessarily have kind words for Democratic presidential nominee Hillary Clinton—one said Clinton's brand of feminism only works for wealthy Caucasian women and another said she's "voting for us," referring to the people—this rally had a strongly pro-Clinton bent. Protesters assailed Trump's pro-life stance, which he adopted relatively recently. They also blasted his running mate, Indiana Gov. Mike Pence, who once signed legislation that prohibits abortion in instances where women seek to have one after discovering the fetus has a disability.
"Her record speaks for itself," said Congresswoman Carolyn Maloney, who represents Trump's home district—the only district in the state he lost in April's GOP primary. "It is one of accomplishment, of selfless service to others compared to one who brags about assaulting women. Of course, the choice is clear."
Disclosure: Donald Trump is the father-in-law of Jared Kushner, the publisher of Observer Media.