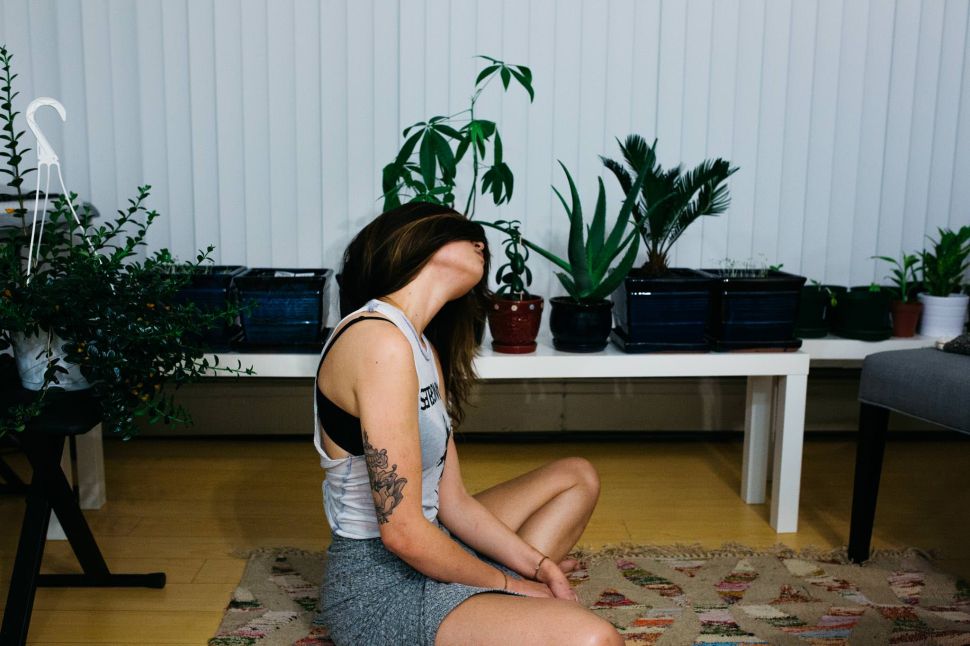 If you're a a fitness fanatic—the type who wakes up at 5 a.m. and heads to the CrossFit box no matter what, or who gets to work early twice a week so you can leave early for your favorite spin instructor's class—you need to make time to try New York's newest fitness trend.
Push-your-limits classes like HIIT, kettle bells, and power lifting aren't going anywhere, but now more studios are adding recovery or restorative classes to their schedules.
"A lot of people love to do these intense workouts, and we're working out more than ever," says Rebecca Kennedy, founder and creator of A.C.C.E.S.S., an active recovery class. "And in order to keep up with amount of activity you want to do, you need to supplement it with movement that helps you continue to move and feel as good as you did when you first started."
Kennedy, a Barry's Bootcamp trainer for five years, launched A.C.C.E.S.S. in January to give people that supplement. Her barefoot classes focus on core work and creating symmetry in the body. "You walk out feeling like you've been reset," she says. "In an hour, we do what most people try to accomplish in a five-minute cool-down after their workout."
But Kennedy's isn't the only studio offering classes centered around foam rollers and other props to restore mobility, improve recovery, and help you feel better all in all. The Sports Center at Chelsea Piers added a TriggerPoint class this past summer.
"People in my classes knew that on the weekends, I teach trainers how use TriggerPoint tools to help their clients," says Susane Pata, a senior master instructor for TriggerPoint. "My students were interested in a class for themselves, so they wrote management [at Chelsea Piers]."
Thirty people showed up to the pilot class—on a Saturday morning in June. The weekly class now regularly has about 20 people, says Jared Deptula, general manager of the Sports Center at Chelsea Piers.
The editors at SELF magazine also identified the interest in more restorative classes at their second annual SELF Up N Out Studio event this past weekend.
"We look for more innovative, interesting, and ground-breaking studios and classes" when planning this event, explains Joyce Chang, editor-in-chief of SELF. "We didn't have the 'softer' classes—like foam rolling, A.C.C.E.S.S., and MNDFL—last year, and those were some of the first to sell out this year."
Since the event featured more than 20 of the hottest classes, why were these so popular?
"We're going so hard, crushing it a Barry's, training for a triathlon, doing a Tough Mudder—all these intense things—and we need to take care of our bodies in order to be able to do those things," Chang says.
But we all tend to be so busy that, although we're dedicated to our classes or training, we don't seek out "softer" classes. When our favorite studio adds a class—or an event like SELF's comes up—it becomes easier to stop saying, "I really should do that" and to actually do it.
Such classes aren't just good for your athletic pursuits. Yes, they relieve soreness and speed recovery, but there are also psychological benefits.
"If you sit at desk all day long, it's wonderful to move around, get your posture back in alignment, and open your body up," says Kennedy, adding that a class like hers can help reduce stress and improve sleep.
"This is one of those things that's worth it because it's still a workout and it's still going to make you stronger, mentally and physically. But it also helps you with everything you do in life—work, walking down the street, or in your workout. It's new and cool, but it's trending because it's necessary," she says.
Brittany Risher is a writer, editor, and digital strategist specializing in health and lifestyle content. She loves experimenting with new vegan recipes and believes hummus is a food group. To stay sane from working too hard, she turns to yoga, strength training, meditation, and scotch. Follow her on Twitter @brittany_risher