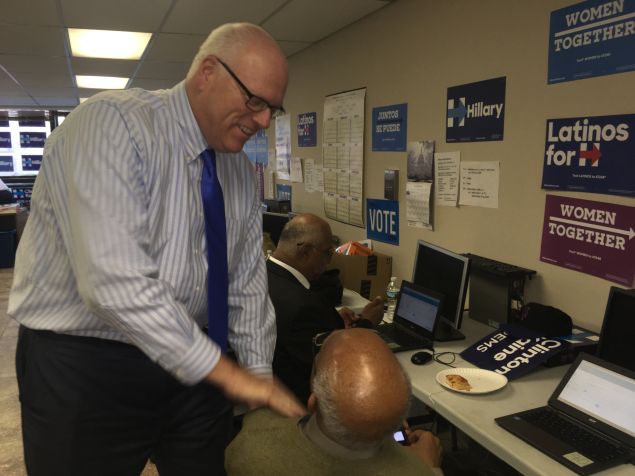 Queens Congressman Joseph Crowley—the fifth-ranking Democrat in the House of Representatives—on Tuesday taunted GOP Speaker Paul Ryan and other Republicans who have sought to distance themselves from Donald Trump's increasingly controversial behavior without totally disowning him as their candidate.
Presiding over a pro-Hillary Clinton phone bank at Queens County Democratic Headquarters in Forest Hills, where volunteers rang voters in the crucial states of Florida and Pennsylvania, Crowley called the House leadership's contorted stance on the slumping Republican presidential candidate absurd and untenable. Relations between Trump and Ryan have long been tense, but the pair's position became strained almost to breaking after an 11-year-old video surfaced earlier this month in which Trump talked about sexually assaulting women—and a string of ladies emerged alleging the Manhattan developer had treated them in exactly the way he had described.
Days after the tape came out, Ryan reportedly told his conference he would no longer campaign with Trump, though he would not rescind his endorsement.
"It's a bit of a kabuki dance going on for him and for Republicans across the country. They want to have their cake and eat it too. They want it both ways. They want to say they don't support him, but they're going to vote for 'the Republican nominee,'" Crowley, vice chair of the House Democratic Caucus, told the Observer. "It's one and the same. Either you're for Donald Trump or you're against Donald Trump. You can't have it both ways."
Trump has since assailed Ryan as "very weak and ineffective," and Clinton surrogate Edward Rendell—the former governor of Pennsylvania—recently even ventured that "in the privacy of the voting book" the speaker would pull the lever for the former senator from New York.
Crowley, an early Clinton backer, characterized the GOP's growing internal entropy as a "shambles." Yet he still remained skeptical of Democrats' chances of retaking control of both wings of the Capitol.
Many observers predict Republicans will lose their narrow majority in the Senate, but most consider the GOP's 247 to 188 seat advantage in the House of Representatives safe.
Crowley suggested that House Democrats' standing might even deteriorate further if Clinton succeeds this year, as the president's party normally sheds seats in midterm elections. But he argued that the current battlefield is shifting and unstable, due to the mercurial man atop the Republican ticket.
"I would say, given that it is Donald Trump and his campaign, anything can happen in the next two weeks. He could say anything," he said. "It's very hard to predict what will happen."
But unlike Ryan, Crowley, who serves as chairman of the Queens Democratic machine, was completely happy to disinherit Trump—a native son of his borough.
"It's funny: Donald Trump doesn't like to associate himself with Queens County," the congressman said, alluding to the developer's Manhattan-centric branding. "We don't necessarily want him associated with us either. At the end of the day, Donald Trump and what he stands for are not the values of Queens County. That may be the Queens County values of his father, but not the ones of the generations that are here today."
Ryan's office did not immediately respond to requests for comment.
Disclosure: Donald Trump is the father-in-law of Jared Kushner, the publisher of Observer Media.