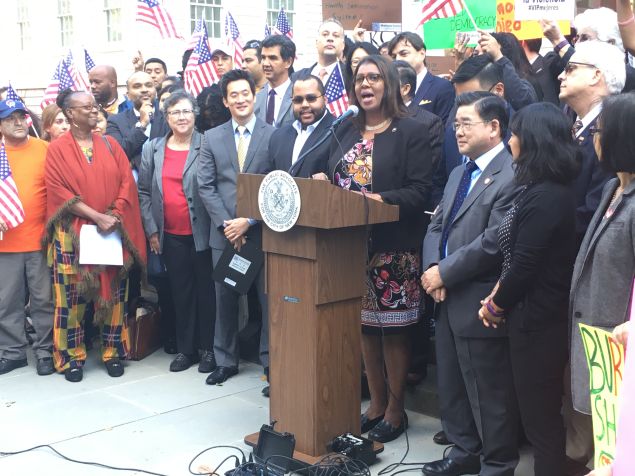 Public Advocate Letitia James and elected officials from immigrant backgrounds today urged President Barack Obama to clear the citizenship application backlog so that close to half a million immigrants—nearly 60,000 in the New York City area—can vote in the presidential election in November.
The pols noted that in the last year, nearly 940,000 immigrants applied to be come citizens—a 23 percent increase over the previous 12 months. And as of June 30, more than 520,000 applications were still awaiting examination—which James blamed on insufficient federal resources granted to the United States Citizenship and Immigration Services. Applicants have had to wait for up to a year after paying fees and taking a citizenship test, compared to a process that usually takes four to six months.
"This is not okay. The federal government must provide emergency support for the United States Citizenship and Immigration Services to process the maximum amount of applications possible in the coming days and weeks," James said in front of the City Hall steps, hinting that New York could offer assistance. "And if the federal government wants to partner with us in the city of New York, we are ready, willing and able to step up."
James noted that the deadline to register to vote in New York State is in nine days—Oct. 14—and said some states with large immigrant populations such as Arizona, Florida, Texas and New Mexico have earlier deadlines.
The call comes just as the Supreme Court recently rejected Obama's request for a rehearing of a case that could keep millions from being deported. City Council Speaker Melissa Mark-Viverito had previously blasted the Obama administration for a plan to conduct mass deportations of mothers and children from Central America who came to the United States illegally.
State Senator Adriano Espaillat, who—as the winner of the Democratic primary to replace retiring Congressman Charles Rangel—will likely become the first Dominican-American and formerly undocumented immigrant to go to Congress, also weighed in. So did the candidate he has backed in the contest to fill his seat, Marisol Alcantara.
They urged not only Obama but also New York Senator Charles Schumer and Sen. Kirsten Gillibrand to take action, too. Alcantara recounted the challenges she faced to become a citizen while applying as a college student, noting the hefty price tag for citizenship and the frequent social media blowback directed at new arrivals who do not obtain proper paperwork.
"You have to wait such a long time to do what the Twitter haters always accuse us of not doing, how we don't want to become citizens," Alcantara said. "Well here you are, a million and something people from all over the world that want to take part…that are raised to be American and we are ready to say to Barack Obama, to Senator Gillibrand and Chuck Schumer that it's about time."
Espaillat argued that immigrants have helped the United States move forward as a country, and urged Obama and Democratic presidential nominee Hillary Clinton to take action.
"Without them, this country would move backward," he said. "So please, Mr. President, put your money where your mouth is: please Madame President, put your money where your mouth is."
Yuh-line Niou, former chief of staff to Assemblyman Ron Kim who recently defeated Assemblywoman Alice Cancel to take over disgraced former Assemblyman Sheldon Silver's Lower Manhattan seat, reiterated those concerns.
"I think it's just so important to make sure that folks know, you know, the process is not easy, and even when you do everything right," she said.