When can protest also be an act of celebration?
Of the two inaugural music festivals that went down in New York this weekend, the Meadows fest in the parking lot of CitiField was, by all reports, far more of a poorly planned slog and a hassle than the Roots Picnic in Bryant Park. And while the legendary Roots crew has curated the Roots Picnic in their hometown of Philly every year since 2008, the fact that the picnic went down in one of the city's wealthiest parks—blocks away from the NBC studios where The Roots play the enlightened cultural foil to Fallon's populist late-night schtick—felt like both protest and celebration.
Between surprise appearances from Dave Chapelle, Common, Alicia Keys rocking with The Roots, Mystikal coming onstage with Trombone Shorty for "Shake Ya Ass", David Byrne premiering new music from his upcoming musical, and John Mayer and The Roots backing up D'Angelo, there were many reasons to celebrate.
Saturday also brought some lesser known acts to the fore. Philly's Chill Moody brought the funk and the hip-hop early on, carrying the Roots' hometown vibe into Midtown. Emily Wells, a synth/samples wizard wielding a violin, played a tight set on the stage that shifted from dub to electro pop on the turn of a dime.
Brooklyn's own Chargaux brought a viola, violin and keybass to further push the limits of how classical instrumentation can be incorporated not just into live music, but into funk, soul, and psych. Lady Leshurr, the witty Grime Queen from Birmingham, U.K., most well known for her "Queen's Speech" freestyles, cut in with the most technically impressive set of the first day with her tight flow and ability to channel everyone from Busta to Biggie (including a deliberate choice of wearing the red and black Lumberjack, with a hat to match).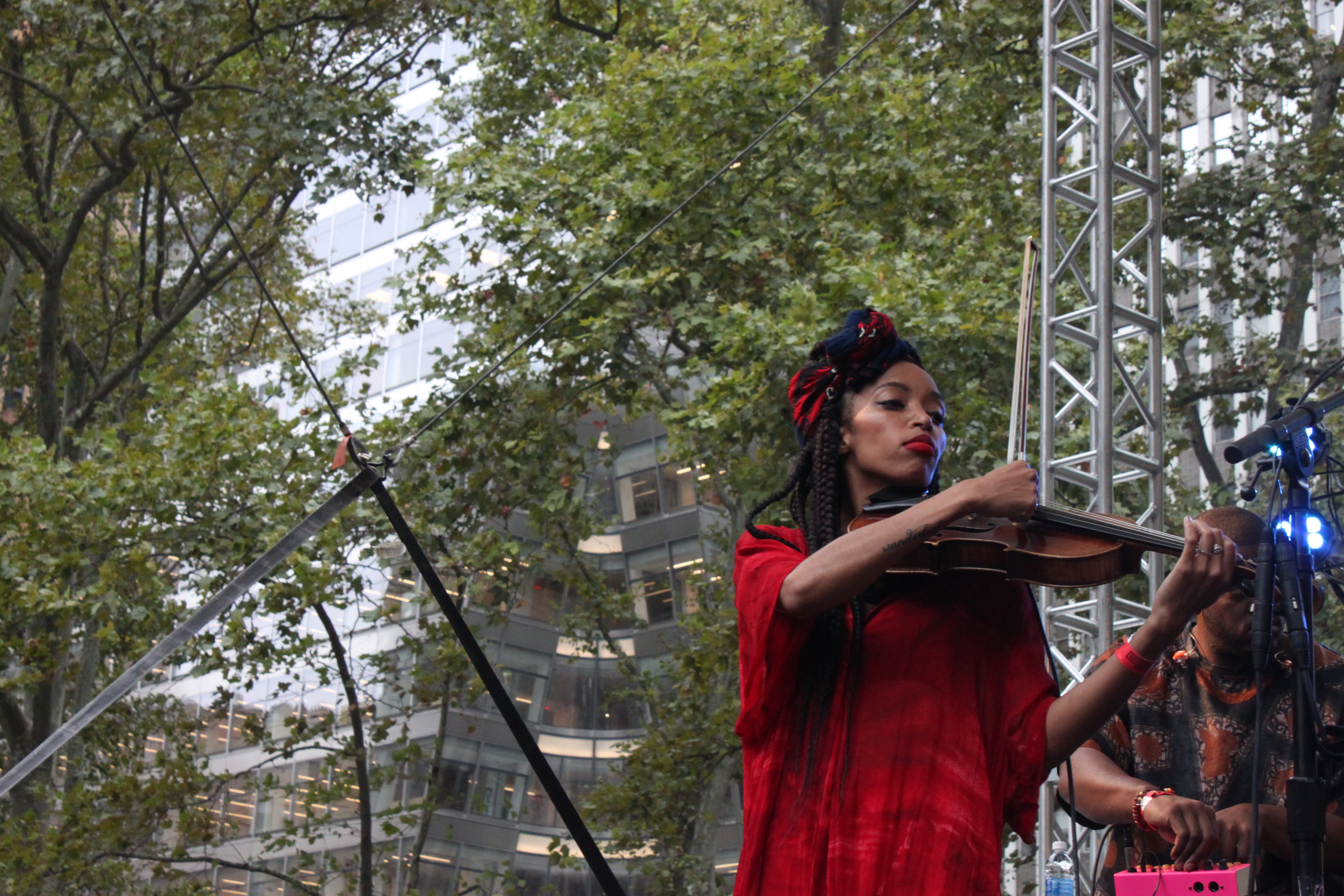 Rapper Kevin Gates somehow managed to wear the traditional Arab dress of a thawb and keffiyeh and still look profane, rapping about pussy with too much ambivalence to ever come off as religious. One of my favorite memories of the crowd came as I saw a mortified mother quickly leading her two young kids away from the stage, arms covering the younger boy's ears as she dragged the older one away behind her by the hand, his head turned back and focused on Gates as it bobbed lightly, in curious acceptance.
So when did the protest vibe come in? With all of the brutality and political pandering plaguing vulnerable communities and POC, you could say it never left. And beautiful though it may be, throwing the picnic at Bryant Park, in one of the city's wealthiest commercial districts, brought a police presence that wasn't defined by too many cops as it was a mini surveillance state. Police stayed largely on the Sixth Avenue side of the park, but I counted at least two carrying high-end recording equipment such as DSLRs and dedicated video cameras. Another officer by the merch tent had a police dog.
Far be it from me to assume that the largely multicultural, multiracial crowd had anything to do with the presence of these surveillance elements, but I've never seen such gear at a festival before. Although, to be fair, The Bryant Park Corporation might have just thought they were protecting their investment, as their website reminds us "it is the largest effort in the nation to apply private management backed by private funding to a public park."
A well-known concert promoter told me he was surprised that The Roots managed to pull off the show in Bryant Park at all. Objecting to the cameras and the dog was my personal, silent protest early on, but the acts soon joined in. After Chappelle's Show co-creator Neil Brennan made everyone hysterically uncomfortable with his stand-up set, Dave Chappelle came onstage to stall before the next set began on the larger stage across the park. Our choice this November was between Hillary Clinton and "a white Malcolm X,"  he deadpanned to uproarious applause.
Chappelle's short vamp kept the swing between the two stages going, giving a flow to the afternoons that meant shorter 30- to 45-minute sets where one act would start the moment the prior one finished across the lawn. To use the parlance of The Grateful Dead, the music never stopped.
By the time our headliners, hosts and picnic raison d'être The Roots took the stage Saturday night to some J Dilla beats, the vibe had been building steadily and the park exploded with energy. During their six-song set you couldn't catch one soul not moving their body, and that was before Common came out as a surprise guest to join them on "Act Too (Love of my Life)" from Things Fall Apart.
Once Common took the stage, the whole place lost it. Common then performed four originals while The Roots took a breather, including a new freestyle that brought my frustrations at the police presence to a boiling point. In two minutes Common succinctly connected the war on poverty to the inherently segregationist urban planning decisions of Robert Moses, gentrification, police brutality, voter suppression and the school to prison pipeline.
The setlist listed this freestyle as "Black America Again", which is also the name of Common's new album that's out in November. Here's a taste:
Lincoln or Cadillac/Drinkin' or battle raps/Or is it God's speed that we travel at/In danger in my own habitat/ The guns and dope, man/Ya'al can have it back/As a matter fact/We the lab rats/You build the projects for/now you want yo hood back/I guess if you could rap/You would express it too/That P.T.S.D/We need professionals/You know what pressure do/It makes the pipes bust/ From schools to prison, ya'al/They tryin'a pipe us/ Tell your political parties invite us/Instead of makin' voting laws to spite us/you know, you know we from a family of fightas/fought in your wars and our wars/you put a nigga in Star Wars/ Maybe you need two/And then, maybe then we'll believe you."
Then, jaws still in the grass, John Mayer came out and surprised everyone. Seems like that time he's spent cutting with Bob Weir and Dead & Co. has further liberated him from the earlier pop sounds he made a name for himself with. And everyone has always known that Mayer can cut as a guitarist, but this was the first time I'd really considered him as anything more than a really well-studied session guy. Dude can jam. Repurposed with a simmering reggae groove, "Waiting on the World to Change" never sounded so cool. Bassist Pino Palladino, whose plays with both the John Mayer Trio and co-headliner D'Angelo, kept things loose and funky, too.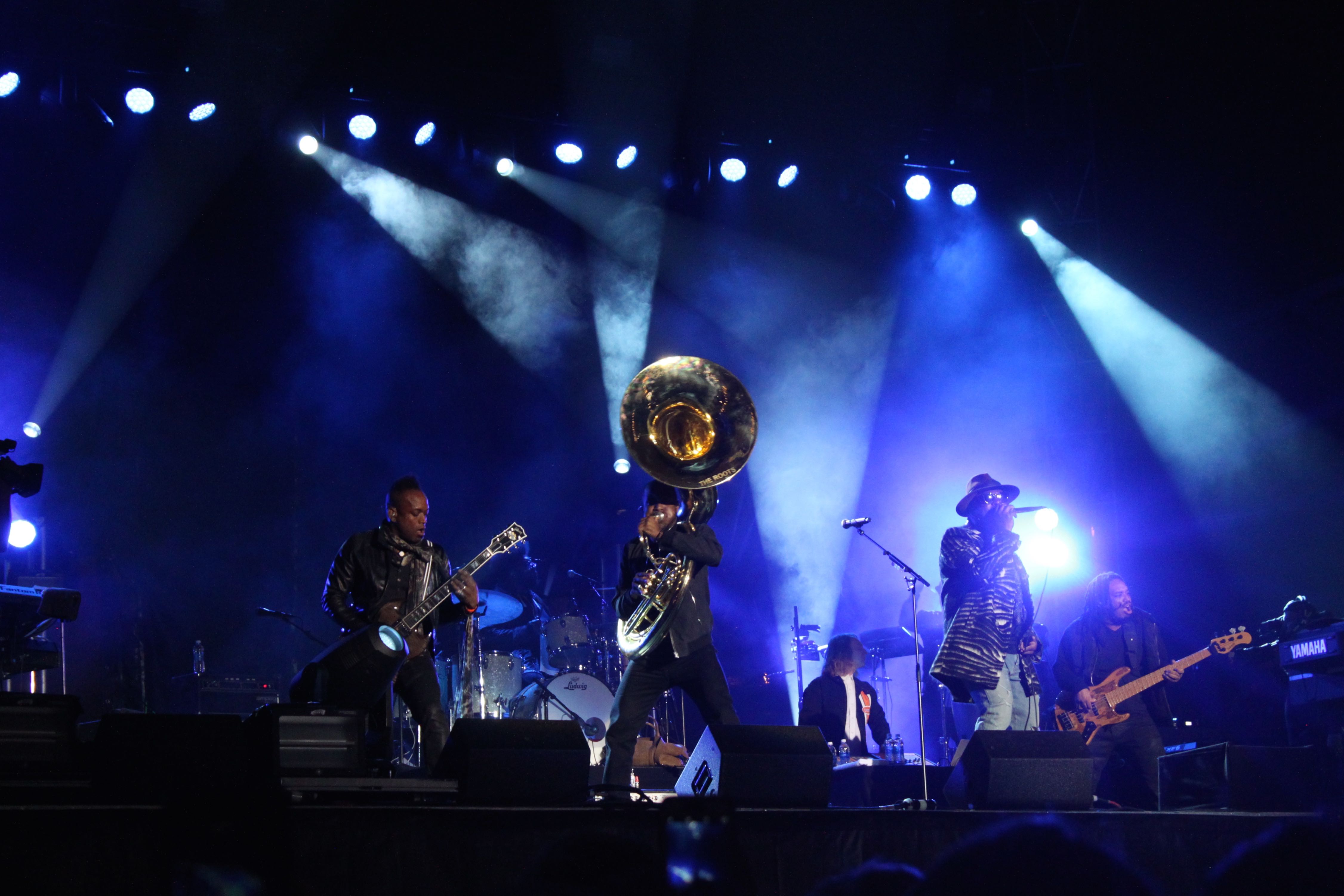 But even before D'Angelo took the stage, the surprises kept on coming.
The Roots brought out Rahzel, an old member of The Roots crew and maybe the only beatboxer who can sing while making beats at the same time, even singing a verse and a chorus at one point simultaneously. Rahzel ripped through two covers, including Snoop's "Lodi Dodi", and two of his own tracks before Chappelle returned to invoke Dave Chappelle's Block Party, which might be considered a conceptual forefather to Roots Picnic (and also featured Common), along with the 1969 Harlem Cultural Festival.
"[I've been] Watching Key and Peele do my show for the last five fuckin' years," said Chapelle. "How many years has it been since Block Party? Five, six, seven, god damn, I dunno, nigga. I look like fuckin' Morgan Freeman. You know I'm just stallin…and black lives do matter…and I shouldn't have to say that. There's no punchline, nigga, black lives do matter."
Making good on his promise from Brennan's set earlier, Chappelle continued to rock with us 'till the wheels fell off. After the picnic he'd head to The Comedy Cellar for a three-hour improv set of random quips and shooting the shit with Aziz Ansari and Chris Rock. John Mayer was there, too, for some reason. "If I'm here it means two things—they couldn't get Kevin Hart and D'Angelo is late," quipped Chappelle before introducing the evening's headliner.
D'Angelo rarely plays shows since a few special appearances around the release of 2014's Black Messiah, but each one slays because he gives them his all. On Saturday night he didn't go full-on with the keys, letting his voice carry most of the soul as he made room for Palladino and Mayer to cut in. Their seven-song set included a topical cover of D'Angelo's "The Root" and some smoldering funk interplay between him and Mayer on "Brown Sugar" and "Playa Playa". They closed with a stunning cover of Prince's "Pop Life".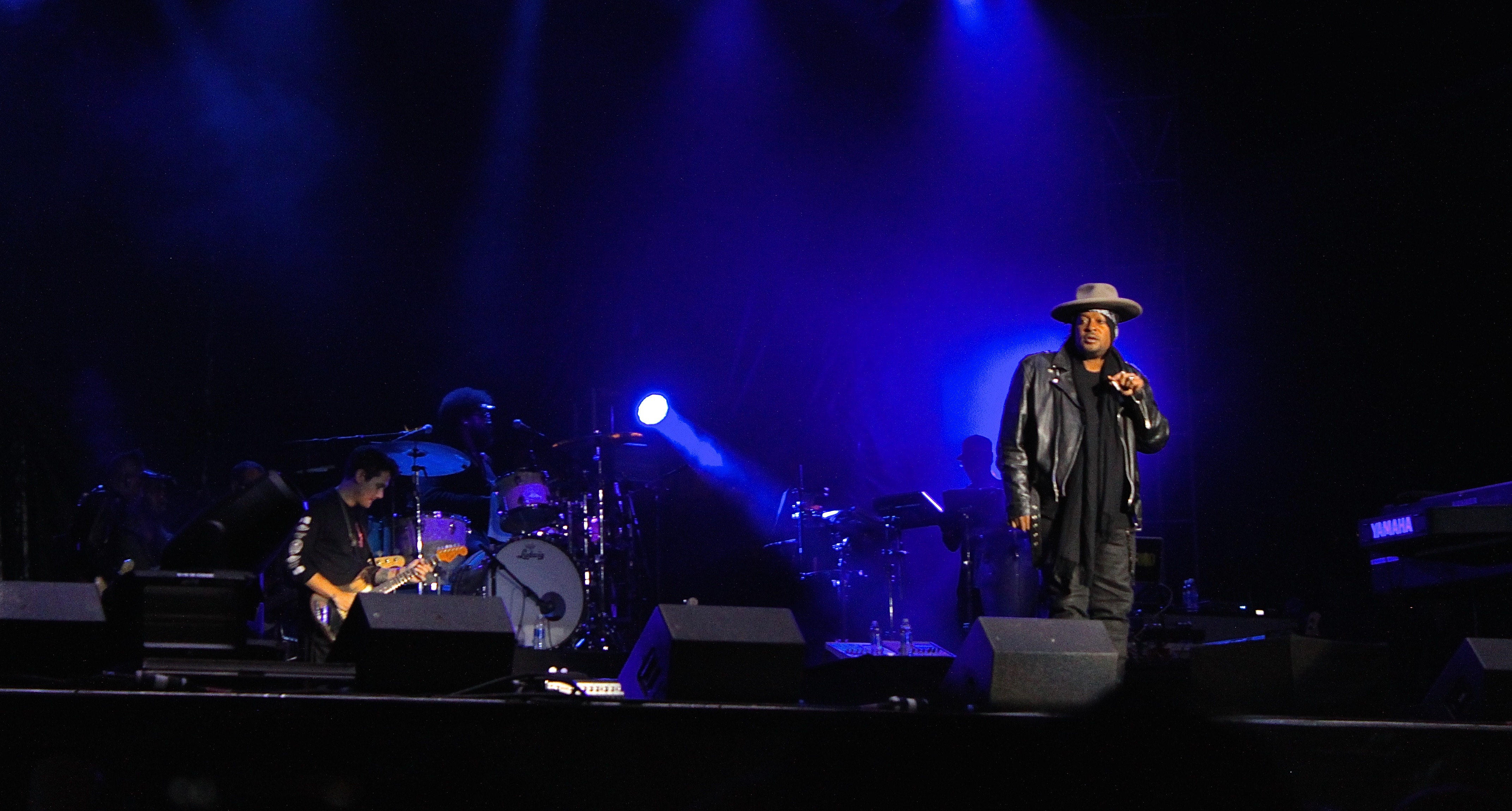 By day two I quickly realized that the stage was too high for this photographer's short legs and small lens. Camping out front and center at the big stage all day was the solution, then, which would put me in the unfortunate position of missing some killer sets across the lawn, even though I could hear them all right from where I stood (still kicking myself for missing Black Thought's live mixtape).
Sticking to one stage really opened up the mind to just how many different types of music The Roots can get down with. At his weekly Brooklyn Bowl DJ residency, Bowl Train, Questlove turns the room into his creative incubator and mixes to his own desires. The picnic felt like an extension of that, with live music added into the mix and the scope of the party way vaster. Teenagers showed up early for Lil Uzi Vert, who one kid described to me as "the greatest hype man of all time." I told him that when you're pushing 30, trap music makes a lot less sense, and he shook his head.
Swizz Beatz took the stage to hype up the crowd over some of his best-known productions, and the DMX tunes unsurprisingly got the largest reaction. His two young boys rocked out onstage with their dad, too; he called them Lil Swizzys. In a move of foreshadowing, he said they were off to soccer practice after his set, suggesting his wife Alicia Keys might be in the building.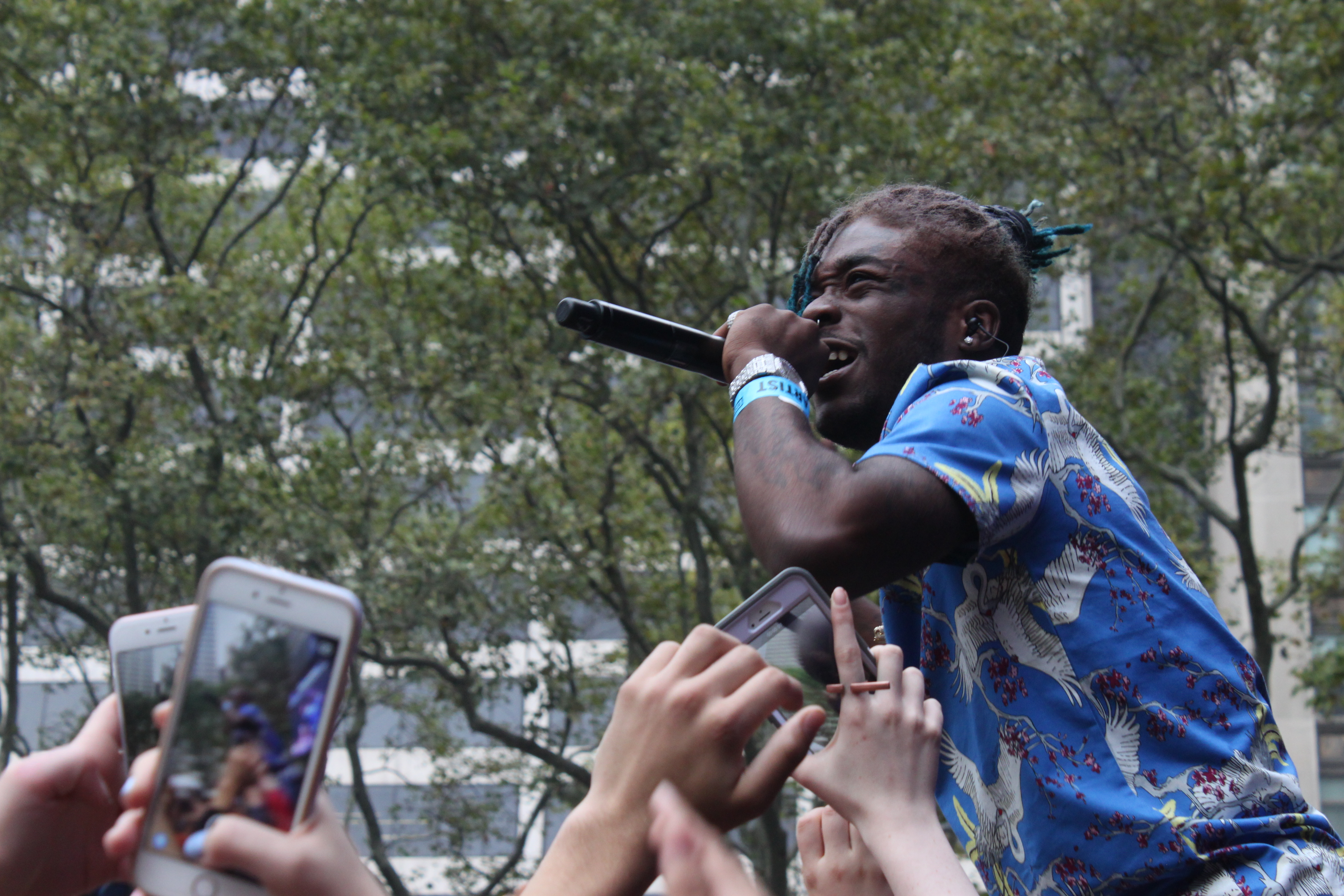 One of my longtime favorite bands since college, Deerhoof are not only still around but still kicking ass and being weird as fuck while doing it. It's no surprise that their fractured, experimental take on pop became the most avant moment of the festival, or that their cover of Def Leppard's "Pour Some Sugar On Me" completely owned, but their music soon became something I saw people accepting on an unprecedented level.
Deerhoof have that power to leave you entranced even when you don't know why, and considering they played the first ever Roots Picnic in '08, it was great to see them back at it. Secret weapon drummer Greg Saunier took the mic at one point to talk about how, despite feeling grateful to be there, he had an uncomfortable situation with a police dog and that the cops were filming people.
"They have retrained them from smelling bombs to smell other substances," he said as a PSA, sniffing his shirt. After Deerhoof's set, some fellow concertgoers saw cops make their way through the crowd, reminding patrons that getting caught smoking weed was a $50 fine and handing out citations. While many were surprised at the lax security getting in (no pat-downs, barely any bag search) it made sense to consider that cops in that district were happy to let people smoke if it meant they could make some money off them.
The collaborations on Sunday night really got hot with the New Orleans jazz/funk line of Trombone Shorty & Orleans Avenue. Shorty brought out fellow New Orleans native Mystikal for two tracks, including the classic "Shake Ya Ass", which George Clinton told me last year was "just about the funkiest shit you can do."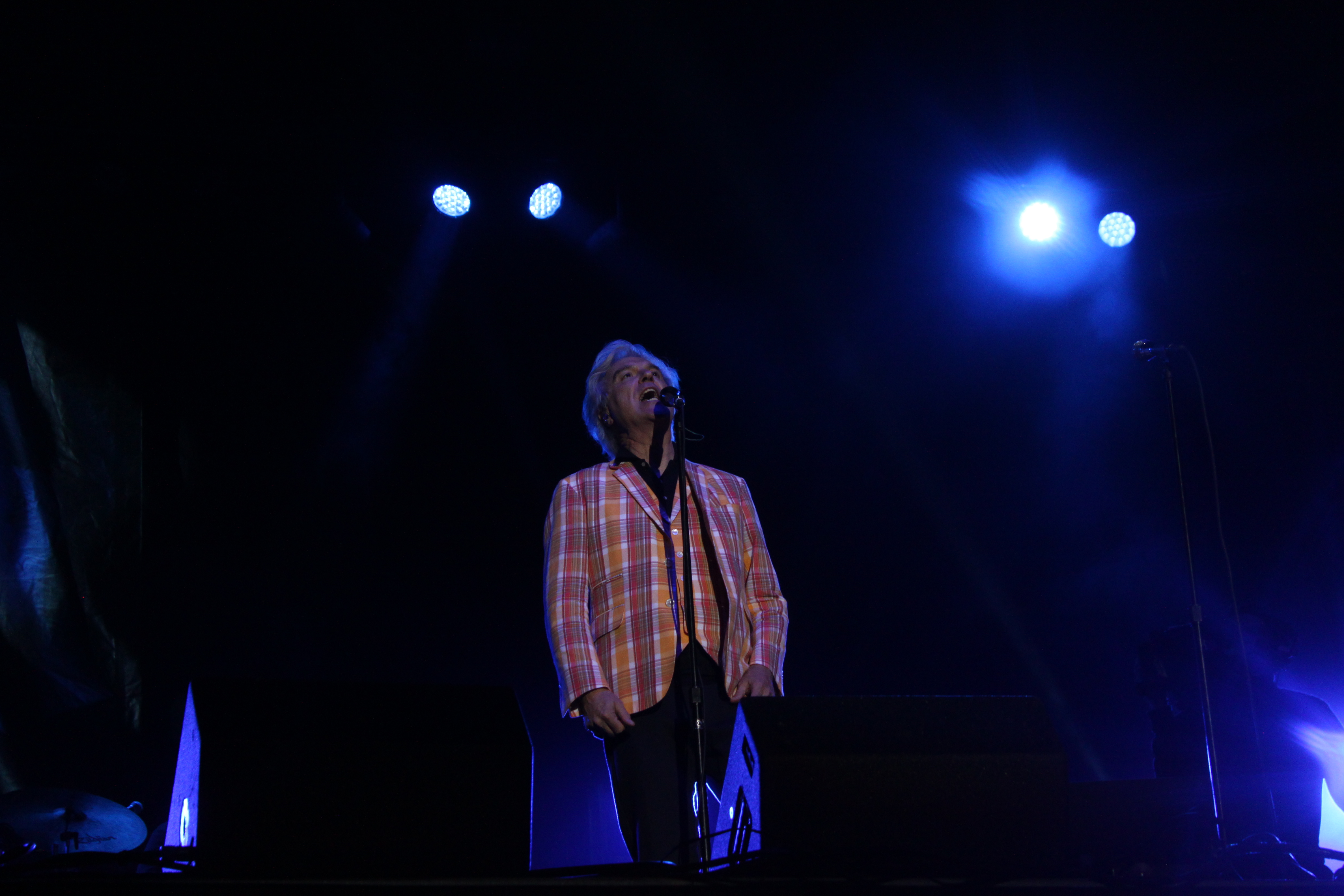 The headlining set that followed was different from Saturday in that The Roots weren't playing collaborative sets so much as backing up the headliners. Black Thought came onstage to introduce their "love letter to New York," and the legendary David Byrne came next. He's got a new musical about Joan of Arc called Saint Joan premiering on Valentine's Day, and explained that the first few songs were all from that, gospel-tinged numbers that fit the vibe of the festival.
Of the three numbers, "The True Vine" was as weird as any of his solo work in years, while the spiritually-resonant "I Was Changed" had surfaced before at his color-guard arena spectacular, but unsurprisingly sounded more fleshed out and epic with The Roots on deck.
When they went into the Talking Heads classic "Born Under Punches" though, the park started moving again. Byrne still nails the funky opener to 1980's Remain in Light, and seeing the classic performed in all its glory makes you realize that Byrne still retains all the wit and veracity of those classic years. He's just choosing to channel it into different projects.
So many legends came pouring out next that it felt like a blur—Nile Rodgers and Chic kept the groove sexy with "Le Freak" and "I Want Your Love" before launching into a medley of number one songs he'd written for other artists including "I'm Coming Out" and "We Are Family", then they brought the fuckin' Sugar Hill Gang onstage at "Good Times" when they bobbed around stage and spit a little bit of "Rapper's Delight".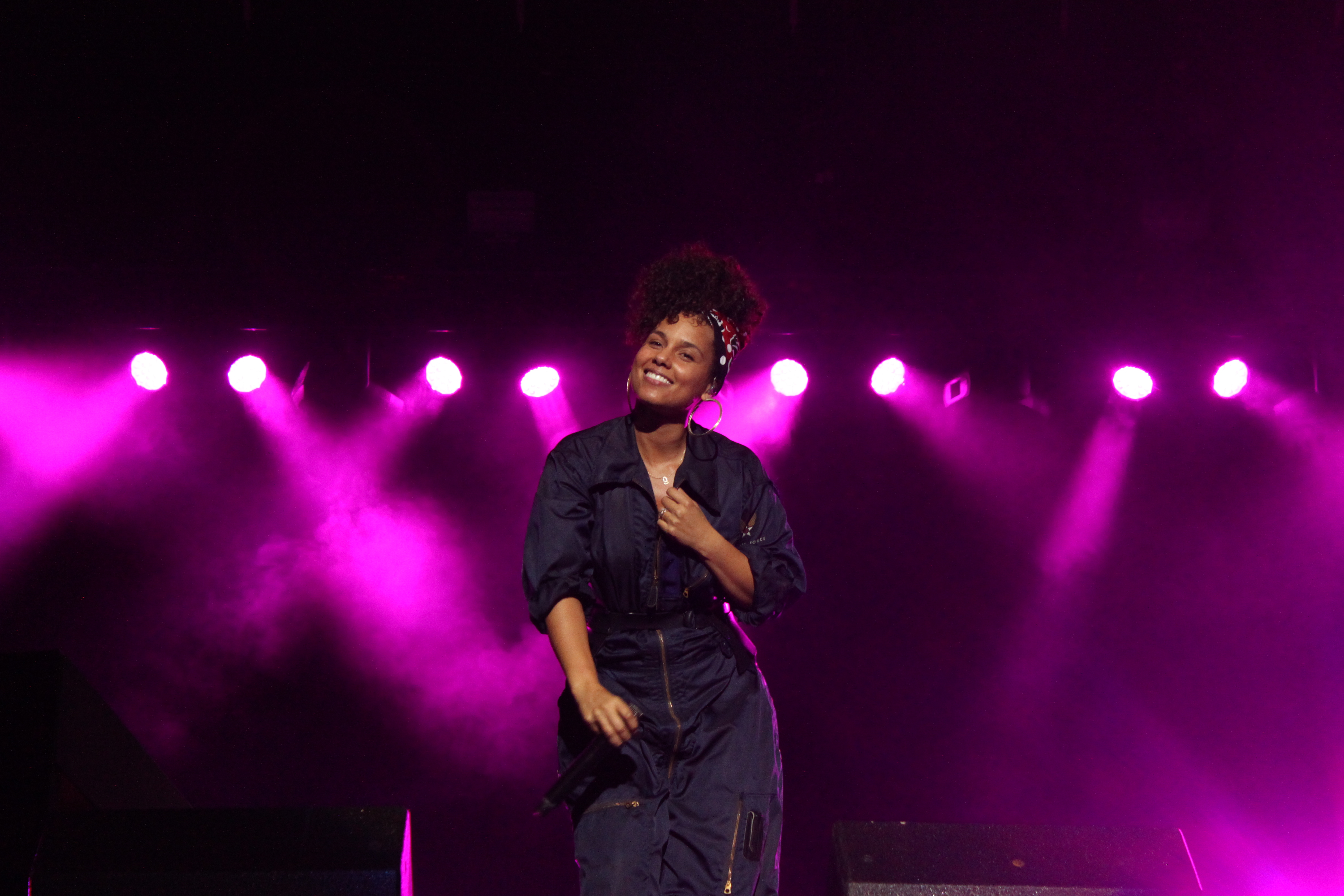 Then Alicia Keys came on to do her thing, ignoring her piano in favor of owning the mic. She sang her way through "Try Sleeping With A Broken Heart", "You Don't Know My Name", "Unthinkable" before playing "Teenage Love Affair" at Questlove's request. They closed her portion of the set with "No One" and everyone sang along to Keys' mesmerizing contralto. No makeup, no backing tracks—Keys lives up there with the other neo-soul greats, and we thank her for not playing "Empire State of Mind".
By the time Amy Schumer introduced Wu-Tang Clan to close out the night, the wheels had come off. Many folks think they lost a bit of the magic after O.D.B. passed, and as a fan who got into them later in the game I have no opinion on the matter.
A colleague said that Ghostface's absence could really be felt, too, as he's currently on a short tour promoting his Wu-Goo vaporizer products. Black Thought stepped in for some Ghost verses, though, and those moments were on point, but a colleague noted that he had to rescue the GZA from some verses on set closer "Protect Ya Neck". The Roots gave the tracks an added energy, too; Questo stayed firmly in-the-pocket and Damon "Tuba Gooding Jr." Bryson kept the swells of the groove bubbling up over the rhymes with just enough oomph to keep it sounding live.
So all in all, yes, Roots Picnic New York proved that celebration and protest needn't be mutually exclusive. There's a lot of fixing and healing that needs to happen in our country right now, and bringing different people together around different sounds and different styles is, to my mind, the most powerful anecdote.
Communal celebration and protest are both reminders that we, the people, are inherently stronger together than on our own. Here's to many more happenings like Roots Picnics in NYC—our city needs them dearly.
An earlier version of this story stated that Bryant Park was privately owned, which is not the case. Bryant Park Corporation is privately owned, but on contract with the city to run Bryant Park. Bryant Park is owned by the city.