Does the New York Times have one standard for Donald Trump and another for every other public figure in America? It sure seems that way.
Last week, the paper in four different articles quoted verbatim Donald Trump's professed desire to "fuck" a married woman, apparently the first time in the paper's history the word was used in a hard news story; even when covering a landmark Supreme Court decision upholding an anti-war activist's First Amendment right to wear a jacket saying "Fuck the Draft" the Grey Lady called it "a four-letter vulgarism."
This week, when two women emerged out of the woodwork to accuse Donald Trump, without offering any hard evidence, of sexually mauling them decades ago, the Times decided this was a huge story, possibly too good to check, as the saying goes. Nothing on Google indicates that one accuser, Jessica Leeds, even worked for a "paper company"–whatever that means–as the Times reported she did when her alleged encounter with Trump took place.
Neither woman offered any hard evidence they even knew Trump or their paths ever crossed; nor did they file police reports when these incidents supposedly occurred. But the Times published a nearly 1800-word story on their lethal charges.
What's up with that? The most charitable explanation is that editors decided they needed to get all the charges out there so readers could decide for themselves whether the women are credible.
At least that could be their attitude when Trump is the target.
However, in 2010, when former Vice-President Al Gore, a high-profile surrogate for Hillary Clinton this year who the Times has no incentive to malign, was the subject of an actual police investigation for alleged sexual misconduct, full disclosure no longer ruled. The paper kept readers in the dark about charges against Gore far more graphic, specific and credible than the stuff it is now hyping against Trump.
On June 30, 2010, the liberal broadsheet didn't see fit to have a staff reporter cover an announcement by the Portland, Oregon Police that they were reopening an investigation into claims the previous year by a masseuse that Gore sexually assaulted her during a private session at downtown Portland hotel in 2006 while in town for a climate change speech. Instead, the paper simply published a 162-word Associated Press dispatch under the headline "Police in Oregon Reopen Gore Case."
The headline didn't even say what the case was about.
The Associated Press story, unlike the Times piece yesterday, was rather oblique. "The police are reopening an investigation into a Portland massage therapist's allegations that former Vice President Al Gore groped her at a hotel in 2006."
Of course, there were plenty of specifics available so why were they not fit to print?
The Oregonian reported on June 23, 2010 that in her detailed 2009 statement to investigators "the woman said she was called to the hotel about 10:30 p.m. Oct. 24, 2006, to provide a massage for Gore, who was registered under the name "Mr. Stone." Once inside his ninth-floor suite, she said he pushed her hand to his groin, fondled her buttocks and breasts, tongue-kissed her and threw her down on the bed as she tried to thwart his advances."
"According to a lengthy transcript of the woman's Jan. 8, 2009, statement to a Portland detective, the therapist said she arrived in the suite about 11 p.m. Earlier that evening, Gore addressed a near-capacity crowd in the Rose Garden's Theater of the Clouds, telling the audience that man-made global climate change is the most important moral challenge of our time. She said Gore changed into a bathrobe, spoke of his grueling travel schedule and need to relax and told her to call him 'Al.'
"While giving Gore an abdominal massage, she said he demanded that she go lower and soon grabbed her right hand and shoved it under the sheet.
"'I felt like I was dancing on the edge of a razor,'" she told Detective Molly Daul.
"She tried to use an acupressure technique to relax Gore and thought she may have nearly put him to sleep. She went into the bathroom to wash up and came out to pack up.
"That's when, she says, Gore wrapped her in an "inescapable embrace" and fondled her back, buttocks and breasts as she was trying to break down her massage table.
"She called him a 'crazed sex poodle' and tried to distract him, pointing out a box of Moonstruck chocolates on a nearby table. He went for the chocolates and then offered her some, cornering her, fondling her and shoving his tongue in her mouth to french kiss as he pressed against her.
"She said he tried to pull her camisole strap down.
"She said she told him to stop it. "I was distressed, shocked and terrified.
"She said she was intimidated by his physical size, calling him "rotund," described his "violent temper, dictatorial, commanding attitude" — what she termed a contrast from his "Mr. Smiley global-warming concern persona."
Later, she said, he tried to lure her into the bedroom to hear pop star Pink's "Dear Mr. President" on his iPod dock. She said Gore sat on one end of the bed and motioned for her to join him.
"Suddenly, she said, he 'flipped me on my back, threw his whole body face down over a top me, pinning me down.'"
"She said she loudly protested, 'Get off me, you big lummox!'"
A few days later, the paper ran a one-paragraph story by reporter Jesse McKinley on the police statement that they were reopening the case because of previous procedural problems. Instead of recounting the gorey details McKinley simply wrote obliquely that the woman accused Gore of "unwanted sexual advances."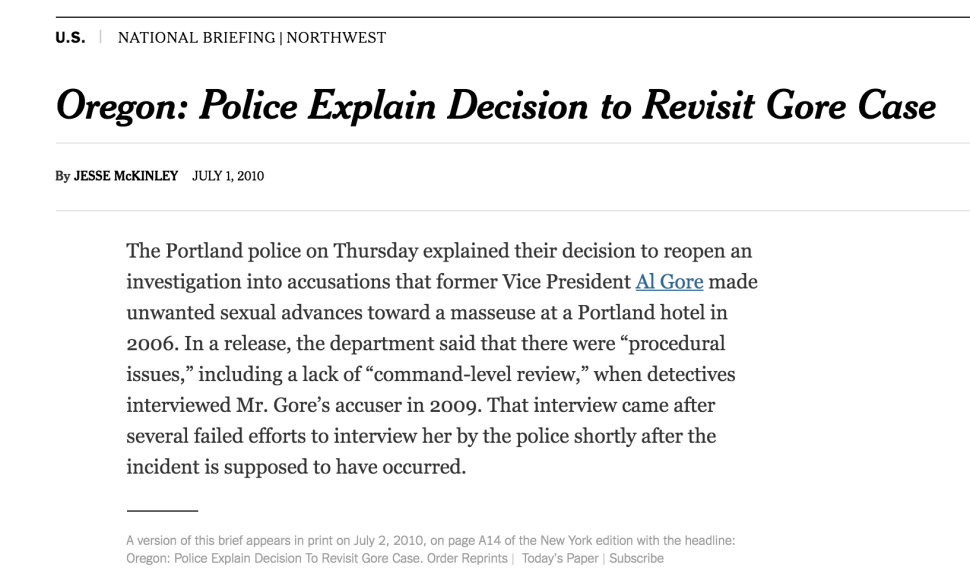 On July 23, 2010, the Times published a two-sentence Associated Press dispatch stating that the Portland District Attorney announced Gore would not be prosecuted "over accusations by a masseuse that he groped and assaulted her in his Portland hotel room in 2006" because "the case had numerous problems and was not appropriate for a criminal prosecution."
That's it.
Nobody at the paper saw fit to assign a reporter to ask the DA for a more detailed explanation. Or, as basic fairness would dictate, seek comment from her lawyer.
But, from the department of be grateful for small favors, at least they covered the woman's complaint. Around the same time, that the Oregon District Attorney said Gore would not be prosecuted, the National Enquirer reported that police were investigating charges by two more masseuses–one in Hollywood, the other Japan–that Gore sexually assaulted them.
The Times deep-sixed that story entirely, even though it suggests the same kind of pattern behavior that they are now attributing to Trump.
Asked repeatedly Thursday evening why he omitted graphic details of the woman's complaint from his story, reporter Jesse McKinley repeatedly professed total ignorance about the matter, even after this reporter read aloud his two-sentence story, claimed he was unfamiliar with the New York Observer, and finally said he stood by his decision But declined to explain why.
McKinley also complained that the caller was interrupting his dinner.
So there you have it. Call the New York Times with uncorroborated accusations of sexual assault by Donald Trump and no proof you even crossed paths and you land on the front page. But if you get a reporter on the phone and read graphic statements made under penalty of perjury about Gore by somebody who can prove she was in the same city with him and that were investigated by law enforcement officials, with nothing but a pro forma denial offered by the veep's camp in response, you get lectured on poor manners.
But, hey, when you consider the paper thinks one guy holds the Earth in balance and the other has America teetering on the edge of a fascist dictatorship no wonder objective news standards fall by the wayside.
Disclosure: Donald Trump is the father-in-law of Jared Kushner, the publisher of Observer Media.