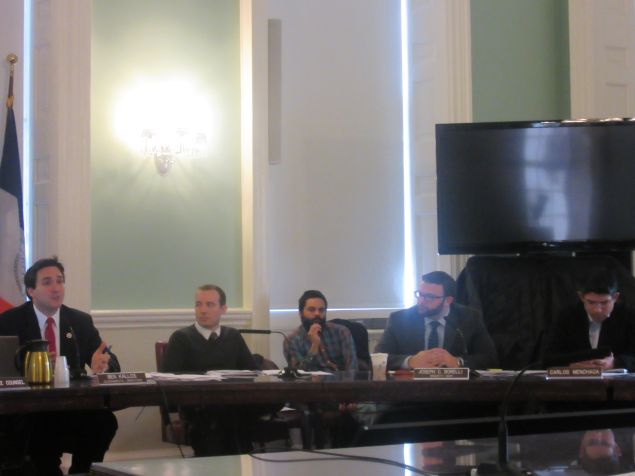 The New York City Board of Elections' executive director testified to the City Council this morning that there is little evidence to support a Democratic election commisioner's caught-on-camera claims of extensive and systematic voter fraud in minority neighborhoods across the five boroughs.
Earlier this month, conservative nonprofit group Project Veritas leaked a clandestine recording of BOE Commissioner Alan Schulkin alleging that that organizations bus people around to cast ballots at multiple polling sites in minority neighborhoods, and that the Mayor Bill de Blasio's IDNYC municipal identification program enables voter fraud. On Tuesday, a state investigative unit subpoenaed Schulkin, who has so far defied calls from de Blasio and other Democrats to resign his post.
Staten Island Councilman Joe Borelli, a Republican, asked for the City Council's Government Operations Committee to hold a hearing on the issue today, where BOE Executive Director Michael Ryan refuted Schulkin's claims.
"I have not seen any evidence of any widespread voter fraud," Ryan told the committee during the hearing this morning.
Ryan rose into his present position in 2013, when the board's Republican commissioners coalesced around Staten Island Democrat and voted him to the top of the troubled body just a month before the city's September primaries. The executive director vouched for the legitimacy of the elections he has overseen since, including those which voted in the current Council.
"I think that I'm sitting in the City Council of the city of New York and I believe that every single member of this Council—not only the ones that are sitting before us here today—were elected in a due process and I feel a degree of sadness when anything happens that undermines the appearance of democracy and integrity," he said.
He declined to comment on the meaning of Schulkin's claims but pointed to two studies: a finding by a bipartisan election commission established by U.S. President Barack Obama that voter fraud is rare and mainly occurs via absentee ballot and a 2014 Loyola University study that found only 31 credible voter fraud incidents out of one billion ballots cast.
Ryan did, however, speak of a 2014 incident in Bronx County, where police arrested an Assembly candidate and his accomplice for submitting forged absentee ballots.
Bronx Councilman Ritchie Torres brushed off the examples of voter fraud Ryan cited as insignificant.
"It sounds like voter fraud is at the level of accusation, anecdote," Torres said.
But Borelli voiced disappointment that Schulkin himself was not in attendance.
"Unfortunately I wish Commissioner Schulkin could have been here to answer some of the questions that I have," he said. 
When Borelli asked him whether the Department of Investigation—which investigates public employees and common citizens suspected of defrauding the city—was notified about Schulkin's comments, Ryan demurred.
"There was the media coverage, right, there was the tape and then there was the statements that the commissioner made…where he indicated that he was not personally aware of any instances of voter fraud," Ryan said. "So I would say any city employee—myself, members of the Council—if you're aware of some type of corruption, you do have a duty to report it."
A DOI spokeswoman said the DOI is the city's Inspector General, which includes oversight of the BOE, but said the agency would not comment further.
Ryan withheld comment on state subpoena sent to Schulkin.
"With respect to issues related to any of my superiors, I would prefer not to engage a discourse back and forth because at the end of the day, I still answer to the 10 commissioners and if any of that type of investigation is going on, then it would be appropriate for the investigators to state that publicly and not me," he said.
Ryan also noted that the only person who can remove a commissioner from the BOE is Gov. Andrew Cuomo, and that it's "limited to a circumstance where a good cause is found."
And Schulkin's comments were not the only issue causing controversy. Yesterday around noon, Borelli tweeted a letter in which Ryan declined the invitation to testify at the hearing on the grounds that the board is busy preparing for next month's presidential election. He asked if then board could testify after the election.
But about four hours later, Borelli tweeted that the BOE had changed its mind.
A BOE spokeswoman did not immediately respond to a request for comment.
This story was updated to include a comment from the Department of Investigation.