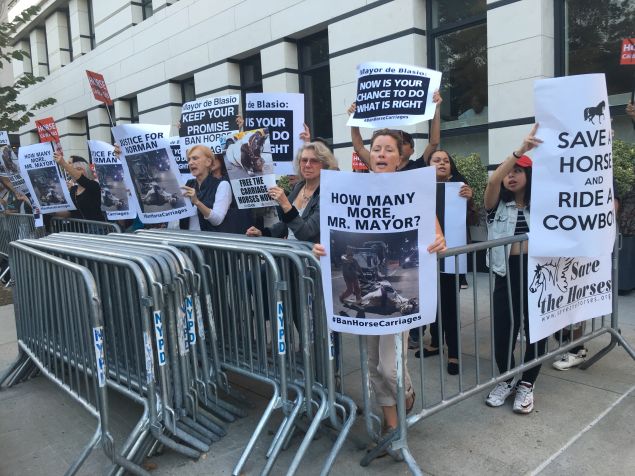 Roughly 40 animal rights activists from the group New Yorkers for Clean Livable and Safe Streets gathered outside Gracie Mansion last night to rail against Mayor Bill de Blasio for not fulfilling a campaign pledge to ban horse-drawn carriages on "day one" of his administration.
Holding signs with slogans such as "Mayor de Blasio: Now is Your Chance to Do What is Right #BanHorseCarriages," "Justice for Norman"—a carriage horse that collapsed in Midtown last month—"Save a Horse and Ride a Cowboy" and "It's 2016, not 1816," protesters kicked de Blasio for failing to keep his promise. The mayor and his wife, First Lady Chirlane McCray, hosted a dinner to benefit Gracie Mansion yesterday evening.
"I think that the mayor has completely screwed up this issue," said Allie Feldman Taylor, executive director of NYCLASS. "We're talking about the mayor said he was going to help the horses on day one. Since day one, he's done nothing but screw up for the horses."
Taylor claimed that horse carriage drivers make U-turns on Central Park South and are not ticketed, despite the fact that motorists get ticketed for behaving similarly. She also asserted that drivers work their horses for more than the nine allowed hours, but receive no penalties.
The mayor's office did not immediately respond to a request for comment.
In January, de Blasio finally attempted to make somewhat good on his 2013 campaign promise, and announced a compromise to restrict the horse-drawn carriages to Central Park. That agreement called for the building of new stables in Central Park by Oct. 1, 2018.
Under the agreement, the number of licensed horses was also to decrease from 180 to 110 by Dec. 1 and fall to 95 when the Central Park stables open, with 75 living in the park long-term. But the pact fell apart after the Teamsters union, which represents the drivers, withdrew its support in the face of outrage from members.
It also spurred a federal probe into the mayor's relationship with NYCLASS, which had sandbagged his main 2013 primary opponent, former City Council Speaker Christine Quinn, with negative advertising.
A number of Council members have since complained about NYCLASS harassing them with tweets, Facebook messages, emails, paper mailers and constant phone calls. Feldman praised the handful of Council members who have committed to eliminating or restricting the horse carriage industry, but insisted the mayor must take direct action.
"There's a lot that the mayor could be doing just through his executive powers and just by enforcing the basic laws," Feldman said. "He's not even doing that. And for somebody who calls himself an animal lover, he certainly hasn't shown us any kind of commitment to actually helping these horses."
Feldman also said she doesn't know NYCLASS will back de Blasio for re-election—it's unclear he even wants their support—but said he still has time to redeem himself and described it as a "complicated issue." Others said they would not endorse him for mayor in the Democratic mayoral primary next year, but one said he would wait to see how the mayor acts.
"Let's see if he delivers on his promise," animal rights activist Donny Moss, who produced a documentary titled "Blinders" about the issue, said. "When he was running for mayor, he showed up at animal advocacy events and said that in his administration, animal rights were moving to the mainstream. We have yet to see that, and it's almost three years into his administration."