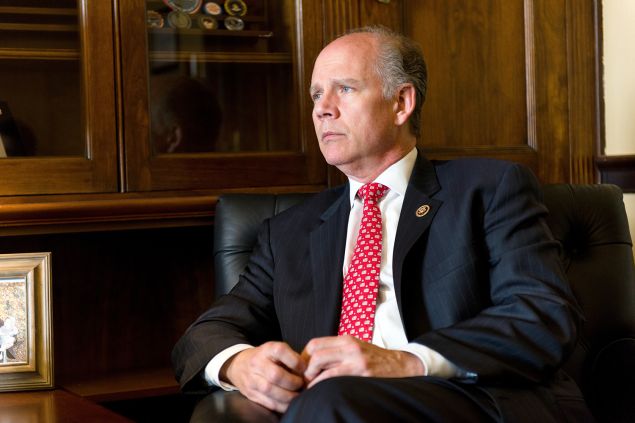 Congressman Daniel Donovan—the only Republican representing any part of New York City in Washington, D.C.—told the Observer today he is standing by the "imperfect choice" of Donald Trump, even after an 11-year-old tape emerged last night in which the GOP nominee described how he used his fame to molest women.
Donovan said through a spokeswoman that he took umbrage at Trump's comments in the footage, in which the developer related to Access Hollywood host Billy Bush how he liked to kiss women or "grab them by the pussy" without consent—and how women would let him get away with it because he is a "star." The first-term congressman noted his fiance gave birth to his daughter just last year, and acknowledged the remarks are part a pattern for the Queens-born businessman—even as he insisted Hillary Clinton would make a far worse president.
"I'm a father of a young daughter and I completely condemn his offensive comments. As I have said from day one, there are many offensive things that Donald Trump says," the congressman, whose seat spans all of Staten Island and a few fragments of southern Brooklyn, said in the statement. "But the actions of Hillary Clinton have put national security and American lives at risk and her policies are wrong for this country. It's an imperfect choice, but we need a new direction."
Donovan has been a somewhat reluctant supporter of the trash-talking developer's candidacy. Last August, the newly-minted representative called Trump a "personal friend of mine" and praised him for "resonating with voters," though he declined to endorse him.
Later, Donovan would vouch his personal support to Ohio Gov. John Kasich's candidacy, and criticized Trump for describing the size of his penis onstage at a Republican debate. In the New York primary in April, Trump saw his strongest performance anywhere in the state in Donovan's district, where the candidate captured more than 74 percent of the vote.
Once Trump had secured the nomination, the congressman said he would support the mogul's candidacy and even told the Observer he would campaign for him in the five boroughs. Even so, he insisted he personally disagreed with the nominee's calls to deport undocumented foreign nationals and construct a wall along the Mexican border, and with his proposal to obstruct immigration from Muslim lands.
The congressman's comments come just hours after Gov. Andrew Cuomo—the recipient of tens of thousands of dollars in political donations from Trump—called on Republicans across New York to denounce and disavow Trump's candidacy. A number of Republican senators and House members have yanked their support for their party's candidate in spite of a pair of apologies he released after the 2005 video surfaced.
Donovan faces a challenge in his first re-election next month from local Democratic Party activist Richard Reichard, who most experts give small odds of winning the seat.
Disclosure: Donald Trump is the father-in-law of Jared Kushner, the publisher of Observer Media.