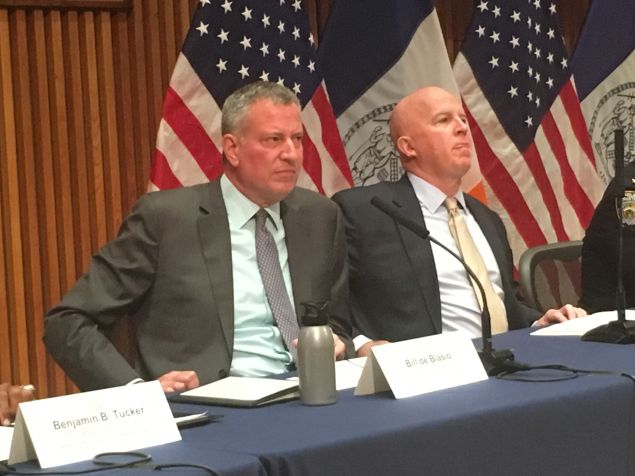 Two weeks after a bomb exploded in Chelsea and injured nearly 30 people, the NYPD says it has not yet determined whether bombing suspect Ahmad Khan Rahami had accomplices—but asserted that his decision to plant explosives in a neighborhood known for gay nightlife looks to have been completely arbitrary.
Speaking at One Police Plaza this afternoon where the Police Department provided an update on the latest crime statistics, Police Commissioner James O'Neill—whose first full day as the city's top cop coincided with the explosion—said the NYPD, the FBI and the FBI-NYPD Joint Terrorism Task Force is currently investigating whether Rahami acted in concert with other individuals.
"As far as determining whether he acted alone or not, this is an ongoing investigation by the FBI, obviously with the JTTF and the NYPD," O'Neill said. "So this, no final determination has been made yet."
U.S. Attorney Preet Bharara slapped Rahami, 28, of Elizabeth, N.J., an Afghani native and U.S. citizen, with a number of charges, including using and attempting to use weapons of mass destruction and bombing and attempting to bomb a place of public use. He was taken into custody in Linden, N.J. after trading gunfire with police after they received a tip that he was sleeping outside a bar. The FBI also raided Rahami's home Friday to carry out interviews and get evidence.
John Miller, NYPD's deputy commissioner of intelligence and counterterrorism, would not comment further on the matter but noted that there appears to be no significance to the explosion taking place in Chelsea.
"I'm not going to be able to go much beyond that, except the preliminary indications are that the choice of locations and targeting was random," Miller said.
He added that they have "developed an awful lot of video."
"Chief (Robert) Boyce's people, along with the FBI and the JTTF and intel people have kind of gone out in concentric circles so we can track his movements as he moves toward the places where he placed the packages, the placing of packages," Miller continued. "But so far, there does not seem to be any significance to those two locations."
Mayor Bill de Blasio, for his part, praised O'Neill, Chief of Department Carlos Gomez and NYPD leadership for "the extraordinary manner" in which they handled the Chelsea explosion, calling it "an extraordinarily effective, focused response to what was obviously a very challenging situation."
"Commissioner, I know that was a tough way to have a first day on then job but you handled it with tremendous skill and grace," de Blasio said, addressing O'Neill. "I commend you for that."
The explosion at 23rd Street and the accidentally defused device found four blocks away—both in a famously gay-friendly part of town—recalled for some June's shooting at the Pulse nightclub in Orlando, where a young man who pledged allegiance to the Islamic State killed almost 50 LGBTQ patrons and injured 50 more.